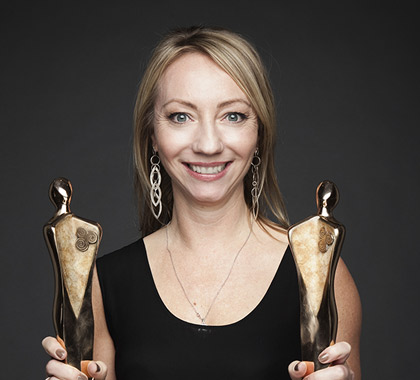 After studying Fine Art at the National College Of Art And Design and Design and Journalism at the Dublin Institute Of Technology – Juanita turned her attentions to the film industry.
She has worked with Octagon Films since its inception (alongside her husband –Producer James Flynn). She produced H3 in 2001 and Inside I'm Dancing in 2004, which got nominated for Best Film at the 2004 IFTA Awards. In 2008, she garnered an Oscar nomination for Best Short Film with her directorial debut The Door which also won the 2009 IFTA for Best Short Film. Also that year, Juanita was awarded the prestigious Katrin Cartlidge Foundation Bursary at the Sarajevo Film Festival.
More awards and critical acclaim followed with her first venture into feature film directing with As If I Am Not There, which premiered at the Toronto International Film Festival and was Ireland's official submission to the Best Foreign Language Film category at the 84th Oscars. It also won Best Film at the 2011 IFTA Awards with Juanita winning for Best Film Director and Best Film Script. In 2011, she was named as one of Variety's top ten directors to watch based on the critical success of her work so far.