A Look Back at IFTAbs Rising Star Award Winners
Each year The Irish Film & Television Academy puts a spotlight on great Irish talent making a significant mark in the film industry with the Rising Star Award. These exciting winners over the last decade have shown themselves to be world class talents in their respective fields. IFTA is proud to put the international spotlight on Ireland's Rising Stars and acknowledges the Irish Film Board's on-going support of new Irish industry talent.
JACOB MCCARTHY b 2018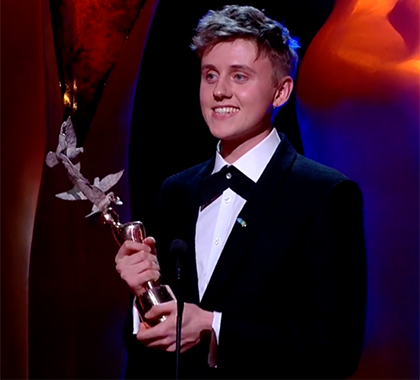 Born in Dublin, Jacob studied Drama at the prestigious London Academy of Music & Dramatic Art (LAMDA) for three years. After learning about the amount of British and Irish talent getting work in America, Jacob entered the Irish Green Card Lottery and was selected, settling in L.A and seeking work.
Whilst at home over the Christmas period of 2015, Jacob was cast as 'Christopher' in Nick Kelly's The Drummer and The Keeper. The film opened in Ireland in 2017 to widespread critical acclaim, hailed as "a gem of a film" by the Irish Times. Jacob was nominated for an IFTA in the 'Best Actor in a Supporting Role' category, and also picked up the hotly contested 'IFTA Rising Star Award.'
Currently, Jacob resides in L.A where he is working on the NBC show A.P. Bio, written by SNL writer, Seth Myers.
PATRICK GIBSON b 2017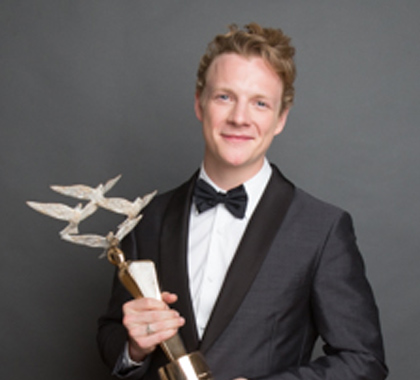 Patrick Gibson has become a leading figure for aspiring Irish male talent in film and drama, having risen to international acclaim as the troubled Steve Winchell with cult Netflix series bThe OA' from Zal Batmanglij and Brit Marling just last year.
This game-changing role for the young actor follows a rigorous development of his talents on the small screen, beginning with a minor role in BBC Childrens Drama bSherlock Holmes and the Baker Street Irregulars' in 2007, to ITV Productions bPrimeval' and eventually to more prominent characters in Showtimes bThe Tudors', and BBC series bThe Passing Bells'.
In film Gibsons earliest work sees him in Lenny Abrahamsons acclaimed 2012 title bWhat Richard Did', moving from here to Niall Heerys bGold', Kit Ryans recent bThe Property of the State' (on release this summer) and Lone Scherfigs bTheir Finest'.
His upcoming work includes an impressive range of film and drama alike, with John Ridleys political drama series bGuerilla' for ABC and Starz historical drama bThe White cess' from Jamie Payne and Alex Kalymnios, in a follow up to the acclaimed bThe White Queen'. These stand alongside sci-fi thriller bThe Darkest Minds' (Jennifer Yuh Nelson) and bIn a Relationship' (Sam Boyd).
STEPHEN FINGLETON b 2016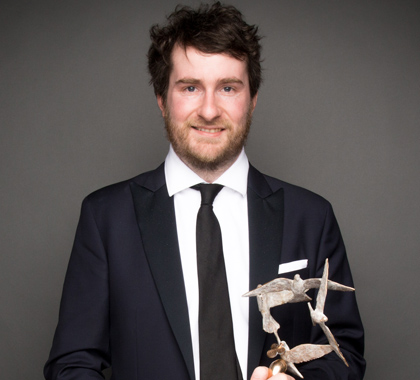 Northern Irish writer/director Stephen Fingleton studied English Literature at University College London and began shooting his first films with the UCLU Film Society, whose alumni include Christopher Nolan. After he graduated Stephen wrote scripts and made guerrilla short films b including Shirin and Driver - while working outside the industry.
His big break came when his screenplay for The Survivalist was voted by executives onto Hollywoodbs bBlack Listb and topped the UK bBrit Listb for the yearbs best unproduced scripts in 2013. That same year he was selected by Screen Daily as a Star of Tomorrow, and was one of 16 filmmakers chosen for the BFI Lighthouse short film scheme which funded his film SLR. The film was shortlisted for an Academy Award and has been viewed 400,000 times online so far.
The Survivalist premiered in 2015 at the Tribeca Film Festival to critical praise. For writing and directing the film, Fingleton won a Special Jury Mention in the Best New Narrative Director Category, a MoC+t BIFA Award for Best Debut Feature (the prestigious Douglas Hickox prize) and the Citizen Kane award for Best New Director from the Sitges Film Festival. Stephen was also named nominated for an Outstanding Debut by BAFTA as well as being recognized as a BAFTA Breakthrough talent. The Survivalist went on to be nominated for four IFTA Awards, including Best Film and Best Director for Fingleton.
SARAH GREENE b 2015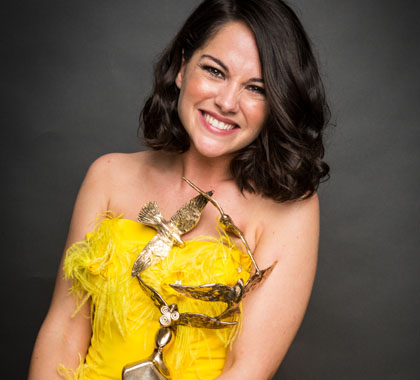 Actress Sarah Greene won the Rising Star IFTA Award and the Supporting Actress Drama IFTA Award for her multi-layered and highly praised portrayal of humanitarian and children's rights activist Christina Noble in the feature film 'Noble'. Greene's performance drew very positive critical responses from publications such as The Irish Times who wrote that "Sarah Greene is nothing less than magnificent as Christina in late adolescence and young adulthood."
Sarah Greene graduated from the Gaiety School of Acting in 2006 and quickly established herself as a theatre actress appearing in plays such as Peer Gynt, Phaedra, Little Gem and Martin McDonagh's The Cripple of Inishmaan, the latter project garnering her a Tony Award nomination.
After roles in film and television projects such as Raw, Psych Ward, My Brothers, Eden and The Guard, Greene was cast in a recurring role on the hit series Vikings which broadcasts internationally on the History Channel.
Greene can currently be seen in the second series of Penny Dreadful on Sky Atlantic playing Hecate Poole and will also be seen in the John Wells helmed comedy Adam Jones alongside Bradley Cooper and fellow Irish actor Jamie Dornan - which will be released next year. She has also been cast in the RTC five part drama series Rebellion, scheduled to air in 2016.
JAMIE DORNAN b 2014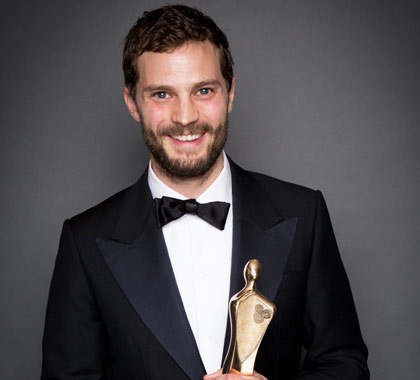 Jamie Dornan won the IFTA Rising star award and the Lead Actor in Television Award for his intense portrayal of serial killer Paul Spector in the critically acclaimed BBC/RTC drama series The Fall, alongside Gillian Anderson. His performance received rave reviews with The Guardian calling it bextraordinaryb, as well as garnering a BAFTA nomination.
Born in Holywood, Northern Ireland b Jamie Dornan began his career as a high profile fashion model for brands such as Calvin Klein and Armani b with his break into acting coming in 2006 with a small role in Sofia Coppolabs Marie Antoinette. Following a number of short films, he appeared as a recurring character on the popular ABC fantasy series Once Upon A Time.
Subsequent work of Dornanbs include the four-part Channel 4 mini-series New Worlds before he was cast in his biggest role to date - playing the titular character Christian Grey in the adaptation of the best-selling novel Fifty Shades of Grey.
Other film projects of Dornanbs include the culinary comedy Adam Jones with Bradley Cooper and Emma Thompson and the lead role in The 9th Life of Louis Drax as well as the Irish feature film The Siege of Jadotville for director Richie Smyth.
GERARD BARRETT b 2013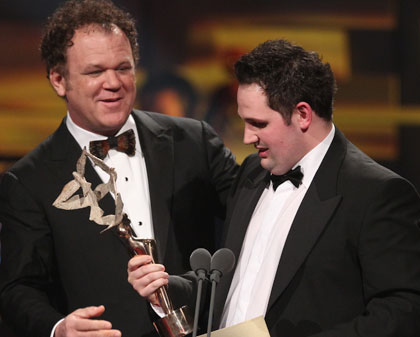 Director Gerard Barrett won the IFTA Rising Star Award in 2013 for his writing and directorial feature film debut Pilgrim Hill. The film explored the life of an isolated farmer in the rural South of Ireland and his struggles with loneliness whilst caring for his sick father. Pilgrim Hill won international acclaim for this sensitive portrayal with Variety calling it binvisibly scripted...a massive tragedy told in a minor keyb.
Gerard Barrett was born and raised in Kerry, Ireland and studied Film at a local college. At the age of 24, his debut feature Pilgrim Hill won prizes at the Galway Film Fleadh for Best Irish Film & Best New Talent. He was also named bGreat Expectationb at the Telluride Film Festival in the US and Rising Star of the BFI London Film Festival. His adult animation series Newsbag screened on Irish television during 2013, winning critical acclaim from The Sunday Times. In 2014, he films his second feature film Glasslands. The film, telling the story of a young Irish taxi driver caught up in human trafficking stars Jack Reynor, Academy-Award nominee Toni Collette, Will Poulter and Michael Smiley.
bI just hope whoever is watching the show, if they have a story to tell that they can go out and tell it themselves...and something like this can happenb
Gerard Barrett
JOHN MICHAEL MCDONAGH b 2012
Director John Michael McDonagh won the IFTA Rising Star Award in 2012, along with the coveted Best Director & Script Awards for his feature film directorial debut The Guard. The film, telling the story of an off-centre Irish policeman, played by Brendan Gleeson and his relationship with a specially-assigned FBI officer (Don Cheadle), became the highest-grossing film of all time in Ireland. The Guard received universal acclaim, gaining Golden Globe, BAFTA and Satellite Award nominations with The Hollywood Reporter describing the film as bexceptionally accomplishedb and The Times recommending it as bwithout doubt the strongest debut film of the yearb.
John Michael McDonagh is the brother of fellow screenwriter & director Martin McDonagh, behind such films as In Bruges and Seven Psychopaths. His screenwriting debut came in 2003 with the biopic Ned Kelly, adapted from the novel Our Sunshine.
John Michaelbs second feature release, Calvary, starring Brendan Gleeson and Chris ObDowd is released in 2014 after screening at the Sundance Festival. It returns the director with both his debutbs star and West-of-Ireland setting.
DOMHNALL GLEESON b 2011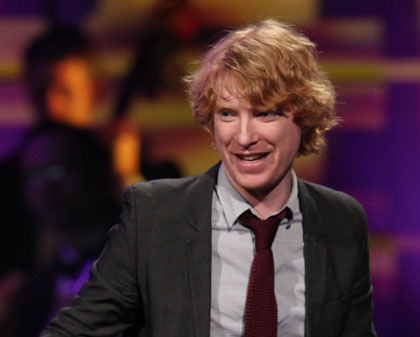 Domhnall Gleeson won the IFTA Rising Star Award in 2011 along with the Best Television Lead Actor Award for his performance as Bob Geldof in the TV Movie When Harvey Met Bob. The award was the culmination of a breakout year in 2010 which saw him gain a higher international profile with appearances in films such as Harry Potter and The Deathly Hollows and Never Let Me Go, as well as starring roles in domestic titles such as Sensation and Your Bad Self.
bI met Lenny Abrahamson at the IFTAbs like 4 years ago and now webre working together, which is great, so you never know whatbll happen hereb
Domhnall Gleeson was born on May 12 1983 in Dublin, Ireland. He studied Media Arts, and age twenty-three he appeared on the Broadway production of The Lieutenant of Inishmore, receiving a Tony Award nomination for his performance. Following his breakout year in 2010 and his success at the Irish Film & Television Awards, Domhnallbs career ascended as he was named Berlin International Film Festival's Shooting Star. In 2012 his role as Levin in Joe Wrightbs adaptation of the novel Anna Karenina, won him IFTA Best Supporting Actor Award. His lead rolerole in Richard Curtisb romantic comedy bAbout Timeb, which grossed c$100 million worldwide, has increased his international profile. In 2014 Domhnall stars in Lenny Abrahamsonbs comedy Frank with Michael Fassbender and also in the sci-fi thriller Ex Machina aswell as starring in John Crowleybs Brooklyn alongside fellow IFTA Rising Star winner Saoirse Ronan.
bI was really proud to be in that group of nominated actors because I love all of their work. It feels nice and Ibm happy and now Ibm going to go have a good nightb
Domhnall Gleeson
TOMM MOORE b 2010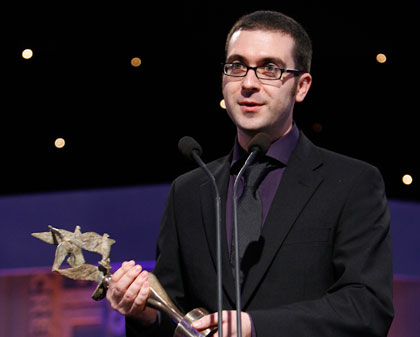 Tomm Moore is an Irish filmmaker and illustrator who was the recipient of the IFTA Rising Star Award in 2010 for his directorial debut feature animation The Secret of Kells, taking the honour over other illustrious competition such as actor Robert Sheehan and director Ken Wardrop. The hand-drawn animation film was a labour of love for Moore, taking several years and showcasing an intricate modern Celtic Irish style. The film won a surprise Academy Award nomination after a limited release in the US, taking its place alongside major Hollywood animation studios Pixar and Disney. Worldwide accolades followed with awards at over ten international animation festivals including Annecy and Seoul. The Secret of Kells also received critical acclaim with industry bible Variety calling it brefreshingly differentb and The New York Post calling the film bquite unlike anything ever seen beforeb.
Tomm Moore was born on January 7th 1977 in County Down, Northern Ireland and was raised in Kilkenny. After studying classical animation in Ballyfermot College in Dublin, Tomm co-founded Cartoon Saloon animation studio with Nora Twomey, Paul Young and Ross Murray. The studio has become one of the largest animation studios in Ireland with international clients including Disney, BBC and Cartoon Network. As Creative Director of Cartoon Saloon, Tomm has overseen the companybs film & television work such as Moon Man (2013), Puffin Rock (2014) and The Prophet (2014).
Tomm will co-write & direct his second feature film, Song of the Sea in 2014. The filmbs voice cast includes Fionnula Flanagan and Brendan Gleeson.
bItbs really an honour to accept this award, particularly as the film was such a labour of loveb
Tomm Moore
MICHAEL FASSBENDER b 2009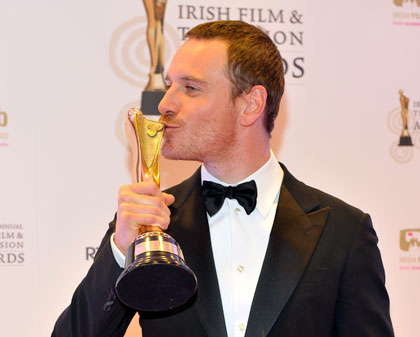 Michael Fassbender won dual honours at the Irish Film & Television Awards in 2009, collecting both the Best Film Lead Actor and Rising Star Awards for his role as prisoner Bobby Sands in the film Hunger. The awards ceremony was the culmination of a year in which the actor had exploded into the mainstream with the films success, both in Ireland and internationally where he was honoured by organisations such as BIFA and BAFTA for his performance.
ichael was born on 2nd April 1977 and raised in Co.Kerry, Ireland and after attending drama school in London, his first major role was in Steven Spielbergbs 2001 award-winning mini-series Band of Brothers. Later roles came on British dramas such as Hex, Trial & Retribution and Murphybs Law in addition to a now well-known Guinness television commercial. Michaelbs breakthrough role came in 2006 as Spartan warrior Stelios in fantasy action film 300, which grossed almost $500 million worldwide. His next role, playing the real-life 1980bs Northern Irish prisoner Bobby Sands won him several international accolades and the IFTA Rising Star. Fassbender has since spent recent years working with some of Hollywoodbs most accomplished directors such as Quentin Tarantino (Inglorious Bastards), Ridley Scott (Prometheus) Andrea Arnold (Wuthering Heights), Joel Schumacher (Blood Creek), Neil Marshall (Centurion), Matthew Vaughan (X Men: First Class), Stephen Soderbergh (Haywire) and David Cronenberg (A Dangerous Method).
won the IFTA for Best Actor in 2011 for his role in Steve McQueenbs Shame. Described as ba brilliant, ferocious performanceb by The Hollywood Reporter, it was also nominated for BAFTA, Golden Globe and European Film Awards. In 2013, Michael collaborated with McQueen again on the acclaimed film 12 Years A Slave. The role won him Golden Globe, Screen Actors Guild and Independent Spirit Award nominations. In 2014, he stars in Lenny Abrahamsonbs comedy Frank, alongside fellow IFTA Rising Star Domhnall Gleeson and Maggie Gyllenhaal.
bIbm very overwhelmed by this, thank you very much to the Irish Film & Television Academyb
Michael Fassbender
SAOIRSE RONAN b 2008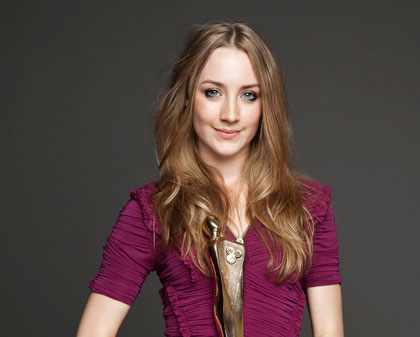 Saoirse Ronan won the IFTA Rising Star Award in 2008 for her role as Briony Tallis in Atonement, a performance which also saw her collecting the Best Supporting Film Actress award. Saoirse's film debut, the role also won her international acclaim including BAFTA and Golden Globe nominations and at thirteen, becoming one of the youngest Academy Award nominees ever. Writing on the film, critic Peter Travers of Rolling Stone noted that "Ronan is the film's glory. This is acting of the highest order".
Saoirse was raised in Carlow, Ireland and as a child accompanied her acting father, Paul Ronan to film sets he was working on in Ireland. After small appearances on Irish television, a twelve-year old Saoirse attended a casting call for the part in Atonement. Impressing director Joe Wright, it was the role which catapulted her into the spotlight with source material novelist Ian McEwan later calling her performance "remarkable". Since her film debut, Saoirse has become one of the most sought after young actresses in Hollywood, working with some of the world's leading directors including a second collaboration with Joe Wright (Hanna), Peter Weir (The Way Back), Peter Jackson (The Lovely Bones), Neil Jordan (Byzantium) and Wes Anderson (The Grand Budapest Hotel). In 2014, she appears alongside Ralph Fiennes and Tilda Swinton in The Grand Budapest Hotel and in How To Catch A Monster, the directorial debut of Ryan Gosling.
bThe IFTAbs feel like theybve been going on for a lot longer than ten years and itbs been such a big part of the industry for such a long timeb
Saoirse Ronan