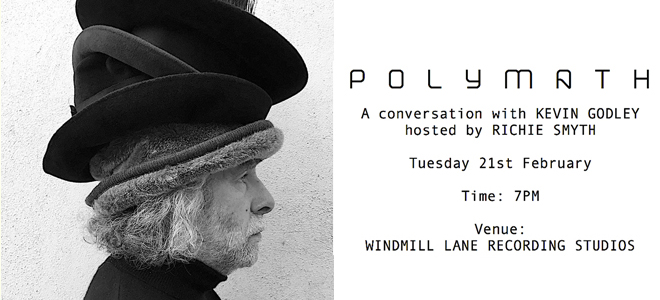 POLYMATH - A Conversation with KEVIN GODLEY
Date: 21st Feb 7pm
Venue: Windmill Lane Recording Studios
IFTA welcomes renowned director, musician, writer and all round innovator Kevin Godley as a guest speaker as part of IFTAs 'In Conversation with...' series on 21st February in Dublin at 7pm.
Richie Smyth (director, The Siege of Jadotville) will host the discussion with Kevin.
Kevin Godley was a member of renowned 1970's bands 10CC and Godley and Creme. He has created music videos for U2, Elbow, Hozier, Lou Reed, Herbie Hancock, Duran Duran, Sting, The Charlatans, The Beatles and Blur amongst many others. He has been writing, recording, singing, playing drums and producing music since 1970 and directing music videos and TV commercials since 1980. Add to all the above percussion, screenwriting, books, music event television, documentaries, sound design, screen content for live shows, graphic design, illustration, tech toys and video-based digital art and the title of our evening becomes clear.
To discover more visit: www.kevin-godley.com
Windmill Lane Recording Studio Location