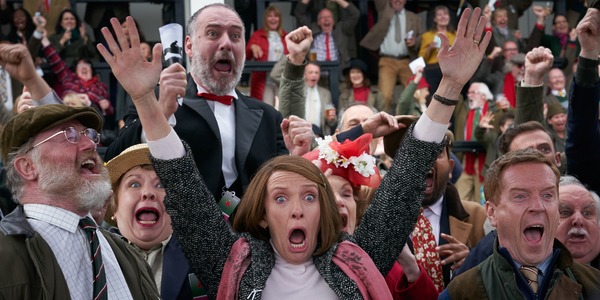 IFTA Preview Screening & Discussion - Dream Horse
When:March 9th
Venue:Odeon Cinema, Point Village


Academy Members are invited to special screening of Dream Horse, in association with Warner Bros. Pictures.
Dream Horse is a beautiful, feel good film based on the incredible true story of Dream Alliance, bred on an allotment, born to win.
Jan Vokes (Toni Collette), a cleaner and bartender, recruits her initially reluctant husband Brian (Owen Teale) and local accountant Howard Davies (Damian Lewis) to help her bring together a syndicate of local people to breed a foal - which they name Dream Alliance. On the racetrack, he proves himself to be more than a match for the multi-million pound racehorses he comes up against – a true working-class champion, taking on the establishment at their own game. But much more than this, Dream begins to alter the lives of everyone in the syndicate, not least Jan's. He is everything to her: friend, confidant and an escape from a life of always putting other people's needs first.
In partnership  with Warner Bros. Pictures the Academy is delighted to invite you and a guest to a Special Preview Screening of Dream Horse with the Director Euros Lyn (Broadchurch, Black Mirror, Doctor Who, Torchwood) and Actor Owen Teale (Game of Thrones, Tolkien, Line of Duty) in attendance. The screening will take place in the ODEON Point Village, doors are at 6.30pm and guest must be seated at 7.00pm.
In Cinemas April 17th   
Directed by: Euros Lyn
Written by: Neil McKay
Produced by: Pauline Burt,   Katherine Butler, Ollie Madden, Kasia Malipan, Richard Man, Tracy O'Riordan, Heather Salter, Peter Touche, Piers Vellacott          .
Cast: Toni Collette, Damian Lewis, Owen Teale, Joanna Page, Karl Johnson, Steffan Rhodri, Anthony O'Donnell, Sian Phillips, Alan David, Lynda Baron, Rys AP William, Carwyn Glyn, Benji Wild, Darren Evans, DI Botcher, Rekha John-Cheriyan.
Date: March 9th  6:30pm
Venue: ODEON Cinema Point Square
© 2020 Warner Bros. Ent. All Rights Reserved