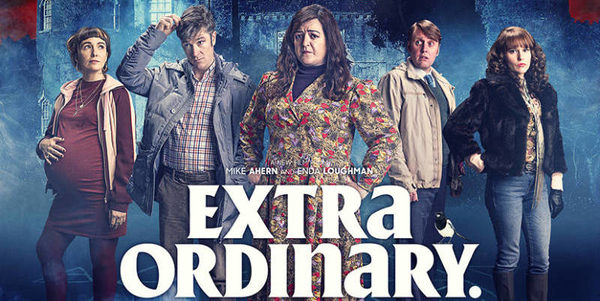 IFTA Screening - Extra Ordinary
When: Thursday, 12th September
Venue: Odeon Cinema, Point Village


The Irish Film and Television Academy presents a first-look screening of supernatural comedy Extra Ordinary written and directed by Mike Ahern and Enda Loughman.
Extra Ordinary follows the story of Rose, a sweet, lonely driving instructor in rural Ireland, who is gifted with supernatural abilities. Rose has a love/hate relationship with her 'talents' & tries to ignore the constant spirit related requests from locals - to exorcise possessed rubbish bins or haunted gravel. But! Christian Winter, a washed up, one-hit-wonder rock star, has made a pact with the devil for a return to greatness! He puts a spell on a local teenager - making her levitate. Her terrified father, Martin Martin, asks Rose to help save his daughter. Rose must overcome the fear of her supernatural gift & work with Martin to save the girl, get the guy and be home in time for a light snack...maybe a yogurt or something...
Extra Ordinary is the debut feature film from the Irish directing duo, Mike Ahern and Enda Loughman, starring Irish comedian Maeve Higgins ('Moone Boy'), Barry Ward ('Taken Down') and Will Forte ('Nebraska'), the film also boasts a strong Irish supporting cast of Siobhan McSweeney ('Derry Girls'), Risteard Cooper ('Apres Match'), Alison Spittle ('Nowhere Fast'), Mary McEvoy ('Glenroe') and Jamie Beamish ('Derry Girls').
Following the film's successful world premiere at the SXSW Film Festival, where it was selected for an additional 'BUZZ' screening, Extra Ordinary went on to win the Best Irish Film award at the 31st Galway Film Fleadh.
Mike Ahern and Enda Loughman will participate in a Q&A following the screening.