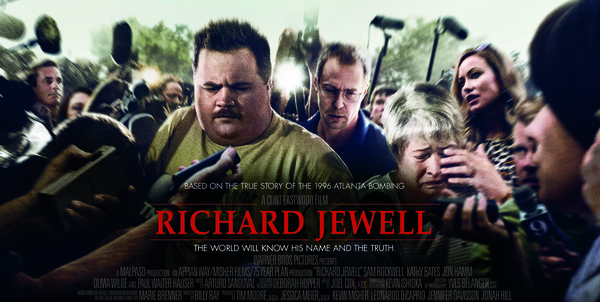 IFTA Preview Screening - Richard Jewell
When:December, December 16th
Venue:Cineworld


IFTA in association with Warner Bros. Pictures invites Academy Members to a Special First-Look Screening of Richard Jewell, starring Paul Walter Hauser (I, Tonya), Jon Ham (Mad Men, Baby Driver), Olivia Wilde (House, The Lazarus Effect), and Oscar-winners Sam Rockwell (Three Billboards) and Kathy Bates (Misery, About Schmidt).
Directed by Clint Eastwood and based on true events, Richard Jewell is a story of what happens when what is reported as fact obscures the truth. "There is a bomb in Centennial Park. You have thirty minutes." The world is first introduced to Richard Jewell as the security guard who reports finding the device at the 1996 Atlanta bombing—his report making him a hero whose swift actions save countless lives. But within days, the law enforcement wannabe becomes the FBI's number one suspect, vilified by press and public alike, his life ripped apart.
"Eastwood has crafted a monument to Jewell's heroism and a portrait of its shattering aftermath"
Glenn Whipp/Los Angeles Times
"Paul Walter Hauser is simply brilliant, completely inhabiting this role."
Pete Hammond/Deadline
"Clint Eastwood knows what he's doing with Richard Jewell. Every detail builds to the right moment; his cast and crew deliver. It's a pleasure."
Anne Thompson/Indiewire
The film stars Sam Rockwell as Watson Bryant and Kathy Bates as Richard's mom, Bobi; Jon Hamm as the lead FBI investigator; Olivia Wilde as Atlanta Journal-Constitution reporter Kathy Scruggs; and Paul Walter Hauser stars as Richard Jewell.
Bronagh and Louise Gallagher will take part in a Q&A after the screening.
Directed by: Clint Eastwood
Written by: Billy Ray
Produced by:Clint Eastwood, Tim Moore, Kevin Misher, Leanardo DiCaprio, Jennifer Davisson, and Jonah Hill
Cast: Sam Rockwell, Kathy Bates, Jon Hamm, Olivia Wilde and Paul Walter Hauser
Richard Jewell releases in Irish Cinemas on January 31st, 2020.