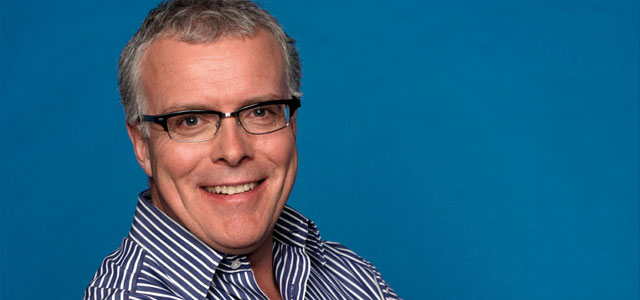 ANNUAL TELEVISION LECTURE – ROB CLARK (FREMANTLE MEDIA)
Click here to view images from the event ➟
Rob Clark, Director of Global Entertainment Development for Fremantle Media delivered the IFTA Television Lecture on Friday October 24th in The Shelbourne Hotel, Dublin.
Clark, who is responsible for the management of all global format acquisitions, has overseen a number of FremantleMedia's most successful global roll-outs including Got Talent, The X Factor, The Farmer Wants a Wife, The Apprentice, Hole in the Wall, Let's Dance, and Take Me Out, as well as the continued success and roll out of the Idols franchise.
Bill Hughes chaired the session with Clark; attendees included Bill Malone, Edel Edwards, Grainne McAleer (RTÉ), Andrew Byrne and Leah Wallace (TV3), producers Billy McGrath, Philip Kampf, Patricia Carroll, Jamie D'Alton, Darren Smith and Conor Moloney.
Of the event, Clark said "It's a pleasure to have been invited to speak by IFTA. Over my career I've worked with some hugely talented Irish producers and creative and as the format industry globalises, Ireland has an important role to play on the international stage."
Áine Moriarty, Chief Executive of IFTA said, "The IFTA Television Lecture is one of the Academy's key annual events and is an invaluable opportunity for Irish television creatives to engage with and learn from such a key global figure as Rob Clark and we are delighted to welcome him to Dublin. Ireland's television sector is increasingly positioning itself as a hub for great global ideas and formats and I have no doubt that the Irish television professionals in attendance will gain enormous insight from both the lecture and discussion".
Here is some feedback from attendees:
Bill Malone, Channel Controller, RTÉ 2
"These are interesting and very productive events, so in the room today you have some of the brightest brains of Irish television, these are independent production companies and producers who have great ideas and this is a very interesting space where Fremantle, one of the biggest companies in the world for formats are meeting some of our brightest and best so it's an exchange of ideas.

He touched on it a bit but we do have an issue with scale, we do have some great ideas and a lot of pluses in our favour; English speaking, creative, London on our doorstep, but we do lack scale and that's finance so when you mix our creativity and broadcasters like ourselves, RTÉ 1, RTÉ 2 with big companies then you create that scale and that's something which could come from this."


Edel Edwards, Head of Programme Sales, RTÉ
"I think it's absolutely fantastic because normally where we encounter people of Rob's status is at MIPTV where they're so huge it's virtually impossible to have a one-on-one with him, let alone hear about what he really thinks, whereas a session like this, not only do we get to hear from him for the bones of an hour we also get to do a Q&A and grab him after and ask whatever you want in private. I haven't met Rob before but I was hugely impressed, I really enjoyed the session and it's really refreshing to meet somebody who's just so honest and upfront about how things really are because I think that's what people in business really want to hear as opposed to fobbing them off. I thoroughly enjoyed the Television Lecture. There is something that he said that I will take with me for a long time which was his observation on trends. So clever what he said, it really makes you think that we have to focus on what hasn't been done instead of copying something else."
Andrew Byrne, Head of Formats, TV3
"I think Rob is quite an inspirational person, his character alone is so motivating alone in one respect. He has a lot of insights in terms of the background of the industry, how the industry operates and what are tips & tricks in terms of being successful with formats, and if anything that has to be a huge positive and a big motivation moving forward.
It's interesting for me because I'm coming from a broadcaster going to all these types of events so I know the people that he deals with and I've met a lot of them as well but when you see him talking about all these big successes you ultimately forget that they come back to a core, they come back to a small nugget of an idea so he spoke about some of the world's biggest formats today but they all came back to something small.
Orla McGowan, Head of Business & Finance, VIP (The Hit, Operation Transformation, Neville's Doorstop Challenge)
"I think it's very important that people who work in the TV industry in Ireland have a reminder of the global positioning of formats and somebody like Rob obviously has a huge expertise and insight into what's going on. Rob was very frank and funny and for me the main point I will take away were his answers on trends, I found it absolutely so refreshing and he's quite right. If something is here already then it's done so you need to think of something original because that could be the next big thing."
Darren Smith, MD, Kite Entertainment (Ireland's Fittest Family, Celebrity Bainisteoir)
"It's just good, good networking, good opportunity, good to have big players come over here and take us seriously."