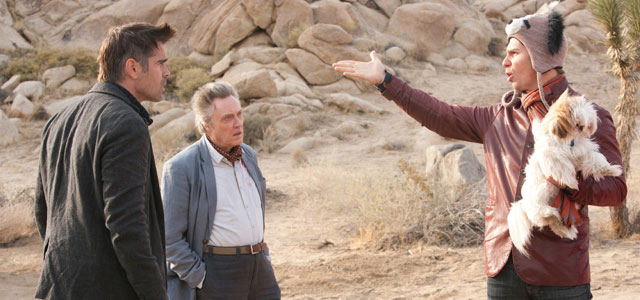 SEVEN PSYCHOPATHS - PREVIEW SCREENING
From IFTA, BAFTA and Oscar®-winning Writer and Director Martin McDonagh

EVENT DETAILS

Seven Psychpaths - Preview Screening

When:
24th October 2012
6.30pm

Where:
Light House Cinema, Dublin

Contact info:
+ 353 1 6624120

membership@ifta.ie

The Irish Film & Television Academy is delighted to host the preview screening of Martin McDonagh's highly anticipated second feature Seven Psychopaths on Wednesday 24th October at 6.30pm in Light House Cinema, Smithfield Square, Dublin.

From IFTA, BAFTA and Oscar®-winning Writer and Director Martin McDonagh comes a star studded, blood-drenched, black comedy which follows a group of oddball friends who inadvertently find themselves entangled in Los Angeles' criminal underworld after stealing the beloved Shih-Tzu of one dangerous gangster.

ABOUT Seven Psychopaths
Marty (Colin Farrell) is a struggling writer who dreams of finishing his screenplay, Seven Psychopaths. All he needs is a little focus and inspiration. Billy (Sam Rockwell) is Marty's best friend, an unemployed actor and part time dog thief, who wants to help Marty by any means necessary. Hans (Christopher Walken) is Billy's partner in crime, a religious man with a violent past.

Charlie (Woody Harrelson) is the psychopathic gangster whose beloved dog has just been stolen by Billy and Hans. Charlie is unpredictable, extremely violent and wouldn't think twice about killing anyone and anything associated with the theft.

Marty is going to get all the focus and inspiration he needs, just as long as he lives to tell the tale.

Seven Psychopaths stars IFTA winner Colin Farrell (Ondine) as Marty, Sam Rockwell (Moon) as Billy, with Christopher Walken (True Romance) playing Hans and finally Woody Harrelson (Natural Born Killers) as Charlie. Complimenting this sterling male cast are Abbie Cornish (Limitless) and Olga Kurylenko (Quantum of Solace).

Seven Psychopaths is in cinemas nationwide on 7th December 2012.

With thanks to Momentum Pictures.
https://www.facebook.com/SevenPsychopaths
IFTA MEMBERSHIP

This event is free and exclusive to Members of the Irish Film & Television Academy.
click here for information about Membership eligibility.
Twitter: @ifta
Facebook: www.facebook.com/iftaonline
Signup for IFTA E-news: ezine@ifta.ie