Brendan O'Carroll
Brendan was born the youngest of eleven children in Finglas, Dublin in 1955 to Maureen, a Labour TD, and Gerard, a carpenter. His family endured extreme poverty and he saw no option but to leave school at the age of 12 to start work (however, it was later discovered that Brendan has an IQ of 156 and he became a member of Mensa). The young O'Carroll had a string of occupations, including a waiter and milkman but it was comedy that eventually captured his attention.
O'Carroll spent some time honing his craft in smaller gigs before he moved on to bigger shows – a veritable turning point in Brendan's comedy career coming with his first appearance on Gay Byrne's The Late Late Show in 1992. Shortly after, his first video Live at the Tivoli went straight to Number One.
This success led to the creation of Agnes Browne as the central character in Brendan's first novel The Mammy. The book topped the bestseller charts in Ireland for months and was eventually made into the film Agnes Brown in 1999, directed by and starring Oscar winner Angelica Huston.
In 1994, the same year he wrote The Mammy, Brendan was voted Ireland's No 1 Variety Entertainer at the National Entertainment Awards. Memorable film appearances around this time include Roddy Doyle's The Van (1996), Stephen Bradley's Sweety Barrett (1998) and Frank McCourt's Angela's Ashes (1999). He also had a small role in his own novel adaptation Agnes Brown and he wrote and directed Sparrow's Trap (1998), an adaptation of his novel of the same name.
Video of Brendan O'Carroll receiving the IFTA Achievement Award for Comedy
In the 2000's, O'Carroll's various theatre productions featuring Agnes Brown were starting to garner attention from television producers in the UK and, in 2011; his plays were adapted into a BBC television sitcom.
Initially broadcast in a quiet late evening slot, Mrs Brown's Boys became a huge word-of-mouth hit, and quickly moved to primetime. Created by and starring O'Carroll in the lead role, Mrs Brown's Boys also features his wife Jennifer Gibney, his sister Eilish, his son Danny and his daughter Fiona, and the show's first series eventually pulled in an average audience of 3.6 million people in 2011.
The show found similar success in Ireland and every episode aired won its timeslot for RTÉ, with an average viewership of 753,500.
By 2013, the show's third season was attracting a massive average audience of 9.4 million people in the UK.
The show has also aired acclaimed Christmas specials since 2011 with the audience figures hitting a massive 15.5 million in 2013 in the UK and 972,000 in Ireland in 2012.
A hit worldwide, Mrs Brown's Boys has now aired in Australia, Belgium, Canada, Denmark, Iceland, Malta, New Zealand, Serbia, Sweden and Africa. The success of the series led to a film adaptation being released in 2014. Mrs Brown's Boys D' Movie made a record breaking €1.02m at the Irish box office after its first three days on release, and proved a hit with audiences worldwide too as it went on to make $28,840,379 on a budget of just £3.6 million.
Mrs Brown's Boys has also proved popular with O'Carroll's peers in the industry, both in Ireland and the UK, and the show has so far won a BAFTA Award for Best Situation Comedy, an IFTA Award for Best Television Programme, a BAFTA Scotland Award for Best Comedy Entertainment Programme as well as a Writers Guild Of Great Britain British Comedy Award, among many other accolades.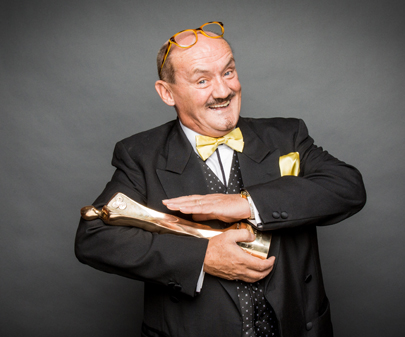 "Brendan O'Carroll is quite simply a creative genius, his comedic style is accessible, immediate and outrageously funny. You don't need to be a Mrs Brown fan to recognise this man's brilliance and his absolute skill and craft that is inspiring young Irish comedy writers and performers to find their own unique voice"
Áine Moriarty CEO of the Irish Academy
"Brendan has a universal quality, when he does something funny ... it's funny, funny all over the world"
Roddy Doyle

Mrs Brown's Boys (TV Series): 2011- present
The Security Men: 2013
Mrs Brown's Celebrities: 2012
The Fattest Man in Britian: 2009
Max and Paddy's Road to Nowhere: 2004
Agnes Browne: 1999
Angela's Ashes: 1999
Sweety Barrett: 1998
Sparrow's Trap: 1998
The Van: 1996
Hot Milk & Pepper: 1996-1998