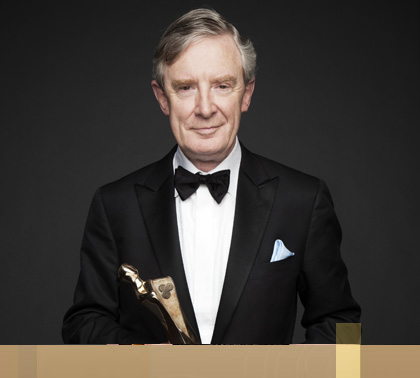 Morgan O'Sullivan
Born in Dublin in May 1945, Producer Morgan O'Sullivan has garnered a reputation for being one of the most significant contributors to the Irish film and television industry. His projects have received numerous accolades including five Oscars, three BAFTAs, Six Emmys and over 25 IFTAs.
O'Sullivan began his career in entertainment at an early age where, amongst other roles as a child actor, he lent his vocal skills to the cast of Radio Eireann's The Foley Family. Enchanted by the world of show-business, Morgan left school, decided on a career in the entertainment industry and landed his first job making documentaries and commercials with Dublin's Rex Roberts Studios. He followed this with a move to Ireland's famous Gael Linn newsreel company working under the tutelage of Colm O'Leary. In the mid 1960's, O'Sullivan and his wife Liz emigrated to Australia where he worked as a producer and broadcaster making movies for networks ABC and Channel Three.
Lured back to Ireland in 1970, Morgan joined RTÉ and forged a successful career working in radio, but still wanted to work on Irish-made feature films. He undertook a study in Hawaii of the successful television series Hawaii Five-O and was inspired by the positive influence filming of the series had on the island.
In 1980, producing his very first feature film, Morgan teamed with author Frederick Forsyth and Hawaii-Five-O director Michael O'Herlihy to create Cry of The Innocents, filmed on location in Ireland with Hawaii-Five-O international crew serving as Heads of Department, training a production team of eager Irish crew serving under them. Morgan began producing content for the US market and provided producing / consultation services to many major international companies working on titles including Remington Steele, Manions of America and Three of a Kind.
Morgan O Sullivan receiving the IFTA Outstanding Contribution to Film and TV Award
"Everything we asked him to do he said - ''That can be done." When doing things on an enoromous international scale, time and time again he's delivered for producers and networks, he's the go to guy"
Robert Greenblatt - Chairman NBC entertainment
"He fearlessly took off from Ireland and went to hollywood and established this bridge between Hollywood and Dublin at a time when nobody else was doing it"
Gabriel Byrne
There is no-one who deserves this awards more then Morgan O Sullivan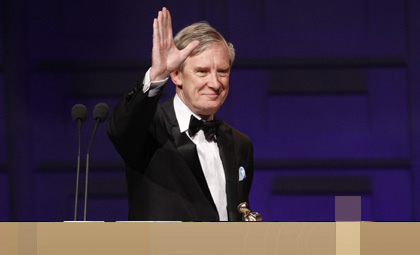 Pushing forward with his master plan to build a firm filmmaking foundation in Ireland, in 1986, Morgan O'Sullivan encouraged MTM Enterprises into Ireland, putting together a consortium to purchase Ardmore Studios. Morgan served as Managing Director of Ardmore from 1986 – 1990 supervising the refurbishment of the studio and marketing it world-wide. Following the sale of Ardmore, Morgan moved to Los Angeles and established development deals with NBC and HBO.
A major turning point for O'Sullivan and the Irish film industry came in 1995. Morgan capitalized on Section 35, a new tax incentive introduced to stimulate production in Ireland, to convince producer Steve McEveety to film Mel Gibson's big-budget film Braveheart in the country.
Following the Oscar winning success of Braveheart, Morgan established his own production company World 2000 Entertainment and tirelessly promoted Ireland's favourable tax incentives to secure Irish shoots for feature films including Disney's The Count of Monte Cristo, starring Guy Pearce and Jim Caviezel; the Oscar nominated drama Angela's Ashes; PBS television movie David Copperfield; large scale fantasy thriller Reign of Fire and Joel Schumacher's critically acclaimed story of Irish crime reporter Veronica Guerin. In 2003, the Showtime TV movie The Roman Spring of Mrs Stone, starring Helen Mirren and Olivier Martinez, brought Morgan O'Sullivan his first Prime-Time Emmy nomination.

He takes a crew and instills in them the kind of believe that they can take on anything or anyone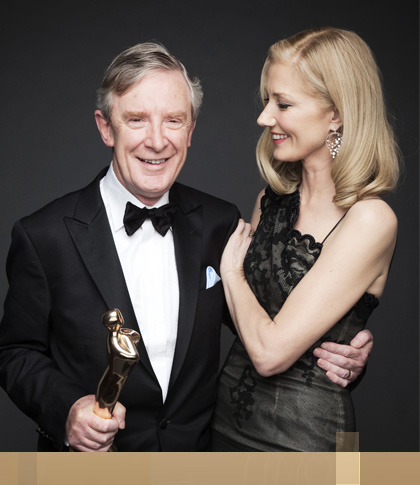 Moving further into the new century Morgan joined forces with Disney / Miramax Films to bring more large scale productions to Irish shores; Ella Enchanted, King Arthur, and Julian Jarrold's Austin biopic, Becoming Jane.
"It gives me untold pleasure to think that it is Morgan O Sullivan and all he has done for all of us is being rewarded in this way "
Joan Bergin
In 2006, Morgan secured the production of Showtime's period drama The Tudors. The multi-Emmy and IFTA Award winning drama became a worldwide sensation with all four series filming on location in Ireland. The scale and impact of this production was immeasurable; financial rewards alone saw The Tudors employing over 300 staff every week of production, adding millions to the Irish economy and further cementing Ireland's status of excellence in producing world-class film and television production.
In 2010, undeterred by the recession in Ireland, Morgan spearheaded the Irish production of Camelot, another big budget series, which filmed on location at Ardmore Studios and around Ireland for six months. Most recently, O'Sullivan has overseen major international series such as Vikings and Penny Dreadful film multiple series in Ireland, employing hundreds of cast and crew and helping set the Irish industry on the road to recovery.