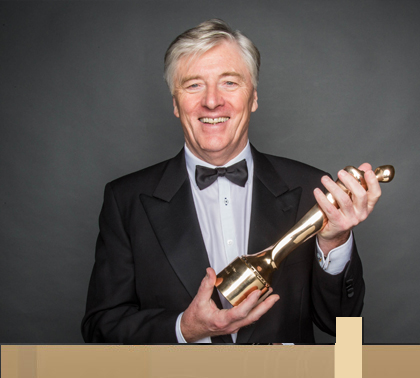 Pat Kenny
"I am truly honoured to receive this Award from the Irish Academy; to be recognised by my peers in this way, and to follow in the footsteps of such an illustrious group of people who have previously received this Award is an absolute honour for me. I am humbled to be acknowledged by the Academy alongside broadcasters such a Gay Byrne and Cathal O'Shannon, who paved the way for broadcasters such as myself. Thank you IFTA."
Pat Kenny, Lifetime Achievement Award
Pat follows in the footsteps of previous Academy Lifetime recipients such as Gay Byrne, Maureen O'Hara, David Kelly, George Morrison, Cathal O'Shannon, Neil Jordan, Morgan O'Sullivan, John Boorman, Niall Toibín, Fionnula Flanagan, President Michel D. Higgins, Jim Sheridan, Liam Neeson, and Brendan O'Carroll.
Pat Kenny is being honoured for his lifetime body of work in Television and for his superb and distinguished contribution to Irish broadcasting for almost five decades.
Ireland's foremost and distinguished broadcasters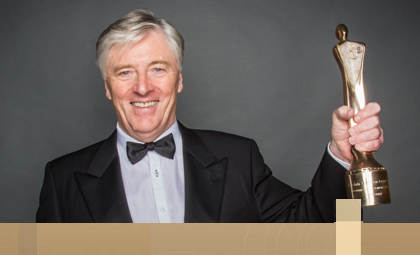 "For more than 40 years Pat Kenny has shown himself to be a dedicated and passionate broadcaster, and a trusted and reliable voice in Ireland across important news, current affairs and social issues. His unique style and honest and informative approach to interviews and topics across all walks of life, has earned him a place in the hearts and minds of the Irish public and amongst his peers. The Irish Academy looks forward to honouring Pat on October 7th at the ceremony."
Aine Moriarty, Chief Executive of IFTA
Pat Kenny is one of Ireland's leading broadcasters. He presents The Pat Kenny Show on Newstalk from 10am - 12.30pm every weekday. He brings his experienced broadcasting style and incisive analysis to the day's news and current affairs.
It was recently announced that Pat will join TV3 for a primetime new current affairs programme on Wednesday evenings alongside Colette Fitzpatrick. Beginning in October 2016 the programme will deal with the important news and current affairs issues of the week. The show will provide in-depth analysis, featuring one-on-one interviews with government ministers, leading politicians and the big newsmakers of the day.
In 1972 Pat Kenny joined RTÉ as a part-time presentation announcer, becoming full time later that year. In 1977 he left the RTÉ staff to become a freelance broadcaster presenting programmes on radio and television in many fields, including science and technology, business, news and current affairs as well as music and young people's programming.
He was appointed a member of the RTÉ authority 1985 -1990, and was Chairman of Radio Tara (Atlantic 252) between 1990 -1992. He is a Fellow of the Institution of Engineers of Ireland. He was awarded an Honorary Doctorate by his Alma Mater, University College Dublin, in 2012.
A versatile broadcaster he has presented top rated programmes on both radio and television for many years, including a daily current affairs radio show, and both serious current affairs and light entertainment shows on television, including the ground- breaking current affairs programme Today Tonight at one end of the scale to the Eurovision Song Contest in 1988 at the other. He continued to be associated with Eurovision, providing television commentary for Irish viewers of the event on nine occasions from 1991 to 1999.
Pat presented a Saturday night talk show Kenny Live! for eleven years from 1988 to 1999, after which he spent ten years as host of the legendary Late Late Show from 1999 to 2009. In September 2009, Kenny began presenting The Frontline each Monday night on RTÉ One. It was a topical debate show revolving around the interaction between Pat, his guests and an invited audience. Pat won an IFTA in 2010 for The Frontline and was nominated again the following year. Other awards include a Jacobs Award, a Glaxo Award for Scientific Broadcasting, and the (British) Plain English Award for Today with Pat Kenny (2006).
In February 2013 he joined the newly revamped current affairs programme Prime Time while continuing to present Today with Pat Kenny on RTÉ Radio 1 each weekday morning between 10am and midday.
In July 2013, he created a media storm when he left RTÉ Radio to sign up to the independent national news network Newstalk for a daily current affairs magazine show which has already proved to be very popular with the listening public.
Kenny originally qualified as a chemical engineer (UCD and Georgia Institute of Technology) and had a past career as a lecturer to students of engineering and architecture in Bolton Street College of Technology (now the DIT).
Charitable involvements include Trust, The Alzheimer's Society of Ireland, The Dublin Rape Crisis Centre, Our Lady's Hospital for Sick Children, The Peter McVerry Trust.