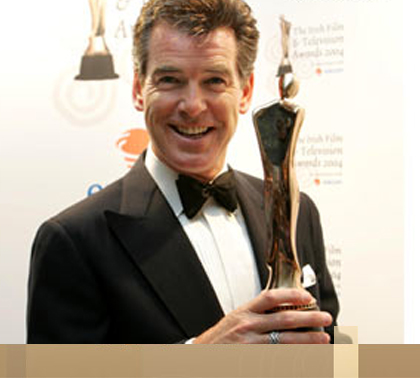 Pierce Brosnan
"I am honoured beyond words to be part of the Irish Film and Television Academy, especially to be among the names of so many I greatly admire in the world of film and storytelling, I can only hope that this will lead to the inspiration of future artistic generations to go forth within their time and place in history, fearless with desire."
PIERCE BROSNAN
Born in Drogheda, County Louth on Ireland's east coast and raised in Navan, County Meath, Pierce moved to England at an early age. Pierce has faced testing circumstances throughout his life, yet through his desire, talent, determination and incredible resolve, he has garnered great personal and professional success, including an OBE and the honour of this award in 2004 for Outstanding Irish Contribution to Cinema.

Brosnan has commanded respect as one of the film world's most varied, adventurous and skilled dramatic actors. The consummate leading man, Pierce was a strong and focused young man. He studied acting for three years in London followed by several years performing around the UK. Early roles included The Long Good Friday and The Mirror Crack'd (both 1980), before his foray into the world of television, in the 1981 ABC TV Mini-Series The Manions of America. Announced to America, Pierce secured the title role in the popular and hugely successful long-running detective series, Remington Steele in 1982.

Roles in The Lawnmower Man (1992) and Mrs. Doubtfire (1993) established his big screen credibility and soon his charisma, good looks and intelligence in these roles made him a prime candidate to step into the shoes of one of the cinema's most iconic characters, becoming the 5th James Bond in 1994. His role as James Bond made him a household name all over the world, reinvigorating the popularity of the Bond legacy by putting his own stamp on the coolly debonair 007 in the box-office blockbusters Goldeneye, Tomorrow Never Dies, The World is Not Enough and Die Another Day. Die Another Day, which marked the 40th anniversary of Bond, was at the time the most successful Bond film ever, garnering almost half a billion dollars worldwide.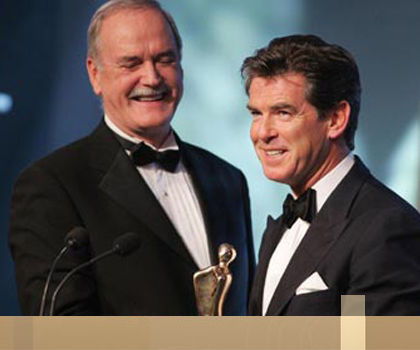 "He thinks it out, does the work, makes it look easy, and the acting never shows. A consummate movie actor, and the best of men"
JOHN BOORMAN, Director, Producer and Writer, Tailor of Panama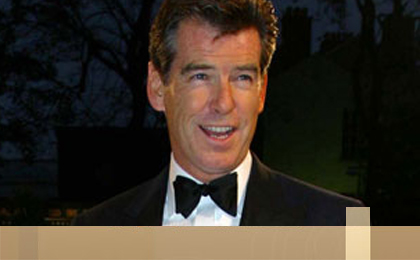 "I would like to congratulate Pierce on his tremendous overall career achievement. Knowing Pierce, he must be so excited at being honoured in his home country and for receiving such a prestigious award at this year's Irish Film & Television Awards Ceremony. It was such a pleasure to work with Pierce and the entire cast and crew on the Bond set and I know he will have the kind of evening that he truly deserves...outstanding"
ISABELLA SCORUPCO, co-star on Goldeneye
Established as one of the world's most bankable stars, Pierce could have been forgiven for resting on his laurels. As he continued his leading roles in films such as Dante's Peak and The Tailor of Panama, his drive and desire would not allow for complacency though, as he expanded his career to include film production, and specifically production in Ireland. The work of his production company, Irish DreamTime, has been of major significance to Ireland's film industry. To date, Irish DreamTime has produced over a dozen films including The Nephew, The Thomas Crown Affair, Evelyn, Laws of Attraction, The Matador, The Greatest and the upcoming November Man. The company's first studio project, The Thomas Crown Affair, starring Brosnan, Rene Russo and Denis Leary became both a critical and box office hit.

Pierce's repertoire of work has seen his talent and reputation grow worldwide as he worked with such greats as Tim Burton, Bruce Beresford, Brett Ratner, Sir Richard Attenborough, John Boorman, Roman Polanski and Chris Columbus along with actors and actresses such as Julianne Moore, John Cleese, Woody Harrelson, Sally Field, Brendan Gleeson, Dame Judi Dench, Niall Toibin, Liam Neeson, Meryl Streep, Colin Firth, Susan Sarandon and Emma Thompson. Yet Pierce's talent, good looks and restrained air of machismo remain the tapestry of whom he is, the Navan boy done good.

His stellar film and television career, having already spanned over thirty years, shows no sign of fading – recent starring roles include Love Is All You Need, The Love Punch and A Long Way Down. His acting and producing roles go hand in hand, allowing him the opportunity to do smaller, character pieces and larger big-budget productions.

The Irish Film & Television Awards were delighted to present this inaugural Outstanding Irish Contribution to Cinema award to Pierce Brosnan in 2004.