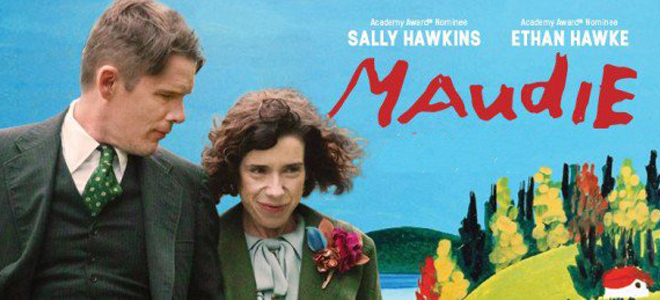 Ethan Hawke in Dublin with Director Aisling Walsh for IFTA 'Maudie' events
The Irish Film & Television Academy (IFTA) will host a much anticipated Screening and Q&A of 'Maudie' with 4 time Oscar Nominee Ethan Hawke (Boyhood, Training Day, Gattaca) and award winning Irish director Aisling Walsh (Song for a Raggy Boy, Fingersmith, Wallander) on Saturday 5th August in Dublin.
The pair will attend the Irish Academy Screening of their new film 'Maudie' which goes on general release in Ireland on Friday 4th August, and will participate in a post screening discussion about the film. 'Maudie', directed by Walsh, has Hawke starring alongside Sally Hawkins. The film premiered at the Telluride Film Festival and has received rave reviews from audiences and critics alike across many festival screenings from Toronto, to Berlin to Edinburgh.
The New York Observer said: The film is richly layered, deeply felt. From the creative genius of Aisling Walsh. Ethan Hawke as we've rarely seen him'
'Astounding. Ethan Hawke gives one of the finest performances of his career' (Interview)
Captivating! Sally Hawkins' performance splendidly carries the day (Hollywood Reporter)
Aisling Walsh says, 'I am delighted that 'Maudie' has been invited to screen for Irish Film and Television Academy Members on its opening weekend in Ireland. To have Ethan Hawke joining us will make the event even more special.'
Maudie
The film is an unlikely romance in which the elusive Everett Lewis (Ethan Hawke) hires a fragile yet determined woman named Maudie (Sally Hawkins) to be his housekeeper. Maudie, bright-eyed but hunched with crippled hands, yearns to be independent, to live away from her protective family. She also yearns, passionately, to create art. Unexpectedly, Everett finds himself falling in love. 'Maudie' charts Everett's efforts to protect himself from being hurt, Maudie's deep and abiding love for this difficult man and her surprising rise to fame as a folk painter.
'Maudie' is released by Sony Picture Classics, and goes on general release from Friday 4th August 2017
Ethan Hawke and Aisling Walsh will participate in a post-screening Q&A hosted by Eithne Shortall
The film was produced by Parallel Film Productions along with Canadian producers Rink Rat Productions and Screen Door, and supported by the Irish Film Board.