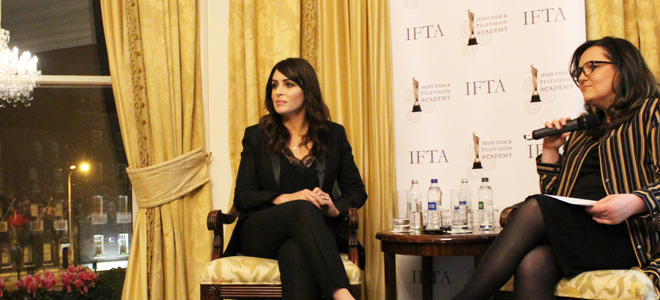 IFTA's In Conversation with...Gráinne Seoige
It was a full house in the Shelbourne suite on Tuesday evening as the Irish Academy's guest speaker Gráinne Seoige sat down for a personable and in depth conversation with Áine Moriarty, IFTA CEO. The event was part of the Women In Focus discussion series IFTA is holding in association with DAVY, talking to inspiring women working within the Film, Television and Media sector.
In an intimate setting overlooking Stephen's Green, Gráinne shared her knowledge and experiences in TV Broadcasting and journalism and getting the work / life balance along the way. She shared her story about her pathway into broadcasting; her love of language growing up in a bilingual speaking house; and her pride at being lectured by what she termed the "oratorically amazing" now President Michael D. Higgins, while she was a student at NUI Galway and he was a lecturer there.
Having received her degree in English, sociology and political science she went on to study 'Communications for TV and Radio', she secured her dream job at the young age of 21, as one of the first presenters launching the new Irish language TV station, TnaG, in 1996. "I thought how amazing it would it be to make a living out of your own language and especially as TG4 was 8 miles down the road from me it was a fantastic opportunity," Gráinne told the audience. 'It was like a dream', to leave her job at retailers Wallis, to pursue a full time career broadcasting in her native language.
The evening continued with funny and insightful anecdotes as Gráinne progressed from TG4 to TV3, ITV, Sky Ireland and RTÉ over the years including some hilarious stories about her time spent in the UK working with ITV's breakfast show GMTV and the SKY News Sunrise team, and her ability to mimic accents and characters was an unexpected highlight for many attendees. Her UK reporting work sent her traveling to a Military Base in Afghanistan, to the slums of Delhi, to Kenya and the Arctic Circle. Áine and Grainne also discussed the more serious side of being a broadcaster and the focus and professionalism required in delivering some of the difficult stories, referring back to Grainne's solo live studio coverage of 9/11 for seven and a half straight hours on TV3. For the young broadcasters and television students in the room, this was an important more serious aspect of the job.
There was a warmth in the room as a response of laughter and delight unfolded throughout the intriguing conversation and the Q & A. A number of screen clips were shown of Gráinne in action, with one clip showing Gráinne hosting 'The Panel' on RTÉ and the 'catfight skit' with Mairead Farrell and copious laughter from the guests in the room.
Áine thanked Gráinne on behalf of the Academy, for her generosity in sharing her inspiring insights, experiences and advice. Many of the attendees expressed their enjoyment and appreciation online on facebook and twitter #IFTAWIF
"I really enjoyed it. It was so interesting and really inspiring. I'm at the beginning of my career and it's great to see a woman that's done so much; it's so impressive and she was so personable as well and really made us feel like we could all do it in some way," said Meave Cosgrove who was one of the attendee's at last night's event.
Such an inspiring,beautiful and funny lady @grainne_seoige is! Loved hearing her talk this evening at @IFTA Women in Focus event #IFTAWIF

— Niamh Reddy (White) (@niamhw10) November 29, 2016
"I think Gráinne is an inspiring woman and an inspiring person first of all and obviously for proving what women in media and film can do. I'd no idea that she had achieved so much from the age of 20 upwards. I think she's absolutely fantastic and the night was very well organised and nice and intimate and very professional," said Emma Fagan from Dublin Web Fest who felt she greatly benefited from the 'Women in Focus' event and had a lot to take away from it.
"Personally for me Gráinne made a very good point that it may be getting easier for women in broadcasting at the moment, because there are so many opportunities and the online format being a new format can really help anyone wanting to be a broadcaster and I think her speaking about that was really interesting and something I'll definitely take away from this," said Emma.
"To be so committed to her career and her family it was very admirable," commented another member of the invited audience. The Academy's previous 'Women in Focus' Conference at the Foundry, presented in partnership with Matheson, was a resounding success, with insights shared from broadcasters Miriam O'Callaghan and Elaine Crowley, filmmakers Colin and Darren Thornton (A Date for Mad Mary) and Girl Crew Co-Founder Aine Mulloy to name a few. IFTA-winning Actress and Comedienne Deirdre O'Kane was IFTA's guest at the opening 'Women in Focus' event in April earlier of this year.
Well said @grainne_seoige! #FindYourPurpose #IFTAWIF @DavyGroup https://t.co/EKoCh6aziE

— Marah Curtin, CFP® (@FinLitDub) November 29, 2016
The leading industry speaker for the next 'Women in Focus' event has been announced as one of Ireland's thriving comedy talents, Actress, Writer and Producer Sharon Horgan, who will speak to IFTA members and invited guests on December 10th. The Women in Focus evening series is presented in partnership with Davy.