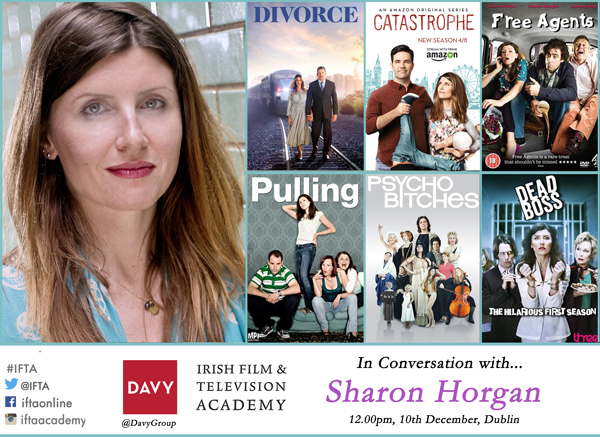 Sharon Horgan discusses 'Divorce' & 'Catastrophe' at IFTA Women in Focus Event
IFTA, in association with DAVY, was delighted to welcome Sharon Horgan to Dublin as our guest speaker for a very special In Conversation with Irish Academy Members on Saturday, December 10th at the Westbury Hotel. Sharon is one of Ireland's most successful talents as an international Writer, Director, Actress and Producer.  Recognized as one of The Guardian's top 100 most powerful people in media 2015, Sharon is currently working in New York with Sarah Jessica Parker in her latest TV show DIVORCE which she has created, written and co-produced. 
She is one of the leading professionals in her field today, with major award wins and nominations from IFTA, BAFTA, the British Comedy Awards and Primetime Emmys.
Horgan's most recent success comes in the form of HBO series 'Divorce' starring Sarah Jessica Parker (Sex and the City) and Thomas Hayden Church (Cardboard Boxer), which she has created, written and produced.
In tandem with the hit show, for which Sarah Jessica Parker received a Best Lead Actress in Drama Golden Globe Nomination earlier today, Horgan both co-stars in and co-writes comedy series 'Catastrophe' with Rob Delaney (Burning Love).
She chatted with attendees about pursuing her career as an actress before investing more into writing her own material, and co-founding production company Merman with Celia Mountford in 2014, to bring her own projects to the screen.
In review of her earlier work across series such as 'Pulling', 'Psychobitches', 'Dead Boss' and 'Free Agents' to name a few, Horgan spoke about the changes in her style over the years, how to choose consecutive projects carefully, her writing process both with Delaney and the 'Divorce' team, and how her distinctive content is received.
10 writers working on #divorce was a great experience- working with writers you've admired @SharonHorgan pic.twitter.com/lev2DGVjHG

— Irish FilmTV Academy (@IFTA) December 10, 2016
The Academy also took the opportunity to present Horgan with her two IFTA Awards for Best Female Performance and Best Writer in a Soap or Comedy, which she garnered at the recent IFTA Gala TV Awards for her work on 'Catastrophe'. This marked the second consecutive year she received double award wins in these categories for her work on the series.
Hilarious #IrishTalent @SharonHorgan talks @catastrophe_tv #DivorceHBO & finally receives her IFTAs. Well deserved! #Comedy #IFTAWIF pic.twitter.com/SyHhSE3gVH

— Katie McNeice (@KatieMcNeice) December 10, 2016
About Sharon Horgan
One of Guardian's top 100 most powerful people in the media 2015, Sharon Horgan is an Irish actress, writer, and director. Her BBC show 'Pulling' was nominated for two BAFTA Awards and won two British Comedy Awards. She has created, written, and starred in multiple comedy shows, including Angelo's (C5), Bad Management (ABC), and Dead Boss (BBC).
Sharon starred in the award-winning and critically-acclaimed series Catastrophe (C4/Amazon), which she co-created and co-written with Rob Delaney. She has won IFTA Awards for Best Writer (Comedy/Soap) and Best Female Performance (Comedy/Soap) in both 2015 and 2016.
In addition to her IFTA wins for Catastrophe, which has been recommissioned for another two series by Channel4, Sharon has won a BAFTA in the Writer: Comedy category and was recently nominated for Outstanding Writing for a Comedy Series at the 68th Primetime Emmy Awards alongside Rob Delaney.
Of her BAFTA nominated and IFTA winning performance, The Hollywood Reporter noted 'it's Horgan's performance that elevates the series', and Variety commented that 'Horgan was half of one of the most captivating couples of the year…. Before 2015, we were unfamiliar with Horgan, but now we can't get enough of her deft and versatile on-screen work.'
Sharon's new show Divorce has recently been recommissioned for a second series on HBO. The comedy which she has created, written and produced - starring Sarah Jessica Parker, is set in New York and tells the story of a very, very long divorce. It centres on Frances (Parker), a woman who suddenly begins to reassess her life and her marriage, and finds that making a clean break and a fresh start is harder than she thought.
This year, Sharon has created and co-writen the pilots for The Circuit (Channel4) about the horror and hilarity of social engagement, and Motherland (BBC2) about navigating the trials and traumas of middle-class motherhood, looking at the competitive and unromantic sides of parenting - not the cute and acceptable public face of motherhood. Motherland has now been commissioned for a full series on the BBC.
Further to her creative work, Sharon co-owns the independent production company Merman with producer Clelia Mountford (Cockroaches, Young Doctor's Notebook). Merman recently shot the third series of The Increasingly Poor Decisions of Todd Margaret, is co-producing Catastrophe and Divorce, as well as executive producing the US remakes of Bad Sugar and Pulling.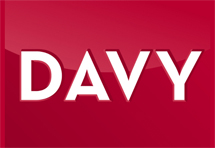 This event is part of the Women in Focus series and is presented in association with DAVY