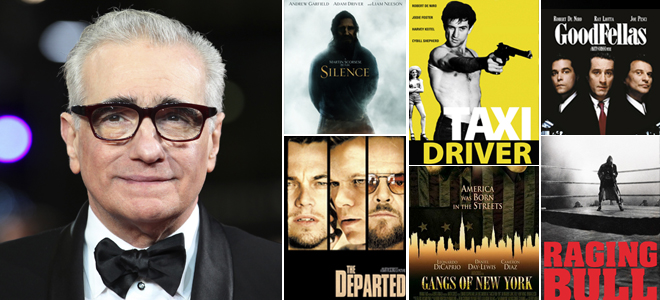 Industry Masterclass with Martin Scorsese
Date: 25th Feb 2017
Time: 2pm
On the occasion of the presentation of the JOHN FORD AWARD to Martin Scorsese, IFTA is delighted to announce details of a very special Industry Masterclass / In Conversation with the world-renowned filmmaker. The Masterclass takes place on Saturday 25th February at 2pm in Dublin city centre.
The Masterclass is open to all Industry, with priority given to Members of the Directors Chapter of the Academy, Producers, and Scriptwriters; and will give participants a first-hand insight into the work, technique, influences and career of world renowned filmmaker Martin Scorsese.
The Masterclass is now full
About Martin Scorsese
Martin Scorsese is an American director, producer, screenwriter, and film historian, whose career spans more than 50 years. Born in 1942, Scorsese is known for his gritty, meticulous filmmaking style and is widely regarded as one of the most significant and influential filmmakers in cinematic history. Scorsese's body of work addresses such themes as Sicilian-American identity, Roman Catholic concepts of guilt and redemption, faith, machismo, modern crime, and gang conflict. Many of his films are also known for their depiction of violence and liberal use of profanity.
In 1990, he founded The Film Foundation, a nonprofit organization dedicated to film preservation, and in 2007 he founded the World Cinema Foundation. He is a recipient of the AFI Life Achievement Award for his contributions to the cinema, and has won an Academy Award, a Palme d'Or, Cannes Film Festival Best Director Award, Silver Lion, Grammy Award, Emmys, Golden Globes, BAFTAs, and DGA Awards.
He has directed landmark films such as the crime film Mean Streets (1973), the vigilante-thriller Taxi Driver (1976), the biographical sports drama Raging Bull (1980), the black comedy The King of Comedy (1983), the religious epic drama The Last Temptation of Christ (1988), the crime film Goodfellas (1990), the psychological thriller Cape Fear (1991) and the crime film Casino (1995), some of which he collaborated on with actor and close friend Robert De Niro. Scorsese has also been noted for his successful collaborations with actor Leonardo DiCaprio, having directed him in five films, beginning with Gangs of New York (2002) and most recently The Wolf of Wall Street (2013). Their third film together, The Departed, won Scorsese the Academy Award for Best Director in addition to the film winning the award for Best Picture. Their collaborations have resulted in numerous Academy Award nominations for both as well as them winning several other prestigious awards.
Scorsese's other notable films include the concert film The Last Waltz (1978), the black comedy After Hours (1985), the biographical drama The Aviator (2004), the psychological thriller Shutter Island (2010), the historical adventure drama Hugo (2011) and the religious epic Silence (2016). His work in television includes the pilot episode of the HBO series Boardwalk Empire and Vinyl, the latter of which he also co-created. With eight Best Director nominations, he is the most nominated living director and is tied with Billy Wilder for the second most nominations overall.
This Masterclass is presented in association with