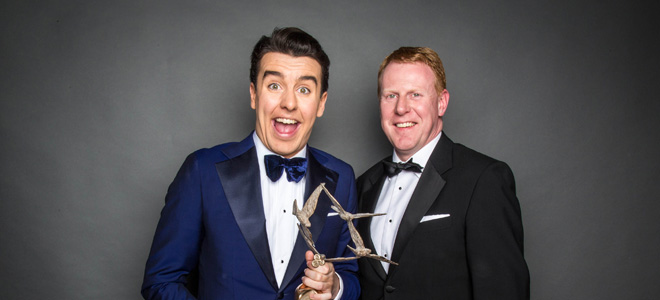 An Audience with Al Porter
When: Wednesday 8th November
Venue: Westbury Hotel, Dublin 2


Hold onto your hats! IFTA is delighted to host An Audience with Al Porter this November, hosted by comedian Karl Spain. Invited Guests and Members of the Irish Academy are in for a treat; an audience with Al Porter, winner of the Inaugural Gala TV Rising Star Award in 2016.  
Al Porter is the recipient of the Inaugural Gala Rising Star Award which was presented at the IFTA Gala Television Awards in 2016.
The comedian is currently on Irish screens as the host of TV3's/Stellify production 'Blind Date' and on the airwaves where he hosts Today FM's lunchtime show. He received the Bronze Award for Best Newcomer for his slot on Today FM at the 2017 IMRO Radio Awards.
Al made his television debut as a participant of 'New Comedy Award' on RTÉ 2. He is also known for his writing and performances in panto and co-wrote with Karl Spain 'Freezin': The Story of The Snow Queen' in 2015 and "The Ugly Sisters and Yer Wan" in 2016. He returns in December 2017 with "Polly & The Beanstalk" at The Olympia, again co-written by Karl Spain".
His regular appearances on television and radio see him take the lead as host and guest alike. He has appeared on BBC's 'Live at the Apollo', TV3's 'The Seven O'Clock Show' hosted by Lucy Kennedy and Martin King, and RTÉ's 'The Late Late Show'.
His hugely successful Edinburgh debut hit was nominated for Best Show in 2016, followed by 'Al Porter At Large', a new show full of cheekiness, honesty and sparkling showmanship. He has recently had his recording for Radio 4's "The Now Show".