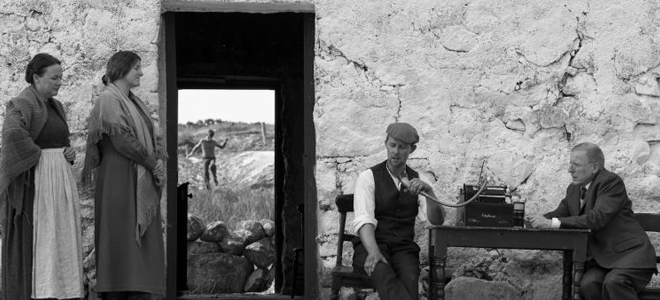 Members First Look Screening - 'Song of Granite'
When:
Tuesday 14th November
Venue: Light House Cinema


IFTA is delighted to host a special screening of 'Song of Granite', the film selected as Ireland's submission for the Foreign Language category at the 90th annual Academy Awards of Motion Pictures, Arts and Sciences. The screening on 14th November will be followed by a Q&A with filmmaker Pat Collins.
Directed by Pat Collins (Silence), 'Song of Granite' was co-written by Pat Collins, Eoghan Mac Giolla Bhríde and Sharon Whooley, and produced by Alan Maher, Jessie Fisk and Martin Paul-Hus. The film premiered to critical acclaim at the SXSW Film Festival in US earlier this year.
Filmmaker Pat Collins brings the dramatic life story of legendary seannós singer Joe Heaney to the screen, an audacious exploration of the man and his music. With an approach that marries traditional narrative episodes with documentary footage, the film celebrates the music Joe Heaney created while painting an unflinching portrait of Heaney, the man. Enigmatic and complex, Joe Heaney was one of the greats of traditional Irish singing. Shaped by the myths, fables and songs of his upbringing in the west of Ireland, his emergence as a gifted artist came at a personal cost. Featuring performances from Lisa O'Neill, Damien Dempsey, Seamus Begley and sean nós singers Micheál O'Confhaola and Pól Ó Ceannabháin, the film is an intense exploration of music and song.
The project is supported by Bord Scannán na hÉireann/Irish Film Board, BAI, TG4 and with the financial participation of Société de Développement Des Entreprises Culturelles – Québec, Telefilm Canada.
Directed by – Pat Collins
Screenplay by - Pat Collins, Eoghan Mac Giolla Bhríde and Sharon Whooley
Produced by - Alan Maher, Jessie Fisk and Martin Paul-Hus
Director of Photography – Richard Kendrick
Film Editor – Tadhg O' Sullivan
Sound - John Brennan
Song of Granite is a Marcie Films, Amerique Film production with Harvest Films, South Wind Blows, Roads Entertainment. Oscilloscope are releasing the film in the US, and Thunderbird in the UK and Canada, and Wildcard in Ireland.