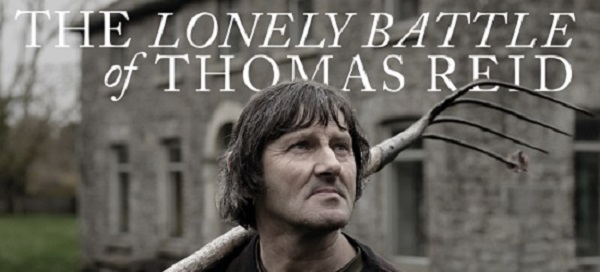 IFTA Screening - The Lonely Battle of Thomas Reid
When: 6.30pm, 21st October 2018
Venue: Omniplex Cinema, Rathmines


The Irish Film & Television Academy invites IFTA Members to a special screening of 'The Lonely Battle of Thomas Reid'.
IFTA Members are invited to a screening of the Irish feature documentary The Lonely Battle of Thomas Reid, followed by a discussion between director Feargal Ward and Lenny Abrahamson.
An eccentric north Kildare cattle farmer campaigns for his rights against the planning decisions of the Industrial Development Authority (IDA) in Feargal Ward's beautifully nuanced documentary.
★★★★★ "Captivating & enraging" The Sunday Business Post
"Extraordinary" The Irish Times
★★★★★ "A masterpiece of psychological storytelling" Forge
The film charts Reid's halting progress in his long battle with the IDA which has identified the farmer's land as being ideal territory for the expansionist plans of US tech giant Intel. Reid, a bachelor and something of a hoarder, is not about to go down without a fight. Served with a compulsory purchase order on his farm, which has been in his family for more than one hundred years, Reid takes his case to the High Court.
This David and Goliath story is distinguished by its evocatively de-saturated photography, which lends the images the quality of an aged Polaroid, and an idiosyncratic approach to the restaging of significant legal events. (notes David O'Mahony, IFI)
'The Lonely Battle of Thomas Reid' is directed by Feargal Ward, produced by Luke McManus of FSE Films, DOP is Feargal Ward, and the film's sound design and editing was done by Tadhg O'Sullivan.