Born in Dublin in 1949 to Anna and Peter Sheridan, Jim Sheridan's illustrious and highly decorated film career has revealed him to be a master storyteller with an innate knack for unearthing the finest possible performances from his actors. His films have so far seen him pick up six Academy Award nominations in four different categories, along with a host of other awards and nominations. With a penchant for making films with deeply complex characters and layered personal and political stories, Jim has had a pivotal influence on Irish cinema, with distinguished US critic Roger Ebert describing him as "a leading figure in the renaissance of Irish cinema".

After working extensively in theatre in both Dublin and New York, Sheridan's debut film came in 1989 with the critically acclaimed sleeper hit My Left Foot. Produced by Noel Pearson, the film told the true-life story of artist and writer Christy Brown, who suffered since birth with Cerebral Palsy. Unsurprisingly, Hollywood fell in love with the feature, and My Left Foot was nominated for five Academy Awards in 1990, including Best Film. Sheridan himself was nominated for Best Director and Best Adapted Screenplay, with the wins for actors Daniel Day Lewis and Brenda Fricker establishing Sheridan's intrinsic flair for working with actors.
Despite attention from Tinseltown, Sheridan stayed in Ireland for his next film venture, an adaptation of The Field, one of John B. Keane's most celebrated plays before writing Into The West - which has become an oft-quoted classic of Irish cinema.
Sheridan's next feature was the 1993 biographical courtroom drama In The Name Of The Father. Reuniting with Daniel Day Lewis, the film (which Sheridan directed, co-produced and co-wrote) told the true-life story of Gerry Conlon, one of the Guildford Four, who were wrongly convicted of the 1974 IRA pub bombings in the Surrey town, which killed four off-duty British soldiers and a civilian. The film was released to global acclaim and would go on to be nominated for seven Academy Awards in 1994. Sheridan himself was nominated for three Oscars for the film in the categories of Best Director, Best Adapted Screenplay and Best Film.
After co-writing and producing Terry George's acclaimed Troubles drama Some Mother's Son (1996), Sheridan then teamed up with Daniel Day Lewis once again, for the 1997 drama The Boxer. A string of producing duties followed for noted filmmakers such as Anjelica Huston (Agnes Browne), John Carney (On The Edge), Paul Greengrass (Bloody Sunday) and Jim's brother Peter Sheridan (Borstal Boy), all movies, unsurprisingly, with strong political messages.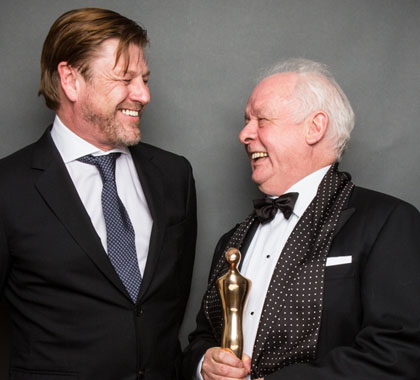 Jim entered the new millennium with his most personal film to date. A semi-autobiographical tale which draws from the Sheridan family's own experiences as struggling Irish immigrants in New York, In America was co-written with Jim's daughters Naomi and Kirsten. The film received exceptionally positive reviews when it was released in 2002 and, along with his daughters, Jim received his sixth Academy Award nomination in 2003 in the category of Best Original Script.
Jim's next three projects highlighted the director's versatility as he helmed the hip-hop 50 Cent biopic Get Rich Or Die Tryin, psychological war drama Brothers and horror film Dream House, all released to positive critical notices.
Sheridan's next film, The Secret Scripture, saw the legendary filmmaker return to Ireland. Based on Sebastian Barry's award-winning novel, this period drama about an elderly woman attempting to piece together her life stars Rooney Mara, Theo James and the legendary Vanessa Redgrave alongside Irish actors Jack Reynor and Tom Vaughan-Lawlor. The highly-anticipated drama is currently in post-production, and should hit Irish screens later this year.