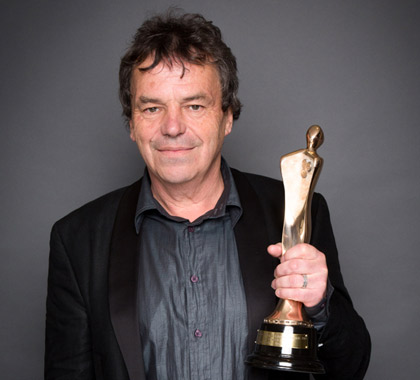 Oscar-winner Neil Jordan has been writing an eclectic array of films both in Ireland and internationally since the early 1980's.
He wrote and directed Angel, his first feature in 1982, before directing films such as Mona Lisa, High Spirits and We're No Angels. It was 1992's The Crying Game, about an IRA member who holds a British soldier captive, that propelled Neil Jordan to much Hollywood acclaim and he won an Oscar for Best Original Screenplay for the film, as well as being nominated for Best Director.
His next feature was a clear example of the star power Jordan could now attract, with Interview With The Vampire starring Hollywood heavyweights Tom Cruise and Brad Pitt. The film was well received and was nominated for two Oscars. Jordan returned to Ireland to film his critically acclaimed 1996 feature Michael Collins starring Liam Neeson and Julia Roberts and he followed this up with The Butcher Boy in 1997.
After that, Jordan directed films such as The End Of The Affair, The Good Thief and In Dreams. He was awarded an IFTA Lifetime Achievement Award in 2003 in recognition of his body of work and won IFTA Awards for Best Director and Best Script for the film Breakfast On Pluto. He wrote and directed the fantasy drama Ondine starring Colin Farrell before creating Showtime's acclaimed mini-series The Borgias starring Jeremy Irons. He was nominated at the 2011 Emmy Awards for Outstanding Directing in a Drama Series and won the 2014 IFTA for Best Director for his work on Byzantium starring Saoirse Ronan.