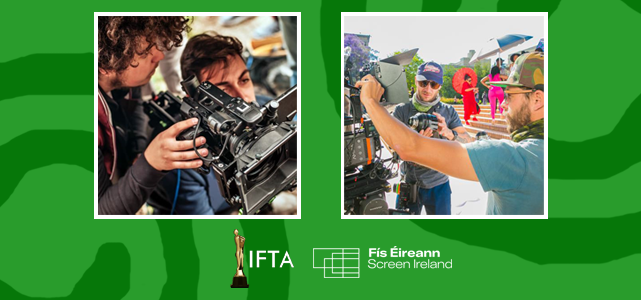 IFTA Skills in Focus: The Importance of the Assistant Director
Wednesday, July 27th, 3pm

When: Wednesday, July 27th, 3pm
Where: Online
The Irish Film and Television Academy is delighted to present IFTA Skills in Focus: The Importance of the Assistant Director in association with Screen Ireland.
This event will focus on the vital Role of the AD (Assistant Director) and share the skills needed to plan the schedule: work with the director, DoP and other heads of department; breaking down the script, analysing it for what will be needed in terms of cast, locations, equipment & crew.
The core aim of this event is to provide the key information needed to become a First AD or Second AD, as well as demonstrating the skills and techniques that top-level practitioners use to achieve success as an AD.
Participants will learn about the critical role of the AD, and their vital responsibilities in preparation, scheduling, and on the shoot. Our panel of experts will take the audience through the script breakdown process, covering all aspects of reading, interpreting and breaking down a shooting script while sharing the unique insights they have garnered from their own experiences working on Film and HETV in Ireland and around the world.
The panellists include IFTA-winning Director Hannah Quinn and Raymond Kirk.
Hannah Quinn brings a wealth of experience from her previous work as an Assistant Director which has led to her to directing work including Vikings: Valhalla for which she won an IFTA Award in 2022 for Best Director Drama.
She has also directed episodes of the smash hit The Stranger and Fate: The Winx Saga for Netflix, episodes of Eastenders BBC, and Red Rock and Blood for Element Pictures, and award-winning short films such as My Bonnie and Smithy & Dickie. Her Assitant Director work includes work as First AD on films such as Black '47, Rosie and Maze, and AD roles on titles such as Gladiator, Black Hawk Down, Reign of Fire and The Martian.
Raymond Kirk is a celebrated first AD who is best known for his work with Sir Ridley Scott. Since workin as a Third AD on films such as Borstal Boy, The Count of Monte Cristo and Reign of Fire. Raymond has worked as a First AD on Dramas such as The Tudors, Camelot, Game of Thrones and Raised by Wolves.
He has worked as an AD on Feature Films such as The Martian, Alien: Covenant, All the Money in the World, The Last Duel, House of Gucci and The Northman.
When: Wednesday, July 27th, 3pm
Where: Online