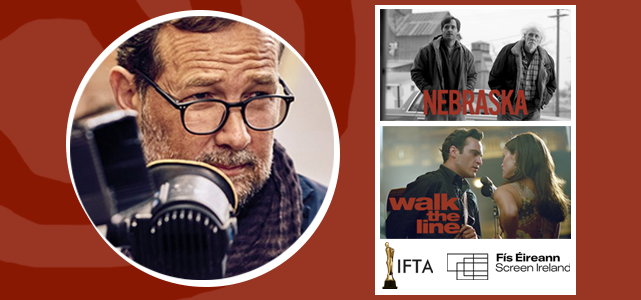 IFTA Skills in Focus: Cinematography Masterclass with Phedon Papamichael

When: Friday, September 2nd, 3pm
Where: Online
The Irish Film and Television Academy is delighted to present IFTA Skills in Focus: Cinematography Masterclass with Phedon Papamichael in association with Screen Ireland.
Academy Award-nominated and internationally acclaimed cinematographer Phedon Papamichael's career as a cinematographer goes back to the 80s, but today he is the go-to DP for the best filmmakers in the business including James Mangold, Alexander Payne and Aaron Sorkin to name but a few.
From his early days shooting stripper-centered B-movies under Roger Corman's tutelage - with Wally Pfister and Janusz Kaminski as his camera crew - to the present day Phedon has over 40 feature films to his credit as Director of Photography, including block-busters While You Were Sleeping starring Sandra Bullock and Cool Runnings, as well as Phenomenon, starring John Travolta, all directed by Jon Turteltaub.
Other titles include The Million Dollar Hotel, by Wim Wenders which was chosen as the Opening Film of the 2000 Berlin Film Festival and won the Grand Jury Prize, the Silver Bear, as well as the Golden Camera.
This was followed by Identity, directed by James Mangold, and the Oscar-nominated Sideways, directed by Alexander Payne, and Walk the Line, again directed by Mangold and starring Joaquin Phoenix and Reese Witherspoon. Phedon also shot the Academy Award nominated western 3:10 to Yuma, directed by James Mangold, starring Russell Crowe and Christian Bale, and the blockbuster Pursuit of Happyness starring Will Smith.
For his incredible B&W lensing on the highly acclaimed Nebraska, which received 6 Academy Award nominations and was directed by Alexander Payne, Phedon received an Oscar nomination, a BAFTA nomination and an ASC nomination amongst other honors. He has since shot Le Mans '66 again for Mangold, and The Trial of the Chicago 7 from Aaron Sorkin. He has just recently completed the 5th installment of the Indiana Jones Franchise.
In this Skills in Focus event Phedon will Share the the skills and techniques he uses to shoot award-winning cinema.