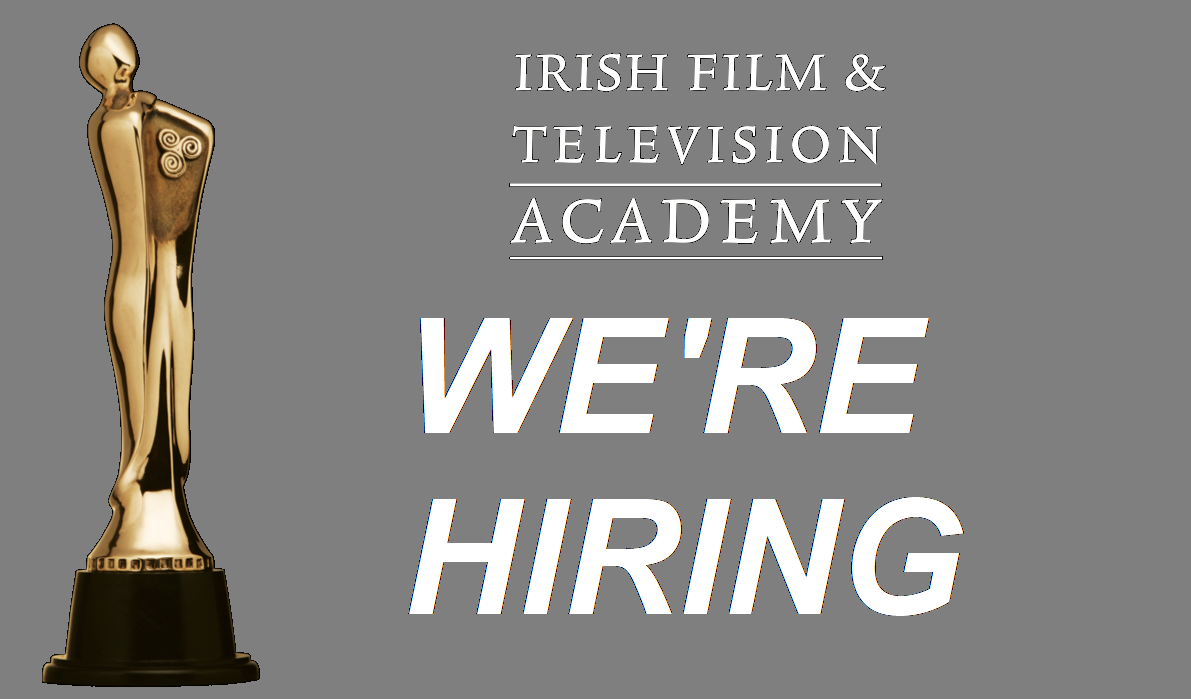 Job Vacancy: Film & Television Intern

Closing Date: Close of Business Friday 30th September
Apply to:
recruitment@ifta.ie
This is an excellent opportunity for a young Film/TV/Media graduate and enthusiast to join the IFTA team for an exciting 12-month professional internship to work alongside the Academy's Head of Film & Television, as the Irish Academy embarks on its landmark 20th Anniversary Year in 2023.
IFTA is a not-for-profit all-Ireland organisation with a membership of 1,300 Irish industry professionals who work within the Film, Television, Animation & Cultural Creative sectors in Ireland. The Academy nurtures and supports Irish creative talent and rewards Irish Excellence in achievement and showcases to the world at large.
Next year in 2023, the Academy will celebrate its 20th Anniversary Year, with a wide-ranging high-profile Programme of Events across 12 months, to mark this milestone year. As well as delivering the Irish Academy Award ceremonies, the Academy's 12 month Learning Programme provides unique access to some of the world's most inspiring and high profile talent through discussions, masterclasses, workshops, lectures, and mentoring programmes.
This internship position provides a valuable entry point into a career in Film, Television or the Creative/Digital Media and Entertainment industry in Ireland and abroad, whether that is production coordination, arts administration or event management in Ireland.
The successful Intern candidate will get first-hand experience across the delivery of Ireland's landmark Awards Programme for IFTA's 20th Anniversary year in 2023, and gain invaluable knowledge and experience in assisting with the curation and execution of the Academy's Year-round Programme of Learning Events (IFTA Programme of Excellence).
What you will Learn:
Irish Audiovisual Sectoral Expertise: Gain invaluable insight into and understanding of the Irish Film, TV, Animation and creative digital media industry, as well as the major players across the spectrum of professional expertise within the Academy Membership within IFTA's 14 chapters of Discipline - Acting, Animation, Cinematography, Costume, Directing, Editing, Hair & Make-Up, Music, Production Design, Producer, Sound, Writing, Film Executive, Television Executive. In addition the successful applicant will acquire invaluable experience in liaising with Ireland's key production companies, distributors, broadcasters, industry stakeholders, as well as international sales agents, distributors and streaming platforms. -
Learning & Talent: Gain invaluable insight into learning practices in the Film, TV and Animation industry, as well as talent development initiatives. Understand the learning and development needs of the sector and learn how the Irish Academy can support people through their career by working across the Academy's Year-round Programme of Learning Events. Understand key audiences: Academy Members, New Entrants to the Industry and Emerging Talent, as well as the International & Irish masters of the craft who share their skills and expertise.
Event Management: General event logistics assistance in the production of the IFTA Award ceremony from research stage and submission procedures to the practicalities of producing a large-scale event for national broadcast. In addition, the successful candidate will gain unrivalled experience in helping to curate and deliver unique industry-leading Learning Events both online and in-person. Key upskilling opportunities will include extensive research into and understanding of the leading companies and individuals in the Irish and International Audiovisual Sectors.
Key Responsibilities:
Research: Assisting the Head of Film & Television with research into relevant industry stakeholders and eligible films, tv dramas, shorts and animations for the landmark 2020 Awards

Events: Assisting in the curation of and execution of both online and in-person events with leading Irish and International Talent as part of IFTA's Year-Round Programme of Learning Events (Programme of Excellence)

Administration: Playing a key role in the administration of the submission process for Awards as well as for Events, including: Venue research and communication, attendee guest lists, A/V setup for events, Screening logistics etc.

Liaising with Industry: Be part of the Academy team and represent the Academy at key events as well as Marketing and Festivals events, as well as liaising with members and stakeholders across phone and email.
The Ideal Candidate will:
Be a Film Graduate or have studied Film, Television or areas of Media (either theory or practice) at third level.

Possess a passion for and knowledge of Irish Film, TV and Animation, as well as the international industry as a whole.

Demonstrate excellent organisational skills, be a clear and concise communicator.

Have excellent attention to detail, written English & telephone/ in-person manner

Have the ability to work in a directed way, managing regular tasks, and multitasking across different areas.

Have an interest in and capability to conduct research on key individuals, companies and projects in the sector.

Be self-motivated, demonstrate initiative and be capable of problem solving.

An interest in event management within the sector with a keen eye for detail, deadlines and outcomes.

The ability to manage confidential information with absolute discretion and a high degree of personal integrity

Have the ability to manage volume of data, and demonstrate proficiency in Microsoft Office, Google Suite etc.
Internship Details:
Contract: 12 months Start date: October
Location: 68 Dame Street, Dublin 2. You must be able to work in the Dublin office a minimum 60% of your time
To apply:
Please email a detailed CV AND Cover Letter, indicating how you would meet the requirements of the position to recruitment@ifta.ie (subject 'Film & TV Intern').
The closing date for applications is Close of Business Friday, 30th September 2022.