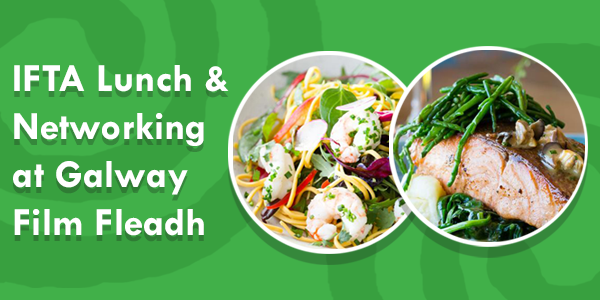 IFTA LUNCH at GALWAY FILM FLEADH 2022
12.30pm - 2.00pm, Saturday 9th July 2022

When: 12.30pm - 2.00pm, Saturday 9th July 2022
Where:
Galway Film Fleadh, Galmont Hotel & Spa, Lough Atalia Road, Galway
The Irish Film & Television Academy will host its annual IFTA Networking Lunch at the Galway Film Fleadh, July 9th, 2022.
Academy Members are invited to enjoy some delicious Food, Drinks and Networking with the Membership network and industry Fleadh attendees, at the Galmont Hotel in Galway, lunchtime on Saturday 9th July.
The Academy is delighted to be back to hosting these physical networking events, where our members have an opportunity to meet with each other alongside invited Fleadh guests attending the Festival & Film Fair, in a relaxed and informal setting, at the heart of the festival's industry activities.