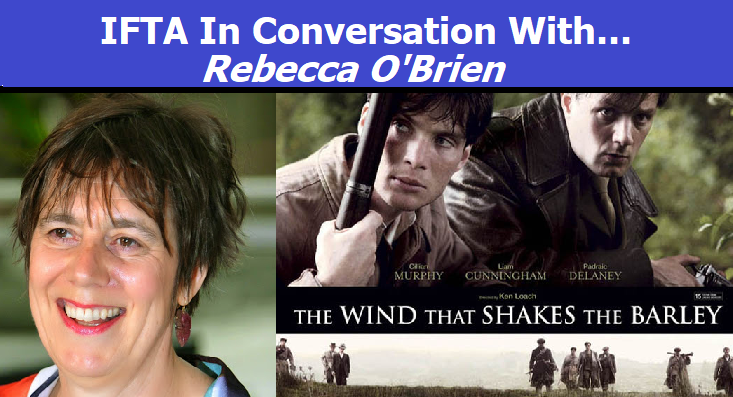 IFTA In Conversation With... Rebecca O'Brien

When:Wednesday 24th March - 2PM
Where:Online (Via Zoom)
Register: Here
The Irish Film & Television Academy will host a special "In Conversation with…" event with celebrated producer Rebecca O'Brien.
The BAFTA and Palme d'Or winning producer will give the audience an insight into her acclaimed producing career on the films of Ken Loach, as well as Lynne Ramsey and more, and share her knowledge, insight and experience across a number of topics and through the main stages of film production (Development, Pre-Production, Production, Principal Photography, Wrap, Post-Production, Sales/Distribution)
Rebecca O'Brien has been an independent film producer for over thirty years. She has produced seventeen feature films directed by Ken Loach, including LAND AND FREEDOM, SWEET SIXTEEN, LOOKING FOR ERIC and THE ANGELS' SHARE. Both THE WIND THAT SHAKES THE BARLEY (2006) and I, DANIEL BLAKE (2016) won the Palme d'Or at the Cannes Film Festival Her other producing credits include BEAN, directed by Mel Smith, PRINCESA directed by Henrique Goldman, CITY OF TINY LIGHTS directed by Pete Travis and VERSUS: THE LIFE AND FILMS OF KEN LOACH. She has just completed filming MY SON directed by Christian Carion, starring James McAvoy and Claire Foy.
O'Brien is currently on the boards of British Screen Forum, The Traverse Theatre in Edinburgh and the European Film Academy where she is deputy Chair. She runs the production company Sixteen Films with Ken Loach and screenwriter Paul Laverty.