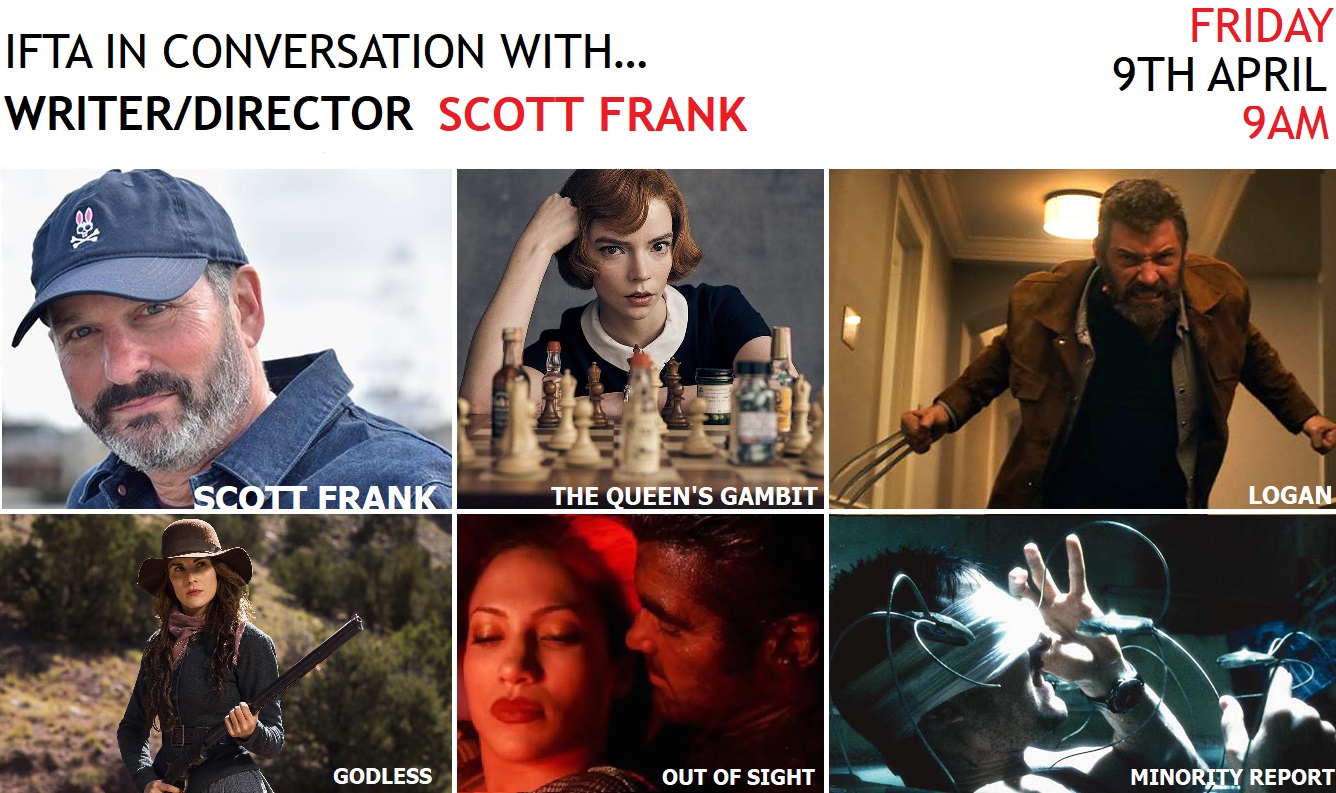 IFTA in Conversation With... Scott Frank

When:Friday 9th April - 9AM
Where:Online (Via Zoom)
Register: Here
Oscar nominated writer and director Scott Frank (The Queen's Gambit, Godless, Logan, Out of Sight) talks to the Irish Film and Television Academy about his career writing some of the best films and television series from the last two decades.

This event will see leading Hollywood writer/director Scott Frank share the skills and techniques that have seen him write incredible films such as Get Shorty, Out of Sight, Minority Report, Marley & Me, The Wolverine and Logan. In addition, Scott will discuss his work as a writer/director which includes films such as, The Lookout, A Walk Among the Tombstones with Netflix Limited Series Godless and the phenomenally successful The Queen's Gambit.

A prolific and iconic Hollywood screenwriter since the 1990s, Scott Frank has been nominated for Academy Awards for Out of Sight and Logan and for five Writers Guild Awards, winning for Out of Sight and most recently The Queen's Gambit. His directorial debut, The Lookout, won the Independent Spirit Award for Best First Feature.

Frank was the showrunner for Netflix mini-series Godless starring Jack O'Connell and Jeff Daniels, for which he was nominated for a Directors Guild Award for Best Directing in a TV Movie or Miniseries and a Writer's Guild Award for Best Writing in a TV Movie or Miniseries.

He wrote the screenplay for the enormously succesful 20th Century Fox and Marvel superhero film Logan (2017), starring Hugh Jackman, which received widespread commercial and critical acclaim. It achieved a worldwide gross of $619 million and received a record-breaking release across 4,071 theaters, the widest for an R-rated film, and earned Frank his second screenwriting Oscar nomination.

In 2020, His Netflix limited series, The Queen's Gambit, reached 62 million households for the first 28 days of release, making it Netflix's most popular scripted limited series ever. It also has a 99% rating on Rotten Tomatoes.