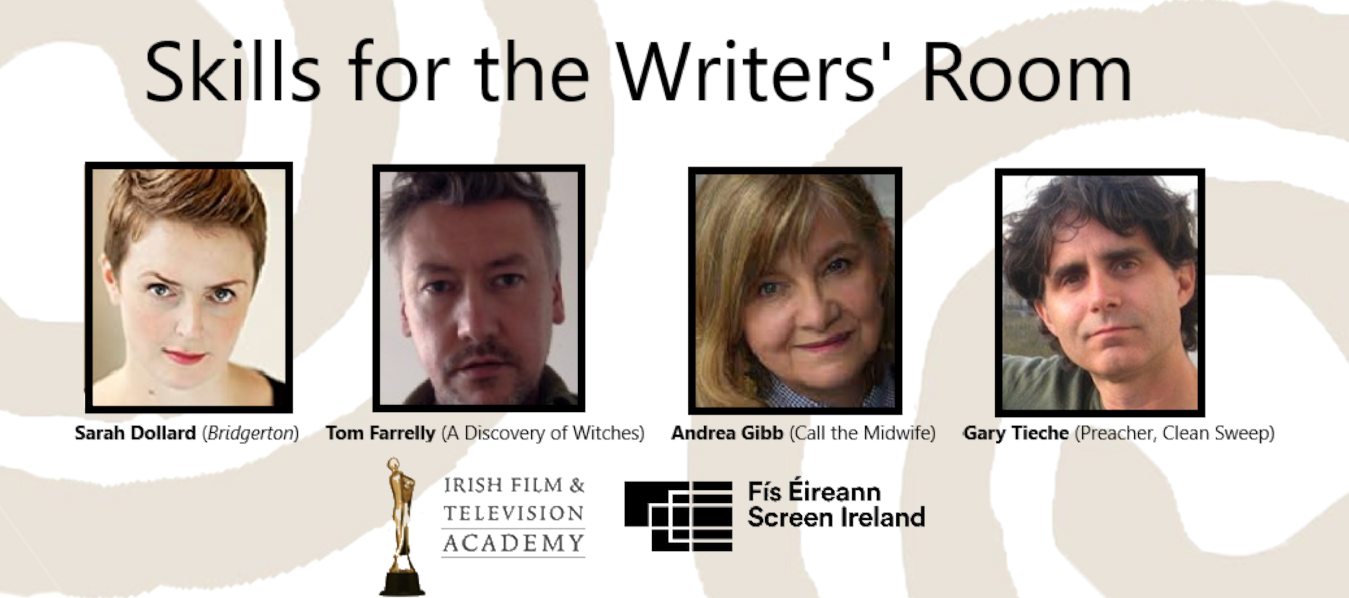 IFTA SKILLS IN FOCUS: SKILLS FOR THE WRITERS' ROOM

When: Thursday, October 13th, 3pm
Where: Online
IFTA in partnership with Screen Ireland is delighted to present Skills in Focus: Skills for the Writers' Room.

A unique Round-Table discussion with working episodic writers, this panel will reveal what happens in a writers' room in person (and virtually) and explore show bibles, pilots, & pitches, and what is unique to episodic structure.

Participants include Gary Tieche (Preacher, Medium, Clean Sweep); Sarah Dollard (Dr. Who, Bridgerton), Andrea Gibb (Elizabeth is Missing, Call the Midwife),and Tom Farrelly (Smother, Viewpoint, A Discovery of Witches), with more to be announced.

This event will focus on sharing the knowledge and expertise developed by these leading International and Irish experts working in and running writers rooms to emerging and established writers, producers and members of the Irish Film & Television Academy, and the wider screen industry. The aims and objectives of these events are to increase the understanding of the writers' room ad it's role in modern television production as well as providing an in-depth examination of the processes and skill sets required to be a succesful writer.


Gary Tieche (Preacher, Medium, Clean Sweep)


Gary Tieche has been working as a screenwriter for almost 25 years. Having written for both film and television, he is best known for his work on a number of TV series including Preacher (2016), MDs (2002) and Medium (2005). He is the creator of the upcoming Irish co-production Clean Sweep starring Charlene McKenna.



Sarah Dollard (Dr. Who, Bridgerton)

Sarah Dollard is best known for the Netflix sensation Bridgerton (2020) for which she was nominated for a Primetime Emmy for Outstanding Drama Series in 2021. Her writing credits also extend to Doctor Who (2005); The Game (2014) and Being Human (2008).



Andrea Gibb (Elizabeth is Missing, Call the Midwife)


Andrea Gibb is both a screenwriter and an actress, arguably most recognised for Elizabeth Is Missing (2019), for which she received the award for Best Writer at the Royal Television Society Scotland Awards. In 2004, she was nominated for a BAFTA Scotland Award for Best Screenplay for AfterLife (2003). She is also credited for a number of episodes of the BBC hit Call the Midwife (2017 - 2021).



Tom Farrelly (Smother, A Discovery of Witches)

Tom Farrelly is a prolific episode writer across titles such as Smother (2021-2022); A Discovery of Witches (2018) and the multiple award winning series Raw which ran for five series. He was also on the writing team of Your Bad Self, an irreverent sketch show that won Best Entertainment at the Irish Film and Television Awards and the hugely popular BBC show, The Kumars at No. 42