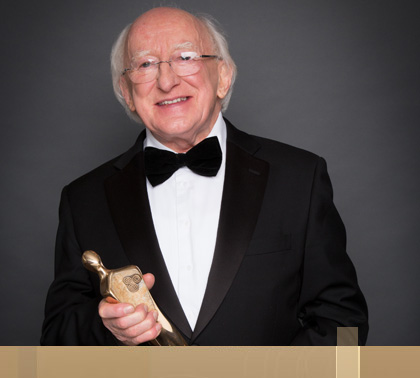 President Michael D. Higgins
President Michael D. Higgins was born on 18 April 1941 in Limerick city and was raised in County Clare. He was a factory worker and a clerk before becoming the first in his family to access higher education. He studied at the University College Galway, the University of Manchester and Indiana University.
Working first as a lecturer in political science and sociology in National University of Ireland, Galway, and in the United States, Higgins entered public life in 1969 and he went on to serve as a public representative at many levels from Councillor and Mayor to nine years in the Seanad and 25 in Dáil Éireann. In 1993, Higgins became Ireland's first Minister for Arts, Heritage and the Gaeltacht. With his vision and immense commitment to the Arts, President Michael D. Higgins transformed the industry through a range of initiatives from tax incentives to training and the re-establishment of the Irish Film Board, ultimately encouraging investment and creating thousands of jobs.
This industry has worked hard and grown from strength to strength delivering world-class standards of Screen production and the Academy is proud to pay tribute to President Higgins who has shown the Irish industry unwavering support over many years as a creative artist in his own right, as the Minister for Arts, a dynamic leader and as President of Ireland.
Aine Moriarty, Academy Chief Executive
Liam Neeson receiving the IFTA Outstanding Contribution to Cinema Award
The vision shown by Michael D Higgins in the innovative yet practical measures he put in place – not only the re-establishment of the Irish Film Board and introduction of successful tax-based incentives for film investment but also the establishment of TG4, the support for independent film producers; and, for the first time ever, funding for training in the film and audiovisual industry introduced a new generation to the possibility of a career in film
Morgan O'Sullivan
President Higgins showed extraordinary vision as the first Irish Minister for Culture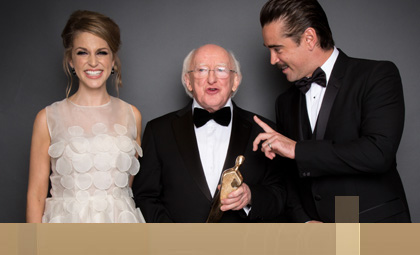 "Is mór an onóir dom é agus tá mé fíor-bhuíoch as a bheith roghnaithe don ghradam seo, agus tuigim go bhfuil mé ag leanúint i lorg roinnt faighteoirí a bfuil meas mór orthu. "
President Michael D. Higgins
Higgins served as Minister for Arts, Heritage and the Gaeltacht from 1993-1997. During and since that time he was instrumental to the introduction by the Irish Government of key measures that laid the foundation for Ireland's film and television industry to develop both creatively and economically. These measures included tax Incentives; the reconstruction of the Irish Film Board as a dedicated agency to assist Irish film making; the establishment TG4 (Irish-language broadcaster); the abolition of the controversial Section 31 of the Broadcasting Act; the introduction of a Broadcasting Act amendment ensuring a portion of the national broadcaster's licence fee is allocated to independently produced Irish programmes; training initiatives and other support structures.
In 1994 Braveheart was the first blockbuster film to use Ireland as a location under the new tax incentives (now Section 481 and then 35). Minister Higgins was a direct influence on this decision, encouraging Gibson to choose Ireland as his location along with Irish crew and talent, even the Irish Army Reserve were called upon for extras in the battle scenes. His efforts and foresight paid off as ultimately Braveheart went on to win five Oscars including Best Film and set the standard and trend for major studios to film in Ireland in the years that followed, providing the ultimate training ground for many of the now leading Irish filmmakers and craftspeople.
Since that time many major international productions have brought large scale investment to Ireland from Saving Private Ryan to The Tudors to Vikings, Ripper Street and Penny Dreadful to name but a few. The Irish industry currently employs around 6,000 professionals and has an annual turnover of €550 million and the independent film, television drama and animation industries delivered €168 Million into the Irish economy in 2012 alone.

Michael D. Higgins is also a writer and poet, contributing to many books covering diverse aspects of Irish politics, sociology, history and culture. He has published two collections of essays — 'Causes for Concern — Irish Politics, Culture and Society' and 'Renewing the Republic'. He has also published four collections of poetry — 'The Betrayal; The Season of Fire; An Arid Season' and 'New and Selected Poems'.

In 2011, Higgins was inaugurated as President of Ireland at Dublin Castle and has continued to be an integral and perennial component in the success of the Irish Film and Television industry.