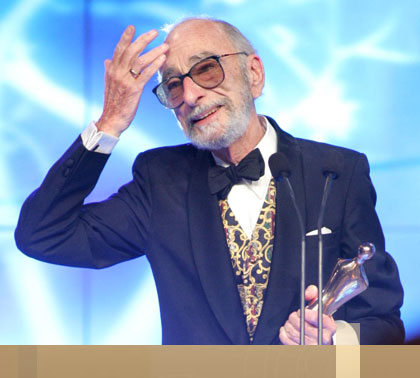 David Kelly
"My sincere thanks to IFTA. I still marvel at the fact that I have achieved my only real goal in life – to be an Actor. That a group of kind people wish to reward me for this is moving and I am grateful beyond words"
David Kelly, Recipient of the IFTA Lifetime Achievement Award in 2005
The legacy of David Kelly is that as one of Ireland's best-known and best-loved character actors. His place among the hearts and minds of generations of audiences worldwide is truly secured. On stage and screen, Kelly's forte was the affable rogue; a sparkle in his eye, a bounce in his step and that look of wisdom that still remained to his last days.
Born in Dublin on July 11th 1929, David was educated at Synge Street Catholic Boys School, together with compatriots Milo O'Shea, Eamonn Andrews and Gay Byrne. There, in a school of hard knocks, he learned how to keep out of trouble and developed the skills that would stand to him for a career in acting. At the age of 12, David did a season at the Gaiety and from that point onwards, theatre was his life. By his own admission becoming an actor was his only goal in life.
David became a stage actor in 1952, establishing a formidable reputation over the following two decades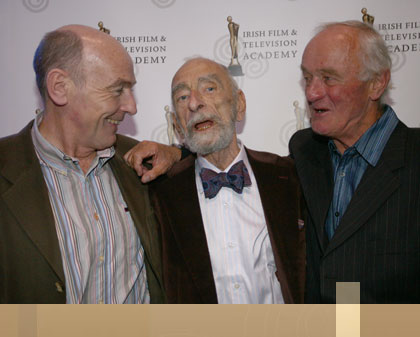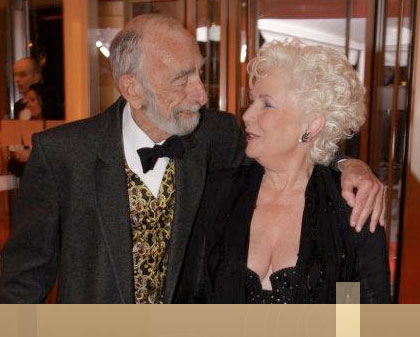 After undergoing training at Dublin's Abbey Theatre, David became a stage actor in 1952, establishing a formidable reputation over the following two decades. Working with the likes of Jimmy O'Dea, Milo O'Shea, Ray McAnally, Tomas Mac Anna, Hilton Edwards, Michael MacLiammoir and Phyllis Ryan, David mixed with a who's who of Irish theatre at the time.
It was television however that brought David his first taste of real fame. In the 1960's and 1970's he played the plucky Irish eccentric in sitcoms such as Oh Father, On the Buses and Never Mind the Quality, Feel the Width. He performed in a staggering 50 episodes of Richard O'Sullivan's Robin's Nest, playing Albert, the one-armed dishwasher. Most famously though, he appeared in one episode of Fawlty Towers as O'Reilly, the prematurely aged Irish builder, an appearance fondly remembered by many. Though travel constituted a large volume of David's time during the years, he was never tempted to leave and move across the Irish sea, living in Dublin with his wife until his death.
Following a sequence of television and smaller film roles including an iconic role as Rashers Tierney in Strumpet City, David's stock rose significantly at the beginning of the 1990's. Roles in Suri Krishnamma's A Man of No Importance, Roman Polanski's Pirates and David Yates' The Run of the Country preceded his casting as the grandfather in Mike Newell's Into the West in 1992, David contributed to a film rich in talent and realism as the story of two children and their quest captivated a watching audience. David's career ascended with the sleeper hit Waking Ned in 1998. This whimsical tale with a memorable scene where David rides a motorcycle in his birthday suit earned him nominations by both the Golden Satellite Awards and the Screen Actors Guild Awards for his outstanding performance.
Buoyed by this success, David's career continued to soar, heralding a new era of film roles and opportunities. In some ways, the new millennium acted as a career resurgence for David, a mix of vivacity and schooled Beckett theatre qualities combining to make him an actor in demand. In 2005, David's potential to perform the role of an older gentleman while acting as a foil for younger actors was embraced effusively in Tim Burton's Charlie and the Chocolate Factory, alongside Johnny Depp. Grasping the role of Grandpa Joe, David donned the tweedy clothes and oversized spectacles to play the kindly old man and was by Burton's own admission, the only person considered for the role. He subsequently appeared in the box-office success fantasy film Stardust in 2007.
David Kelly passed away on 12th February 2012, aged 82. He was survived by his wife Laurie and children David and Miriam. David gave both television viewers and cinema lovers a legacy of wonderful character performances over his incredible career, performing his roles with tremendous variation and magnanimous gratitude over a career spanning six decades. It was a fitting tribute to the man behind characters such as Rashers Tierney, O'Reilly and Grandpa Joe, that the Irish Film & Television Academy presented the Lifetime Achievement Award to David Kelly on this night.
IFTA in Conversation with David Kelly, in Dublin, August 2008
"Congratulations David, on receiving the Lifetime Achievement Award. You're a great actor, and not a bad dancer as well! You really deserve it."
Tim Burton
"What a gift to share one's life & one's beloved work with one's beloved and talented friend. Congratulations David. Kitty and I are so proud and happy for you"
Milo O'Shea