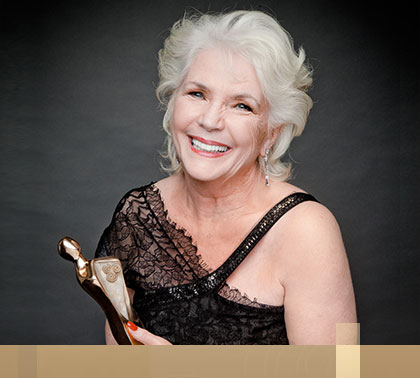 Fionnula Flanagan
"It is a great honour to be invited to join the ranks of the gifted former recipients of the Lifetime Achievement Award...all the more enriched by this beautiful recognition from my IFTA colleagues to whom I say a big thank you"
Fionnula Flanagan, Recipient of the IFTA Lifetime Achievement Award in 2012
Born in Dublin 1941, a look at Fionnula Flanagan's multi-award winning career reveals the actress as a versatile, artistic and engaging performer. In drama or comedic roles, Fionnula has deftly portrayed an incredible array of characters in as many different genres - easily inhabiting the lives of Irish women, struggling US immigrants and Lost islanders; telling stories of Joycian Dublin, star wars and the great Western frontier; in settings from modern Ireland to beyond the grave and even deep space.

Video of Fionnula Flanagan receiving the IFTA Lifetime Achievement Award
"Fabulous, fearless, ferocious in her commitment to acting and to everything she does. She brings life and soul to every project she's in and I look forward to the day when I can work with her again."
Terry George
"Congratulations Fionnula!! You are the most beautiful, kind, and amazingly talented actress on the planet, especially if you could make a bunch of old Texas coyotes like Kris and I look good!"
Willie Nelson
Fionnula Flanagan is a wonderful representative internationally, of Ireland's film and television industry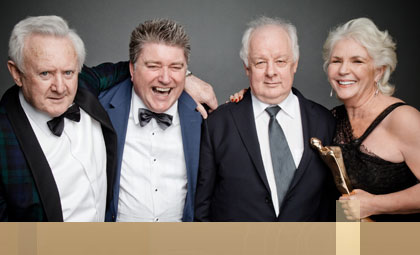 "Fionnula is an immensely talented actress, a stunningly beautiful woman and always great craic to work with on set. I am delighted that she is receiving a Lifetime Achievement Award and I've a feeling we'll be seeing a lot more of her yet. I just had the absolute pleasure of working with Fionnula, not only great fun on set, she was incredible to watch, a true pro. I felt privileged to observe her nuanced, powerful performance, a truly deserved Award!"
Eva Birthistle
Training at Dublin's Abbey Theatre and London's Old Vic, Fionnula Flanagan began her career in 1965 working on stage productions in Ireland and the UK before wowing audiences in New York and Los Angeles. Her debut feature film was 1967's Ulysses, alongside Milo O'Sea and TP McKenna, with her performance of Gerty McDowell, establishing Fionnula as one of the foremost interpreters of Joyce's work. When no dramatist attempted to dramatise one of the most complex and compelling heroines of 20th Century literature: James Joyce's Molly Bloom, Flanagan, displaying her noted strength and determination, undertook the task herself, writing and then performing as a one-woman stage piece, James Joyce's Women (1977). Critics commented it was the role that the leading Irish actress was born to play - one which she subsequently filmed, wrote and produced in 1983, playing all six main female roles.

Working as an actress for almost 50 years, Fionnula Flanagan melds the two distinct elements of her career into an amazing and continuous flow of masterful characterisations. She has had co-starring performances in such Hollywood-generated films as The Others and The Divine Secrets of the Ya-Ya Sisterhood and passionately kept close to her  Irish roots with starring roles in such distinctive Irish films as the acclaimed comedy Waking Ned Devine (1998) and Some Mother's Son (1996).

Throughout the 00's, the daring Irish actress won huge acclaim yet again for diverse roles on Oscar nominated films such as Transamerica (for which she won an Irish Film & Television Award (IFTA) for Best Supporting Actress) and Alejandro Amenábar's chilling box-office smash The Others, which saw more awards recognition for Fionnula, winning her a Saturn Award in 2001 with critics calling her "one of the most terrifying servants in film history." Flanagan has also received an Emmy Award for her work on the 1976 mini-series Rich Man, Poor Man; was nominated again for her role in How the West Was Won and received a Satellite Award in 2008 for her performance in the Showtime drama series Brotherhood.


Celebrating her work spanning almost 50 years and showcasing her great skill and craft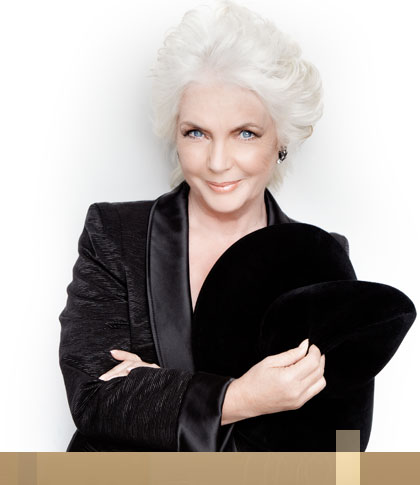 Fionnula Flanagan has shared the big screen with co-stars including Sandra Bullock and Maggie Smith(The Divine Secrets of the Ya Ya Sisterhood), Jim Carey (Yes Man), Helen Mirren (Some Mother's Son), Ricky Gervais and Jason Bateman (The Invention of Lying), Anthony Hopkins (Slipstream), Mark Whalberg (Four Brothers) and Bruce Willis (Tears of the Sun) to name but a few; and she has worked extensively in television with appearances in series including Murder She Wrote, The Ewok Adventure, To Have and to Hold, TG4's Paddywhackery, H.E.L.P and Bonanza. From 2007 to 2010 her recurring role as the enigmatic Eloise Hawking in ABC's Lost introduced her to brand new generation of dedicated fans, adding to her already established cult following after guest starring roles as a Vulcan ambassador and Data's mother in the Star Trek series Deep Space and Next Generation respectively.
"I am certain from seeing Fionnula's work over the past few months that anyone who thinks this Lifetime Achievement Award is a cap on her inspirational career should think again - the formidable Ms. Flanagan is just getting started."
Lance Daly
In 2012, the year in which she received this Lifetime Achievement Recognition, she featured in John Michael McDonagh's successful Irish feature The Guard - shortlisted for nine IFTAs, including Best Film - with Fionnula herself shortlisted in the Supporting Actress Film category. In 2013, she starred in Lance Daly's Irish feature Life's A Breeze and Roger Gual's Tasting Menu.
Key Credits
Ulysses - 1967
Rich Man, Poor Man - 1976 (TV)
How The West Was Won - 1978 (TV)
James Joyce's Women - 1985
Some Mother's Son - 1996
Waking Ned Devine - 1998
The Others - 2001
Transamerica - 2005
Brotherhood - 2006
Lost - 2007
The Guard - 2010
Life's A Breeze - 2013