Gabriel Byrne
"I am deeply honoured to be receiving this Award from the Irish Academy and it means a lot to me to receive it in my home town of Dublin."
Gabriel Byrne, Recipient of IFTA Lifetime Achievement Award for contribution to cinema in 2018
Born in 1950 in Dublin; Gabriel Byrne's body of work has already spanned 40 years across a diverse range of projects;  Gabriel began his acting career in the Focus Theatre and the Abbey Theatre in Dublin, before he joined the Royal Court Theatre and the Royal National Theatre in London.
Byrne first appeared on Irish screens in Irish soap The Riordans in 1978, as the handsome Pat Barry and swiftly took the lead role in the spin-off series, Bracken in 1980 where he became a household name with legions of fans in Ireland.  He made his film début in 1981 in John Boorman's King Arthur epic, Excalibur (1981) which also brought several other new faces to the screen, including Liam Neeson, Patrick Stewart and Ciarán Hinds, and so he began his spectacular cinematic journey across a body of work spanning almost 40 years.
Following Excalibur, multiple smaller international film parts followed until Gabriel proved a capable lead in the taut political thriller Defence of the Realm (1985).  He then took up leading roles in US miniseries Christopher Columbus (CBS, 1985), and Mussolini: The Untold Story (NBC, 1985) where he shared the screen with a young Robert Downey Jr.   More film roles followed throughout the eighties including Gothic (1986) with Natasha Richardson, and Julia and Julia with Kathleen Turner and Sting and his first turn with Ellen Barkin in Siesta.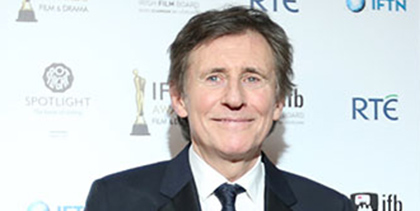 "Gabriel has paved the way as one of Ireland's most revered actors and filmmakers where he has explored and pushed the boundaries in storytelling across a broad range of genres, in film, television and documentary making.  We look forward to welcoming Gabriel back home to his native Dublin to celebrate his achievements."
Aine Moriarty, Chief Executive of IFTA
But it was his work with the Coen Brothers, Joel and Ethan, that projected Gabriel into the international spotlight with his superb performance in the critically-acclaimed revisionist gangster movie Miller's Crossing (1990).  Film critic David Thomson still calls Gabriel's performance in Miller's Crossing, "one of the best performances in American film - the whole melancholy routine".
Throughout the 90's Gabriel delivered a wide range of box office successes including Point of No Return (1993) with Bridget Fonda, A Dangerous Woman (1993) with Debra Winger and Barbara Hershey; A Simple Twist of Fate (1994) with Steve Martin which was also the first of three films with co-star Laura Linney, followed by Trial by Jury (1994) with bad guy Armand Assante.   In a busy 1994 he also played the striking German philosophy professor who swept Winona Ryder off her feet in Little Women (1994), a role he actively sought, telling the producers it was his favourite book growing up in Ireland.
It was the cult neo-noir thriller The Usual Suspects (1995) that saw Gabriel's screen profile reach new heights with audiences worldwide, as the former corrupt cop-turned- expert thief in his smouldering performance as Dean Keaton. After this, the film roles came pouring in for Gabriel including his swashbuckling turn as d'Artagnan alongside Leonardo Di Caprio, John Malkovich, Gerard Depardieu and Jeremy Irons as the Musketeers in the historical adventure The Man in the Iron Mask (1998).  Other standout performances include Stigmata (1999) with Patricia Arquette, End of Days (1999) with Arnold Schwarzenegger, Spider (2002) with Ralph Fiennes, Vanity Fair (2004) with Reese Witherspoon, Jindabyne (2006) with Laura Linney, Vampire Academy (2014) among so many others.
Gabriel's most enduring and recognized TV Drama performance was in one the most provocative and talked-about cable shows in the US, In Treatment (HBO, 2008 - 2010), when he played Paul Weston, a successful psychotherapist and family man whose personal life falls apart when his intimate involvement with his patients proves problematic.   In 2008, his performance earned him an Emmy nomination for Outstanding Lead Actor in a Drama Series, which he lost out to Bryan Cranston for Breaking Bad, however Gabriel then won the Golden Globe for Best Actor in a Television Series – Drama.
In his home country of Ireland, Gabriel is acknowledged as one of its most successful actors. His international achievement and status has made him an inspiring figure for young Irish actors and filmmakers. Alongside his work in US, Gabriel never forgot his Irish roots and always took the time to develop and work on Irish projects throughout the years. From Into The West (1992), a film he produced which Jim Sheridan wrote, a mythic tale of redemption with David Kelly, Colm Meaney, and Ellen Barkin, the film was shot entirely in Ireland.
Gabriel was Executive Producer on In the Name of the Father (1993).  He teamed-up with Matt Dillon and Anne Parillaud for Frankie Starlight (1995).  He headlined the Irish story of star-crossed lovers This Is the Sea (1997), with Samantha Morton and Richard Harris, a film about Northern Ireland during the ceasefire. He co-wrote, Exec-produced and co-starred in the charming teen romance Last of the High Kings (1998). Gabriel always maintained his love of his native language, writing the drama Draíocht (Magic) (1996), broadcast on the opening night of Ireland's new Irish language channel TnaG (TG4).
In more recent years Gabriel has filmed major TV drama in Ireland, taking the lead and launching the first series of Vikings, which was the History Channel's first scripted drama series.  He also took the helm in John Banville's atmospheric drama Quirke, a 3-episode BBC mini-series set in 1950's Dublin and based on Banville's books, writing as Benjamin Black.
Gabriel has always been passionate about documentary filmmaking, especially exploring the human psyche. He himself was the subject of Pat Collins' brilliant documentary Gabriel Byrne: Stories From Home.  Most recently, Gabriel explored the life and times of Irish literary genius George Bernard Shaw, in My Astonishing Self, for RTÉ, during which Gabriel was, according to director Gerry Hoban, "completely engaged, generous, and committed to the project, and to capturing the passion, the political fervour and the humour of Bernard Shaw".
Gabriel's commitment to Ireland and to Irish culture has always been unwavering, firstly helping to develop the Irish Cultural Centre in New York, for which the city of New York contributed $20 million, and then taking up the official role of first Cultural Ambassador for Ireland, when for two years, he worked tirelessly to promote the Irish arts in America and internationally and to help connect with the Irish diaspora.