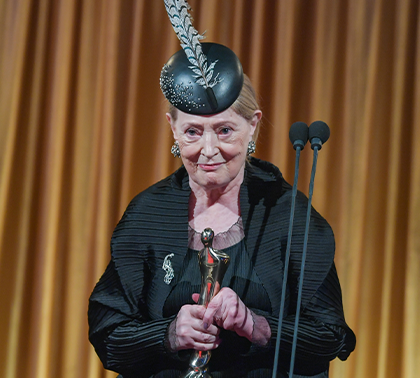 Joan Bergin
"I am truly delighted to be the recipient of such a prestigious honour from the Irish Academy on this 20th Anniversary of Ireland's own 'Oscar salute' to our craft and skills. In this age of saturated coverage of the stars, across an industry that grows through strength and daring, and poses a competitive challenge to all, it is a personal pleasure to receive this award for my craft and on behalf of my crew from the Irish Academy."
Joan Bergin, Recipient of the IFTA Lifetime Achievement Award 2023.
Joan Bergin is an award-winning Costume Designer, best known for her acclaimed work on the television show The Tudors, as well as for working on landmark Irish films such as the My Left Foot, In the Name of the Father and Dancing at Lughnasa.
Joan Bergin receiving the Lifetime Achievement Award
"I've only had the pleasure of being frocked up by Joan a couple of times. But on both occasions I was very struck by her deep understanding and connection to script and character."
Ciarán Hinds
"I was so impressed by her amazing eye and wonderful good humour."
Christopher Nolan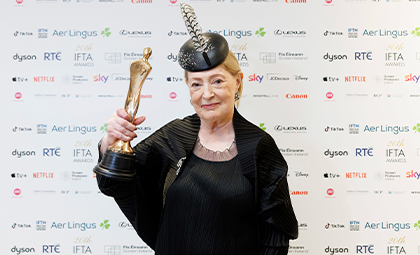 "To mark 20 years, the Irish Academy is delighted to present Joan Bergin with the highest honour the Academy can bestow on behalf of this industry as a whole. Joan has been an avid member and supporter of the Irish Academy since its inception in 2003 and an extraordinary mentor to new talent coming through, sharing her knowledge and expertise for new generations to come."
Áine Moriarty, Chief Executive of IFTA
Joan's first film credit came in the Oscar-winning Irish drama My Left Foot, directed by Jim Sheridan. She worked with Jim again in the films In The Name of the Father and The Boxer, also working with Pat O' Connor on 1998's Dancing at Lughnasa.
She was nominated for a Primetime Emmy award in 2001 for her contributions on the US adaptation of the Charles Dickens tale David Copperfield (which was shot in Dublin)and was nominated for an IFTA award in 2003 for Veronica Guerin. She was nominated for two more IFTA's in 2004 and 2007 for Laws of Attractions and The Prestige respectively before winning in 2008 and 2009 for the acclaimed television series The Tudors. For her work on 33 episodes of The Tudors from 2007- 2010, Joan won three Primetime Emmy awards in 2007, 2008 and 2010 as well as picking up another IFTA award in 2011..
She has also garnered IFTA nominations for working on the History Channel's television series Vikings (in 2014) and for Camelot (in 2012). In 2014, she designed the costumes for the UK drama A Little Chaos, directed by Alan Rickman and starring Kate Winslet.
In 2022, Bergin worked on Disenchanted, the sequel to Enchanted starring Amy Adams, Patrick Dempsey and James Marsden.