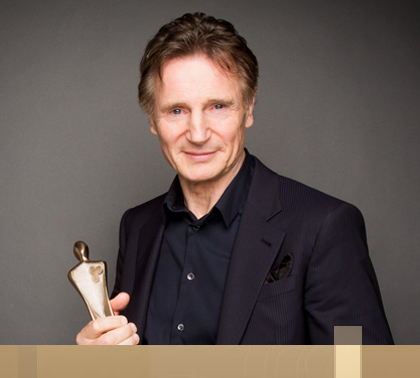 Liam Neeson
"I am honored and humbled to be recognized by the Irish Academy with this award, especially when I am following in the footsteps of an illustrious group of Irish filmmakers before me such as Boorman, Jordan, O'Hara and Sheridan. I look forward to coming to Dublin to celebrate with our home industry and with my colleagues and friends."
Liam Neeson, Recipient of the IFTA Outstanding Contribution to Cinema Award in 2016
Born in Ballymena, County Antrim, Ireland, to Katherine and Bernard Neeson, Liam Neeson has established himself as a world renowned and outstanding actor of his generation. His body of work has already spanned 30 years across a diverse range of projects; eighty four (84) films in total. The Oscar nominated actor who has just completed work on Martin Scorsese's new movie 'Silence', has garnered international recognition for his work in both major studio blockbusters and acclaimed independent features, delivering superb performances that have captivated audiences throughout the world.

Liam Neeson receiving the IFTA Outstanding Contribution to Cinema Award
"Liam is an amazing actor with an incredible body of work. He has been in every type of genre film you could imagine. He is incredibly gifted, incredibly charming, very warm and beautiful to look at."
Famke Janssen
"Liam, you are an amazing actor, a really warm and wonderful human being and I am proud to know you, and I would love to work with you again"
Harrison Ford
Liam Neeson has left a profound imprint on the landscape of international cinema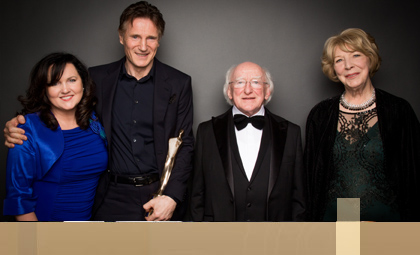 "Liam is someone that instantly commands the attention of the viewer. There are very few actors left in cinema today that carries that kind of weight but Liam is one of them. He holds the screen with his extraordinary mixture of gravity and grace"
Martin Scorsese
Neeson has worked with some of the greatest filmmakers in the world; Martin Scorsese, Steven Spielberg, George Lucas, John Boorman, Neil Jordan, Kathryn Bigelow, Christopher Nolan and Oliver Hirschbiegel among many others, and has collaborated multiple times with some of these directors.
He has received international Award recognition for various roles through his ability to depict real-life characters such as Michael Collins, Alfred Kinsey and Oskar Schindler – with the latter role universally acknowledged as an 'exceptional' performance. He has also been entrusted to deliver iconic roles and fictional characters in numerous major blockbuster franchises such as Star Wars and Batman and the enormously successful blockbuster trilogy Taken. His distinctive voice has also given life to animated characters including the Lion 'Aslan' in the Chronicles of Narnia, and he has narrated many international documentaries including the recent Irish series '1916', a project close to Neeson's heart.
In his home country of Ireland, Neeson is acknowledged as one of its most successful actors, beloved by Irish audiences and industry alike. His international achievement and status has made him an inspiring figure for young Irish actors and filmmakers. Alongside his work in major blockbuster movies, Neeson has always stayed connected with home productions, making at least seven Irish movies over the years and lending his distinctive voice to narrating important Documentaries. He has collaborated with Irish Director Neil Jordan across three films including the epic and much loved 'Michael Collins' for which he won numerous awards along with a Golden Globe nomination. The film celebrates its 20th anniversary this year.

Liam Neeson is internationally recognized for his work in both major studio blockbusters and acclaimed independent features. He has been honoured for his depictions of three very different real-life figures. Neeson received Academy Award®, Golden Globe and BAFTA Award nominations for his performance as Oskar Schindler in Steven Spielberg's 1993 Oscar-winning Best Picture Schindler's List. Three years later, he played the title role in Neil Jordan's biopic Michael Collins, earning another Golden Globe nomination and winning an Evening Standard British Film Award and the 1996 Venice Film Festival's Volpi Cup for his impassioned portrayal of the Irish Republican hero. In 2004, Neeson starred as controversial sex researcher Alfred Kinsey in Bill Condon's Kinsey, for which he garnered his third Golden Globe nomination, an Independent Spirit Award nomination, and won the best Actor Irish Academy (IFTA) Award and a Los Angeles Film Critics Award.

Liam is an inspiration to young Irish filmmakers and actors coming through the ranks in the industry today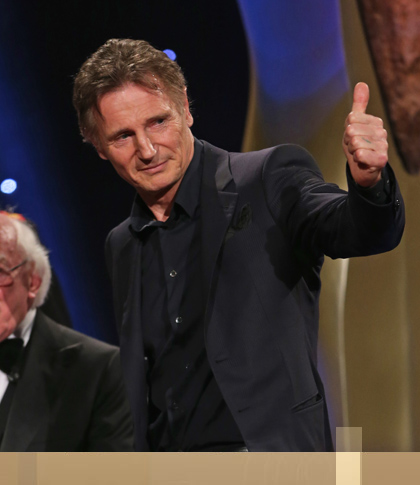 Neeson's most recent projects include Taken, the final instalment of the blockbuster trilogy, and Run All Night, directed by Jaume Collet-Serra, which were released in 2015. Liam can be next seen in Silence, directed by Martin Scorsese and A Monster Calls in which he co-stars alongside Felicity Jones and Sigourney Weaver. Both movies are set for a 2016 release.
"I think Liam always had a very naturalist air about him like all great movie stars – he is somehow bigger than life."
John Boorman
In 2014, Neeson appeared in Seth MacFarlane's comedy A Million Ways to Die in the West as well as the hit comedy Anchorman 2: The Legend Continues. In that same year, he also starred in Scott Frank's crime thriller A Walk among the Tombstones, director Jaume Collet-Serra's Non-Stop, and in writer/director Paul Haggis' romantic drama Third Person. Liam lent his voice to a number of animated features in 2014 including: The Nut Job, produced by Open Road Films and directed by Peter Lepeniotis; Phil Lord's hugely successful The Lego Movie; and the animated adaptation of Kahlil Gibran's book The Prophet, where Neeson was joined by John Krasinski and Salma Hayek.
In 2012, Neeson reprised his role as unstoppable CIA operative Bryan Mills in Taken 2, the successful follow-up to the 2008 hit crime thriller Taken. He also starred in Peter Berg's actioner Battleship, appeared in The Dark Night Rises for director Christopher Nolan, played Zeus in the blockbuster Wrath of the Titans, and starred in Joe Carnahan's thriller The Grey, which topped the box office in its opening weekend.
A selection of his earlier film credits include Jaume Collet-Serra's thriller Unknown; Paul Haggis' thriller The Next Three Days; the 2010 remake of The A-Team; and Clash of the Titans; as well as the indie film Chloe, directed by Atom Egoyan. In 2008 Neeson starred in Taken, the runaway box-office hit. Neeson also appeared in Disney's box office success The Chronicles of Narnia: Prince Caspian where he reprised his role as the voice of the lion, Aslan, in the sequel to the 2005 hit The Chronicles of Narnia: The Lion, The Witch and The Wardrobe. He also co-starred that year in Batman Begins, directed by Christopher Nolan.
Key Credits
Silence - 2016
The Grey – 2011
Taken – 2008
Breakfast on Pluto – 2005
Batman Begins – 2005
Kingdom of Heaven – 2005
Kinsey – 2004
Love Actually – 2003
K-19: The Widowmaker – 2002
Star Wars: Episode I - The Phantom Menace – 1999
Some Mother's Son – 1996
Michael Collins – 1996
Excalibur – 1981