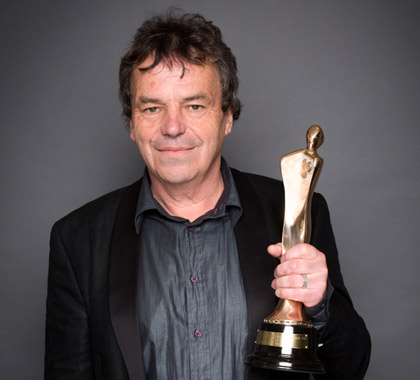 Neil Jordan
Neil Jordan was born in County Sligo in 1950, the son of Angela (née O'Brien), a painter, and Michael Jordan, a professor. He was educated at St. Paul's College, Raheny. Later, Jordan attended University College Dublin, where he studied Irish history and English literature. One of Ireland's most decorated and enduringly popular filmmakers, Jordan is known for writing and directing an eclectic array of films both in Ireland and internationally since the early 1980's. His themes range from the political to the fantasy with Jordan becoming infamous for writing memorable characters and drawing out awards-worthy performances from his cast.
When John Boorman was filming Excalibur in Ireland, he recruited Jordan as a "creative associate". A year later Boorman was executive producer on Jordan's first feature Angel, a tale of a musician caught up in the Troubles, starring Stephen Rea who has subsequently appeared in almost all of Jordan's films to date. During the 1980s, he directed films that won him acclaim, including The Company of Wolves and Mona Lisa, both made in England. The Company of Wolves in particular became a cult favourite.
It was 1992's The Crying Game, about an IRA member who holds a British soldier captive, that propelled Neil Jordan to much Hollywood acclaim. Jordan wrote and directed the film which was nominated for six Academy Awards, including Best Picture, Best Director, Best Actor (Stephen Rea), Best Supporting Actor (Jaye Davidson) and Jordan won an Oscar for Best Original Screenplay.
"The Crying Game," at the 65th Academy Awards in 1993.
Anne Bancroft and Dustin Hoffman presenting the Oscars to Neil Jordan for "The Crying Game," at the 65th Academy Awards in 1993.
Neil Jordan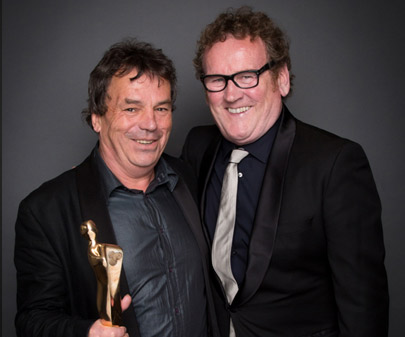 Neil Jordan and Colm Meaney
His next feature was a clear example of the star power Jordan could now attract, with Interview With The Vampire starring Hollywood heavyweights Tom Cruise and Brad Pitt. The film was well received and was nominated for two Oscars.
Jordan returned to Ireland to film his critically acclaimed 1996 feature Michael Collins starring Liam Neeson and Julia Roberts. The film garnered Jordan further acclaim and it won the Golden Lion for Best Film at the Venice Film Festival.
He went on to collaborate with Irish novelist Pat McCabe to adapt his novel The Butcher Boy for the screen in 1997. Seen by many in the industry as an almost impossible novel to adapt, The Butcher Boy won Jordan a Silver Bear award for Best Director at the Berlin Film Festival and newcomer Eamonn Owens received a special mention for his performance in the film.
After that, Jordan directed films such as The End Of The Affair, The Good Thief and In Dreams. He was awarded an IFTA Lifetime Achievement Award in 2003 in recognition of his body of work and won IFTA Awards for Best Director and Best Script for the film Breakfast On Pluto.
He wrote, directed and produced the fantasy drama Ondine starring Colin Farrell which won four IFTA Awards in 2010 before creating Showtime's acclaimed mini-series The Borgias starring Jeremy Irons. He was nominated at the 2011 Emmy Awards for Outstanding Directing in a Drama Series for his work on the show.
In 2012, Jordan returned to the fantasy genre with vampire drama Byzantium. The film was released to acclaim and Jordan picked up an IFTA Award for Best Director and lead actress Saoirse Ronan winning a Best Actress IFTA for her performance in the film.