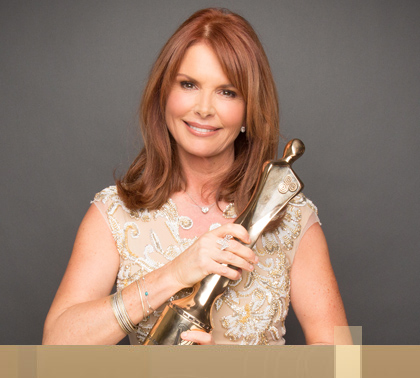 Roma Downey
"I am so grateful to IFTA and the Irish Government for honoring me with the inaugural Irish Diaspora Award. While I'm blessed to have had a successful career in the United States, that success has been built on all that I learned growing up in Derry: Integrity, character, tenacity, the value of working hard, daring to dream big, and of course to always have a sense of humor and not take myself too seriously! I just love Ireland and the Irish people and I am so thankful to come back and celebrate in Dublin, which makes it even more special and fun."
Roma Downey, Recipient of the IFTA Inaugural Irish Diaspora Award 2016
The Award recognizes Downey's extraordinary achievements and vision as both a Producer and an Actress alongside her charity and humanitarian work worldwide. The Award will be presented at the IFTA Awards Ceremony on April 9thin Dublin.
Roma Downey's career has already spanned three decades, and she has achieved enormous global success in front and behind the camera. From A Woman Named Jackie and Touched by an Angel to developing, producing (and starring in) the epic drama series The Bible, Son of God and the soon to be released Ben Hur. She is listed on Variety's 100 Most Powerful Women in Hollywood, among many other accolades. A skilful and astute Producer behind the scenes, Downey has brought her 'angel's touch' to a number of epic Dramas, watched by over 100 million people worldwide. This summer she will receive a star on the famed Hollywood Blvd.

Roma Downey receiving the Irish Diaspora Award
"22 years ago she came on my show and I remember that she was this woman that I met at a restaurant previously – she was the coat-check girl! And straight away I had a feeling that this Irish girl was on her way to something! All of a sudden she became a star and in America too which is a tough place to do it. Look what happened to her now – she's all over the place."
US Talk-Show Presenter Regis Philbin
Roma Downey's journey from county Derry to Hollywood is the stuff of dreams
"Roma Downey wholly embodies the Irish spirit, an indomitable and enduring force as both an actress and a producer whilst also maintaining a generosity of spirit that has made her a magnificent ambassador for Ireland. For all she has achieved and for always staying true to her Irish heritage, we cannot think of a more worthy recipient for this Award than Ms. Downey."
Jimmy Deenihan
Born and raised in Derry City Northern Ireland to Patrick and Maureen Downey, Roma Downey originally planned to be a painter earning a Bachelor of Arts at Brighton College of Art. She soon turned her attention to acting however and subsequently moved to London, where she was classically trained at the Drama Studio London.
When she finished her training, Downey joined the Abbey Players in Dublin and toured the United States in a production of The Playboy of the Western World. The play led to a nomination during a run at the Kennedy Center in DC, for the Helen Hayes Best Actress Award in 1991. She also starred on Broadway in The Circle with Sir Rex Harrison and also at the Roundabout Theater and The Public Theater in New York City.
Inevitable screen roles soon came knocking for Downey and she received acclaim for her breakthrough leading performance as Jackie Kennedy Onassis in the Emmy-Award winning six hour miniseries A Woman Named Jackie for NBC.

Her role as Jacqueline Kennedy drew widespread praise and led to her most famous role, as the Irish angel Monica on the CBS series Touched by an Angel, opposite singer-actress, Della Reese, which ran from 1994 to 2003. Touched By An Angel quickly became CBS's highest-rated series, drawing in a series high of over 17 million viewers. This was in no small part to Downey's central performance which earned her multiple Golden Globe and Primetime Emmy Award nominations for Lead Actress. When Touched By An Angel came off the air it was a time in her life when many thought she'd start to slow down. But Roma Downey was just getting started. Over a decade later she is at the top of her game having a second career as dazzling as her first but this time behind the camera as an award winning Producer.

Roma's contribution to the New Irish Arts Center is just phenomenal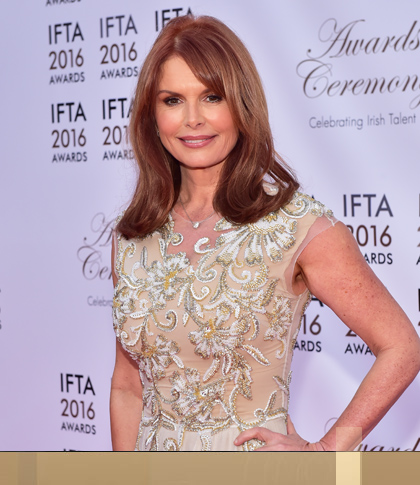 One of Downey's biggest successes came in 2013 with the History Channel's The Bible. Under the banner of her production company LightWorkers Media she produced the ten hour mini-series with her husband Mark Burnett – as well as starring as Mother Mary - The Bible was a resounding critical and commercial success, garnering nominations at the Emmy Awards as well as being watched by over 100 million people in the US alone. It has also become the fastest-selling DVD over the past five years.
"Roma Downey – a Catholic girl from Derry who becomes one of the fine actresses of the United States and eventually works her way up to producing great television series such as The Bible..... This is so incredibly well-deserved and it goes with pride from every Irish person living abroad, particularly in the film and television industry"
Sir Bob Geldof
Downey and Burnett followed up The Bible with Son of God, a feature film that stunned the box office as the 2nd highest faith movie opening of all time. The Hollywood trade publication Variety recognized Downey and Burnett as "Trailblazers" and listed Downey as Variety's 100 Most Powerful Women in Hollywood. Downey was also honored on Variety's Women of Impact in 2014 and will get a star on Hollywood Walk of Fame this summer. Her producing skills were recognized by MGM who recently made Downey President of LightWorkers Media, the faith and family division of the studio. She also currently serves as the chief content officer for the planned OTT.
Roma has been a spokesperson for 20 years for the Volunteer group Operation Smile. She spearheaded a Television campaign to raise money to help children around the world with cleft lip and cleft pallet. She has personally travelled the globe filming this campaign with this team and her work has raised millions of dollars for these children. She believes in giving back, in making a difference for good in the world.
Recent projects of Downey's include The Women of the Bible for Lifetime, The Dovekeepers for CBS, A.D: The Bible Continues for NBC, Answered Prayers for TLC and the feature films Little Boy (Open Road Films) and Woodlawn (Pure Flix). She is also currently producing a new series for NASCAR as well as producing the epic feature film Ben-Hur starring Jack Huston and Morgan Freeman among others, a reimagining of the classic story with MGM and Paramount, which is set to be released in August 2016.
Key Credits
A Woman Named Jackie - 1991
Touched by an Angel - 1994 - 2003
Promised Land 1996-1998
Borrowed Hearts 1997
The Bible - 2013
Son of God - 2014
A.D. The Bible Continues - 2015