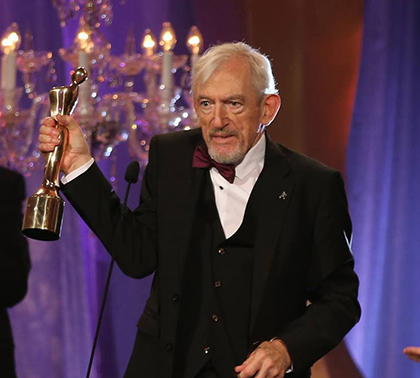 Shay Healy
"I am thrilled to accept this honour from the Academy and my only regret is that I didn't keep a record of all the times and dates when so many people shared their musical and artistic talents with me. This award is as much about them as it is about me."
Shay Healy, Recipient of the IFTA Outstanding Contribution to Television Award in 2018.
Shay Healy was recognised by the Irish Film and Television Academy for his contribution to the Irish Entertainment industry as a broadcaster, songwriter and journalist. He is a unique and beloved Irish talent with a diverse body of work spanning 55 years in Television and Entertainment in Ireland.
Healy started out as a writer and his love of music quickly led him to become the folk music correspondent for 'Spotlight', the leading music magazine in the early 60s. His career journey has been inspirational, starting behind the camera at RTÉ, 55 years ago in 1963, going on to become a creative force in Ireland for music, fronting many innovative television programmes.
His first presenting job started with RTÉ's studio-based music programmes 'Twenty Minutes With' (1968), 'Hoot'nanny' (1969), and 'Ballad Sheet' (1969), and hosting the talent show 'Reach For The Stars' (1971), as well as the young people's series 'Hullaballoo' (1977). Healy was determined to shine a light on great Irish music talent and never felt restricted by the genre, open to all types of music. Healy's songwriting skills and quirky sense of humour came to the fore throughout the 1970s as he appeared on many RTÉ entertainment programmes presenting comedy sketches and performing his own songs.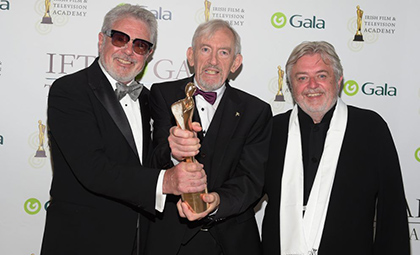 "Shay Healy is one of Ireland's true greats of music and television, who has enriched the lives of so many people through his writing and creativity and his encouragement of Irish music talent throughout the years. He has made a unique contribution to Irish culture and to this industry as a whole."
Áine Moriarty, Chief Executive of IFTA
His first major break came in 1980 when his song 'What's Another Year' which he wrote about his Dad, won the Eurovision Song Contest and made Johnny Logan an international star. The win gave Ireland the chance to host the Eurovision at the RDS in Dublin, inspiring so many young Irish artists to reach for the stars.
Many of Healy's songs have been recorded through the years by artists such as The Wolfe Tones, Johnny McEvoy, The Fureys & Davy Arthur and Danny Doyle among others. Scottish comedian Billy Connolly, who recorded three of Healy's songs, saying "Shay writes very good songs – and they're really very funny".
But it was Healy's ground-breaking work as host of the TV series 'Nighthawks' (1988 – 1992), that showcased his unique and down-to-earth style and rapport with musicians and people from all walks of life, which Healy said "they were the best four years of my working life". He had the nation tuned in night after night and in January 1992 his interview with Justice Minister Seán Doherty revealed details about the phone-tapping scandal and the revelation led to the resignation of Taoiseach Charles Haughey a few weeks later. Anne Enright (Author and Booker Prize winner) said "Shay didn't do bullshit, he didn't do in-fighting, he'd bang his head against Management, which in those days was the only thing to do with management in RTÉ." It was after Healy's father passed away in early 1992 that he took time out and finished with the show.
Healy went on to do other TV shows including 'The Birthday Show' (1993- 1995), and 'Beastly Behaviour' (1998-1999); he co-hosted 'Evening Extra' and hosted one of the 'Saturday Live' shows on RTÉ in 1987 that included an entertaining interview with special guest Michael D Higgins at the time.
His knowledge and experience of living in Nashville and the music industry gave him a great insight into the leading artists of the day, and once back in Ireland, Shay's TV show 'Music City U.S.A.' introduced many country music acts to Irish audiences including Garth Brooks. Healy also made a number of TV Documentaries with his own production company including his brilliant documentary 'Phil Lynott, The Rocker' for the BBC and RTÉ, along with 'Against the Odds' with Ronan Tynan, amongst his other work.
Over the years Healy has also produced many stage shows and musicals, collaborating with producers such as Bill Whelan and John McColgan and Moya Doherty, and he has worked with leading Irish music artists Paul Brady, Christy Dignam, Colm Wilkinson, Phil Coulter, Barry Devlin, Ronan Keeting, Elenor McAvoy, Francis Black, Mary Coughlan, Linda Martin, Jimmy McCarthy, Declan O'Rourke, Maura O'Connell, amongst so many others.
Shay acknowledged that despite spotting great Irish talent throughout the years, he said "I learned one thing in music, that you're not always right" in reference to his adjudicating of a talent show and not picking U2 from the finalists back in the day. Some years later, Bono asked Shay to pick a band for his wedding day. That afternoon when Shay saw Bono being hoisted on shoulders entering the ceremony he said he finally got it, and said "it was like Jesus was coming into the room – I never saw anything like it".