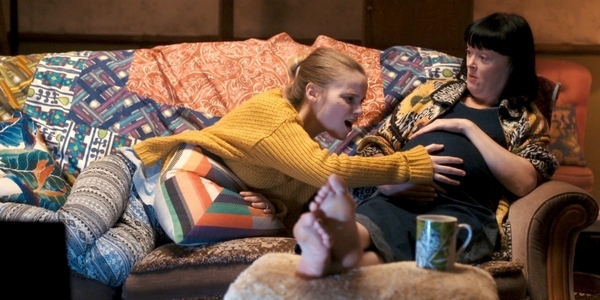 IFTA Preview Screening - A Bump Along the Way
When:Friday, October 11th
Venue:Light House Cinema


The Irish Film and Television Academy hosts a special first-look screening of A Bump Along the Way in association with Element Pictures.
The heart-warming and hilarious Derry-based comedy took home the Best Irish First Feature Award at this year's Galway Film Fleadh and was selected to screen at TIFF in September.
Fun-loving, 44-year-old single mum Pamela (Bronagh Gallagher), becomes pregnant following a boozy one night-stand with a man half her age, much to the shame of her buttoned-up teenage daughter Allegra (Lola Petticrew). As Pamela deals with her unexpected pregnancy and the growing pains of the disgruntled Allegra, the challenges they both face ultimately bring mother and daughter to a better understanding of themselves and each other.
Filmed entirely on location in Derry, A Bump Along the Way is led by an all-female team consisting of director Shelly Love, writer Tess McGowan, producer Louise Gallagher of Gallagher Films and executive producer Roma Downey. Starring Bronagh Gallagher (Pulp Fiction, The Commitments) and Lola Petticrew (Come Home), who picked up the Bingham New Ray Talent Award at the Galway Film Fleadh.
Bronagh and Louise Gallagher will take part in a Q&A after the screening.
Directed by: Shelley Love
Produced by: Louise Gallagher
Cast: Bronagh Gallagher, Lola Petticrew, Mary Moulds
A Bump Along the Way releases in Irish cinemas on October 11th.