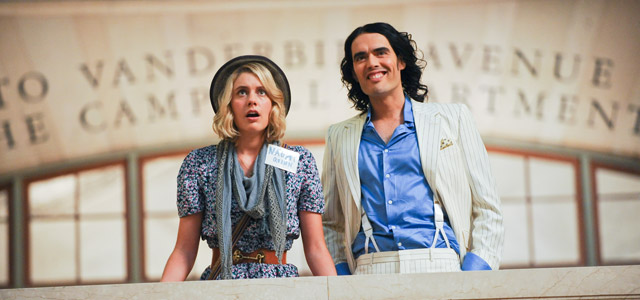 ARTHUR PREVIEW SCREENING PLUS COCKTAIL RECEPTION
WIN TICKETS TO AN exclusive preview screening WITH NEW YORK STYLE COCKTAIL RECEPTION
event DETAILS
When:
21 April 2011 @
6.15pm (pre-reception)
7.30pm (screening)

Where:
The Mercantile Bar, Dame Street, Dublin 2
Screen Cinema, 2 Townsend Street, Dublin 2

All seating is unreserved

Running Time:
110mins

Contact info:
+ 353 1 6624120
membership@ifta.ie

With thanks to Warner Bros. Pictures

IFTA and Warner Bros. Pictures have teamed up with The Mercantile Bar to give you a wonderful night at the movies - New York Style.
You are in with the chance to win tickets to a New York themed cocktail reception at the fabulous Mercantile on Dame Street in Dublin followed by an exclusive Premiere Screening of the new comedy starring Russell Brand and Helen Mirren, Arthur at The Screen Cinema, d'Olier Street on Thursday 21st April.

ENTER THE IFTA COMPETITION

IFTA has 10 pairs of tickets to give away to IFTA Members courtesy of Warner Bros Pictures.

Simply answer the following question:
Arthur features this established actress, who won a Golden Globe award for her starring role in the hit television action-thriller Alias and plays Susan, Arthur's appointed bride-to-be and keeper of the family fortune. Name the actress.

Send your answer to membership@ifta.ie with "Arthur Competition" in the subject line no later than 12 noon Monday 18th April.

Notes:

IFTA will contact the lucky winners by 10am Tuesday 19th of April. If you don't hear from us by then you have not won tickets this time around.

The reception is strictly over 18s.

This competition is open to IFTA Members only. If you are not a member click here to find out how to join.
For more details & competitions don't forget to follow IFTA:
Twitter: www.twitter.com/ifta
Facebook: www.facebook.com/iftaonline
ABOUT ARTHUR

In this fresh new look at a classic story, Russell Brand re-invents the role of loveable billionaire Arthur Bach, an irresponsible charmer who has always relied on two things to get by: his limitless fortune and the good sense of lifelong nanny Hobson (Academy Award® winner Helen Mirren) to keep him out of trouble.
Now he faces his biggest challenge-choosing between an arranged marriage to ambitious corporate exec Susan (Jennifer Garner), that will ensure his lavish lifestyle, or an uncertain future with the one thing money can't buy, Naomi (Greta Gerwig), the woman he really loves.

With Naomi's inspiration and some unconventional help from Hobson, the one person who always believed in him, Arthur will take the most expensive risk of his life and learn what it means to be a man, in this re-imagining of the romantic comedy "Arthur".
"Arthur" is directed by Jason Winer, a 2010 Directors Guild Award winner for the hit ABC comedy "Modern Family." Also starring are Luis Guzmán as Arthur's driver, Bitterman, and Nick Nolte as his imposing future father-in-law, Burt.
Arthur Cert 12a is released in Ireland April 22nd
Check out the Arthur Facebook page here