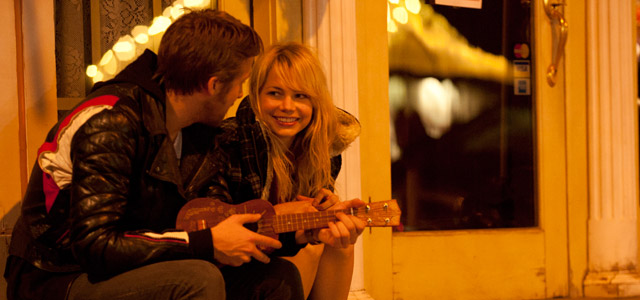 BLUE VALENTINE EXCLUSIVE PREVIEW SCREENING
FOR YOUR CONSIDERATION AT THE 8TH ANNUAL IRISH FILM & TELEVISION AWARDS
event DETAILS
When:
4 January 2011

Where:
Light House Cinema, Smithfield, Dublin 7

All seating is unreserved

Contact info:
+ 353 1 6624120
membership@ifta.ie

With thanks to Optimum Releasing


The Irish Film & Television Academy is delighted to announce an exclusive Viewing Season screening of Blue Valentine.

Please note, DVD screeners are not available for this film.
FOR YOUR CONSIDERATION
8th ANNUAL IRISH FILM & TELEVISION AWARDS
ABOUT THE FILM

BLUE VALENTINE is a story of love found and love lost told in past and present moments in time. Flooded with romantic memories of their courtship, Dean (Ryan Gosling HALF NELSON) and Cindy (Michelle Williams SHUTTER ISLAND) use one night to try and save their failing marriage.

PRAISE FOR BLUE VALENTINE
"An intelligent, sometimes painful look at the ebb and flow of love in a young couple's marriage. One of the stand-out films in this year's Sundance and Cannes Film Festivals, Blue Valentine is an intelligent, heartbreaking story of a couple nearing the end of their marriage. Dean (Ryan Gosling) and Cindy (Michelle Williams) are parents of a beloved young daughter, but their relationship seems set in a downward spiral. In flashback we see the pleasure and promise of their early relationship, and the film pulls us between past and present, giving us a subtly drawn, non-judgemental portrait of the ebb and flow of love.

The film's emotional landscape brings Cassavetes to mind, not least because of the intense, intimate performances of the two excellent leads. Writer-director Derek Cianfrance confidently handles his themes, skilfully weaving ideas of memory and temporality into the couple's story, and into Dean's attempt to get their relationship back on track. The technical choices reinforce this, contrasting 16mm and digital stock for past and present, and the yearning melodies of Grizzly Bear provide a fitting soundtrack to this painful, beautiful film.
Sandra Hebron, Director, The 54th BFI London Film Festival catalogue

"A beautifully shot, and stunningly acted virtual two-hander..."
 Metro.co.uk

"American indie film of the year...a raw, heartbreaking tale... incisive writing, blistering performances and a beautifully worked-out structure..."
The Scotsman

"Acutely observed...deeply affecting...Blue Valentine has taken twelve years to bring to the screen: it's been worth it."
The Telegraph

FESTIVALS

Official Selection - Sundance Film Festival
Official Selection - Cannes Film Festival
Official Selection - Toronto Film Festival

AWARDS

Ryan Gosling, Golden Globe nomination for Best Performance by an Actor in a Motion Picture - Drama
Michelle Williams, Golden Globe nomination for Best Performance by an Actress in a Motion Picture - Drama