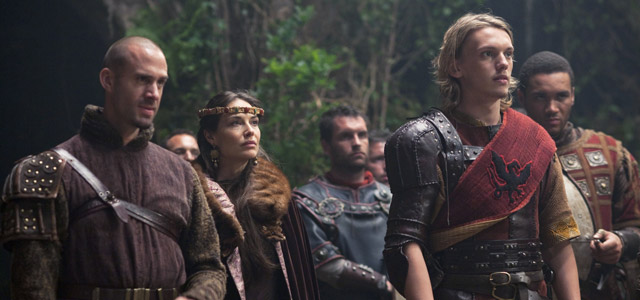 CAMELOT FIRST LOOK EXCLUSIVE PREVIEW PLUS Q&A
exclusive preview screening plus q&a with series producer morgan o'sullivan and members of the camelot crew
event DETAILS
When:
6 April 2011

Where:
Light House Cinema, Smithfield, Dublin 7

All seating is unreserved

Contact info:
+ 353 1 6624120
membership@ifta.ie

With thanks to Morgan O'Sullivan, Octagon Films & Starz

The Irish Film & Television Academy is delighted to announce an exclusive IFTA event, Camelot First Look Preview Screening plus Q&A with producer Morgan O'Sullivan and members of the Camelot crew.
Camelot will be receiving its World Premiere at MIPTV in Cannes on Monday 4th April. IFTA is delighted that Starz and Octagon Films have given Academy Members the opportunity to view the first two episodes of this series before it airs in the UK or Ireland.

Camelot was filmed entirely in Co Wicklow in 2010, on location at Luggala, Kilruddery House & Gardens and the Powerscourt Estate; all the interiors were shot at Ardmore Studios. A large number of crew from The Tudors have worked on Camelot including IFTA Members - director Ciaran Donnelly, costume designer Joan Bergin and production designer Tom Conroy.

Camelot is worth an estimated $32million to the Irish industry.

ABOUT CAMELOT

Based on Le Morte D'Arthur, in the wake of King Uther's sudden death, chaos threatens to engulf Britain. When the sorcerer Merlin has visions of a dark future, he installs the young and impetuous Arthur, Uther's unknown son and heir, who has been raised from birth as a commoner. But Arthur's cold and ambitious half sister Morgan will fight him to the bitter end, summoning unnatural forces to claim the crown in this epic battle for control. These are dark times indeed for the new King, with Guinevere being the only shining light in Arthur's harsh world.
Faced with profound moral decisions, and the challenge of uniting a kingdom broken by war and steeped in deception, Arthur will be tested beyond imagination. Forget everything you think you know ... this is the story of Camelot that has never been told before.
Camelot stars Joseph Fiennes, Eva Green, Jamie Campbell Bower, Tamsin Eggerton, Peter Mooney, Claire Forlani James Purefoy and Sinead Cusack.
ABOUT MORGAN O'SULLIVAN

Morgan O'Sullivan was born and educated in Dublin. He began his career in broadcasting with RTE and then went to Australia to work in various production management capacities. He also acted in a broadcasting capacity on TV and radio as an on-air announcer. Returning to Ireland three years later, he rejoined RTE and established himself as a major on-air celebrity with a weekly interview show broadcast on radio. Morgan is now the Managing Director of World 2000 Entertainment Ltd.

O'Sullivan, who is the most experienced producer in the country, is renowned for the breadth of his contacts in US television. He recently received an IFTA for his Outstanding Contribution to the Irish Industry.