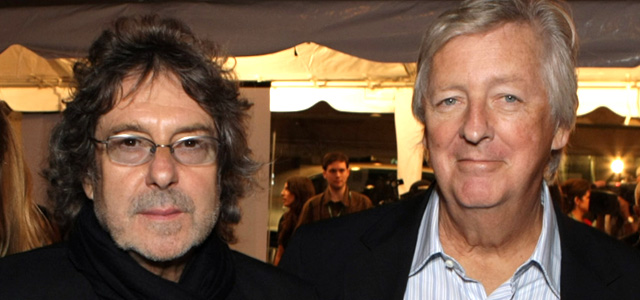 WRITING FOR FILM & TELEVISION
An Evening With... Dick Clement & Ian La Frenais
event DETAILS
When:
22nd March 2011

Where:
Shelbourne Hotel, Dublin 2

All seating is unreserved

Contact info:
+ 353 1 6624120
membership@ifta.ie
In association with BAI



The Irish Film and Television Academy is delighted to announce details of Writing for Film & Television - An Evening With... Dick Clement & Ian La Frenais.

Dick Clement and Ian La Frenais are the award-winning scriptwriters behind such hits as The Likely Lads, Whatever Happened to the Likely Lads?, Porridge and Auf Wiedersehen, Pet. These television series are some of most enduringly popular comedy series of the last three decades.

Together they have won BAFTA, Writers Guild of America and Emmy nominations and awards for their work on the Tracey Takes On series with Tracey Ullman, Doing Time, Flushed Away, The Bank Job and The Commitments.

Their most recent work Killing Bono is due for release in Ireland on 1st April. Filmed in Northern Ireland in 2010, based on Neil McCormick's book (I Was Bono's Doppelganger), directed by Nick Hamm and starring Ben Barnes, Robert Sheehan, Martin McCann and the late Pete Postlethwaite in his final role, Killing Bono is the story of two brothers who attempt to become global rock stars but can only look on as old school friends U2 become the biggest band in the world.

Dick and Ian will be speaking about their background, skill set, and inspiration as well as the creative process, the importance of an ear for dialogue and the challenges and benefits of collaborative work. This event will provide a fantastic opportunity to delve into the world of working in Hollywood.

Audience members will be invited to ask questions and clips will be shown from their body of work to illustrate various points throughout the conversation.
ABOUT DICK CLEMENT & IAN LA FRENAIS

Clement and La Frenais' writing has traditionally focused on young men in tough situations. The Likely Lads, which was to become one of the fledgling BBC2's first big successes, revolved around the squabbles and contrasting aspirations of two working class lads, both apprentices at a factory in the North East of England.

The extraordinarily successful series Auf Wiedersehen, Pet, focused on a gang of Geordie building labourers obliged to pursue their trade in German whilst the classic prison comedy Porridge, saw multi-faceted comedian Ronnie Barker pair up with Richard Beckinsale in a bid to survive life on the inside.

Their collaboration with Roddy Doyle on The Commitments used the same template of humour and gritty determination to win the hearts and minds of audiences and critics alike. During the last number of years, Clement and La Frenais have written screenplays for Goal!, Flushed Away, Across the Universe, The Bank Job and most recently Killing Bono.