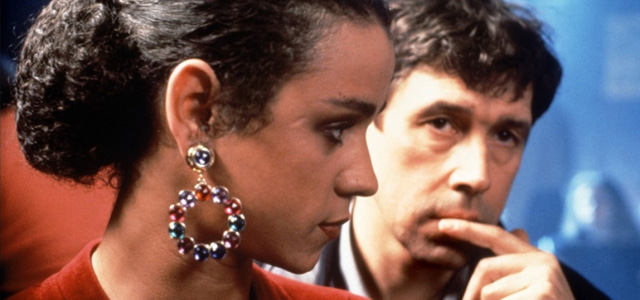 the crying game - 20th anniversary CELEBRATION
with WRITER/DIRECTOR NEIL JORDAN and ACTOR STEPHEN REA

EVENT DETAILS

The Crying Game 20th Anniversary Celebration

When:
4 September 2012

Where:
Light House Cinema, Smithfield

Contact info:
+ 353 1 6624120

membership@ifta.ie

With thanks to Neil Jordan
The Irish Film & Television Academy is delighted to host the 20th Anniversary Celebration of The Crying Game, with special guest writer/director Neil Jordan.
This special Irish film event takes place at Dublin's Light House Cinema on Tuesday 4th September. Neil Jordan will participate in a post-screening discussion looking back upon the making the 1992 Oscar winning film.
Some movies keep you guessing. Some movies make you care. Once in a long while a movie comes along that does both things at the same time. It's not easy. Neil Jordan's 'The Crying Game' keeps us involved and committed through one plot twist after another. It's one of the best films of 1992.
ROGER EBERT Film Critic, December 18, 1992
It has been 20 years since Neil Jordan's The Crying Game enthralled cinema goers worldwide with its controversial plot and characterisation. Much more than a depiction of The Troubles, the film explored aspects of the themes of race, gender, nationality, and sexuality that have generated much dialogue and discussion amongst cinephiles. This special 20th Anniversary screening is hosted by IFTA to celebrate and reflect on one of Ireland's greatest feature films that marked a milestone in the development of our indigenous film industry.

Produced by Stephen Woolley from Number Nine Films and executive produced by Nik Powell the film earned critical acclaim with 26 wins and 23 nominations internationally including Neil Jordan winning the Academy Award for Best Original Screenplay. The Crying Game received nominations for six Academy Awards (Best Picture, Best Film Editing, Best Actor in a Leading Role (Rea), Best Actor in a Supporting Role (Davidson) and Best Director) and picked up honours at numerous festivals, critics circles and Awards Ceremonies including BAFTA, PGA and European Film Awards.

IFTA is delighted to welcome Neil Jordan and Stephen Rea to this very special Irish film event. The duo will participate in a post screening discussion reflecting on stories and anecdotes from the shoot, the industry landscape at the time of filming, how the film's success developed their own careers and a glance through their long time director/actor collaboration which has seen them making films together since Jordan's Angel in 1982.
ABOUT THE CRYING GAME

Stephen Rea, plays Fergus an IRA volunteer, who strikes up an unlikely friendship when a kidnapped British Army soldier Jody (Forest Whitaker) is brought under his watch. When the secluded farmhouse in which they are hiding is raided, the hostage situation goes horribly wrong leading Fergus to flee from Northern Ireland to London. Fergus seeks out Jody's lover, Dil (Jaye Davidson) and by revealing nothing about his IRA past develops a relationship with Dil. However there are some things about Dil that Fergus doesn't know, either. When Fergus's IRA partner Jude (Miranda Richardson) tracks Fergus down with another job for him, Fergus must ask himself where his loyalties really lie.
IFTA MEMBERSHIP


This event is free and exclusive to Members of the Irish Film & Television Academy.
click here for information about Membership eligibility.
Twitter: @ifta
Facebook: www.facebook.com/iftaonline
Signup for IFTA E-news: ezine@ifta.ie