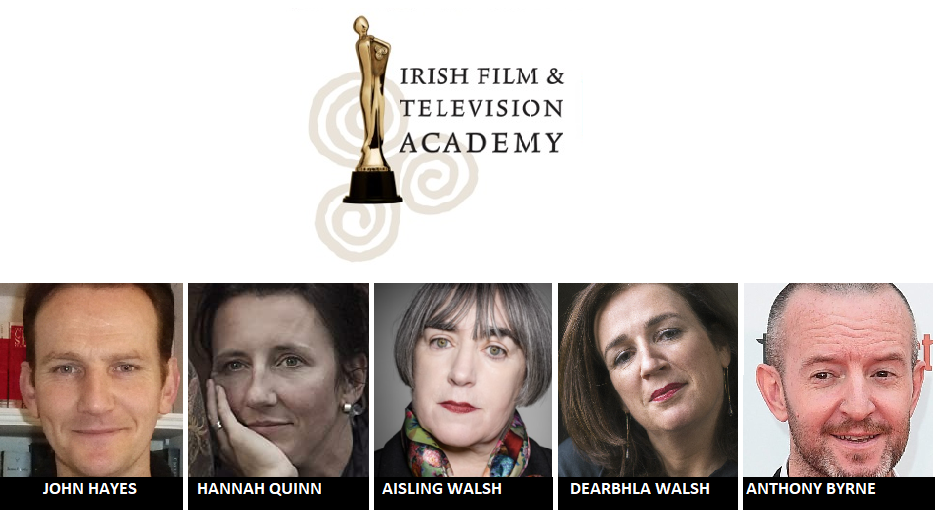 IFTA NOMINEE ROUNDTABLE: BEST DIRECTOR - DRAMA
WHEN:Thursday, September 24TH, 4:30PM
WHERE: REGISTER
The Irish Film and Television Academy (IFTA) continues its series of online discussions with, IFTA Nominee Round Table: Best Director - Drama.
The round-table discussions series provide unique insight into creating award-winning film and television, with screen professionals at the very top of Irish and International filmmaking.
Joining us to discuss their award-nominated films are Directors:
John Hayes (Dublin Murders)

Hannah Quinn (Blood)

Aisling Walsh (Elizabeth is Missing)

Dearbhla Walsh (The Handmaid's Tale)

Anthony Byrne (Peaky Blinders)




DIRECTOR DRAMA: FULL LIST OF NOMINEES

Anthony Byrne
Peaky Blinders


Hailing from Dublin, Anthony Byrne is a seasoned director whose credits span the TV, Film and music world including PEAKY BLINDERS for BBC & Netflix. Feature film IN DARKNESS and music videos ONE OF US for Liam Gallagher and DINNER & DIATRIBES for Hozier. He also directed the hugely successful drama LOVE/HATE for RTE.

John Hayes
Dublin Murders


John Hayes is a Film, TV and Commercials Director who most recently directed 4 episodes of the BBC/Starz crime drama DUBLIN MURDERS. He also directed the first season of ITV's hit drama BANCROFT, as well as episodes of VERA and HOME FIRES and mini-episodes of DOCTOR WHO. John has worked as 2nd Unit Director on GAME OF THRONES, STRIKE BACK, VIKINGS and CAMELOT

Lisa Mulcahy (Unable to attend panel due to work commitments)

Blood


Lisa is lead director on the new BBC drama Ridley Road. Previously, she directed episodes of Years and Years, Holby City, the entire series of The Moonstone, (BBC), and the award-winning feature The Legend of Longwood. She has also directed numerous episodes of Red Rock, for which she won an IFTA. Lisa was the lead director for Blood Series 1.

Hannah Quinn
Blood


Hannah is currently in post-production on a sci-fi series, INTERGALACTIC for Sky and a new teen drama FATE – THE WINX SAGA for Netflix. Hannah directed episodes 4,5 & 6 of the successful series BLOOD for Virgin Media TV and episodes 4,5 & 6 of the hit series Harlan Coben's THE STRANGER for Netflix.

Aisling Walsh
Elizabeth is Missing


Aisling Walsh is a multi-award winning Film and Television Director and Writer. She is best known for her feature films Maudie and Song for A Raggy Boy which have won many international film festival awards. For her television work she has won 3 BAFTA and 2 RTS Awards. She was invited to join the American Academy of Motion Pictures of Arts and Science in 2017.

Dearbhla Walsh
The Handmaid's Tale

Dearbhla Walsh is an Emmy, IFTA and BAFTA Award-winning director. Walsh directed and executive produced Traitors for Channel 4 and Netflix, Silence for BBC and Shameless for Channel 4. Other directing credits include: The Collection for Amazon, Little Dorrit (part 1), Tales from the Loop, The Handmaid's Tale, Fargo, Penny Dreadful, The Tudors and Marvel's The Punisher.