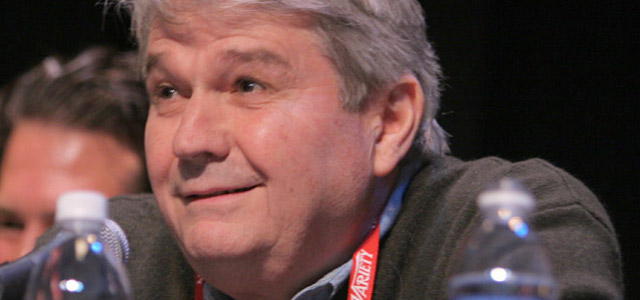 GILL DENNIS SCREENWRITER-IN-RESIDENCE 2011
SCREENWRITER'S MASTERCLASS AND WRITER-IN-RESIDENCE PROGRAMME AT GALWAY FILM FLEADH
event DETAILS
When:
5 - 10 July 2011

Where:
Galway Film Fleadh

Contact info:
+ 353 1 6624120
membership@ifta.ie

The Irish Film and Television Academy is delighted to announce the Screenwriter-in-Residence programme at this year's Galway Film Fleadh with screenwriter Gill Dennis.
Currently the Master Filmmaker in Residence at the American Film Institute, Gill Dennis will be giving a Masterclass for Screenwriters, in association with the Irish Film & Television Academy, at this year's Fleadh as well as giving one-on-one consults to individual screenwriters, including IFTA Members.
ABOUT GILL DENNIS
Gill has worked as a screenwriter in Hollywood and on independent films for four decades.

Having studied screenwriting with Frank Daniel at The American Film Institute, in the past ten years, he has mentored a new generation of filmmakers there, including Jonathan Levine (The Wackness), Jacob Estes (Mean Creek) and Goran Dukic (Wristcutters).

He has also conducted workshops throughout the US, Europe and Australia. His work covers all genres from the multi-award-winning story of Johnny Cash inWalk The Line (2005) to the cult classic Return To Oz (1985) and many others along the way. Gill's tremendous talent drew the attention of some of Hollywood's finest, such as Francis Ford Coppola, Sam Peckinpah, James Mangold, Caleb Deschanel, Ed Harris, Azazel Jacobs, Frank Pierson, and Victor Nunez and he was asked to work on scripts as diverse as Apocalypse Now, Pollock and The Black Stallion.

Gill Dennis' key writing credits include:

Walk the Line (2005), feature film
- Nominated for five Academy Awards in 2005 for which Reese Witherspoon won the Oscar for Best Actress.

Riders of the Purple Sage (1996)
- For which Ed Harris was nominated for a Best Actor SAG Award

On My Own (1993)
- Gill Dennis was nominated for an Australian Film Institute Award for Best Original Screenplay and Judy Davis won the Australian Film Institute Award for Best Supporting Actress

Home Fires (1987)
- A mini-series selected by Time Magazine as one of Television's Top Ten that year.

Return to Oz (1985)
- Nominated for an Academy Award in 1986 for Visual Effects

Dennis wrote the documentaries The Man on Lincoln's Nose (2001) and A Few Notes On Our Food Problem (1968), both nominated for Long Form Academy Awards. He has two screenplays presently in pre-production; Spanish Blood (written with the director Azazel Jacobs) andForever (written with the director Tatia Pilieva).

In other guises, he played the Sergeant in Azazel Jacobs' The Good Times Kid (2005) and has won the L.A. Drama Critics Circle Award for Distinguished Direction in Theatre.

At the Galway Film Fleadh in 2011 Gill Dennis will be giving an insight into his collaborating and rewriting skills whilst also focusing on how stories are discovered, discussed and structurally examined.

ONE-TO-ONE MEETING WITH THE SCREENWRITER IN RESIDENCE
Members of the Writing and Directing Chapters are invited to participate in the Irish Film & Television Academy's Screenwriter-in-Residence Programme at the Galway Film Fleadh. There are three available places for a one to one meeting with Gill Dennis. To apply for these one to one sessions taking place at allocated times from 7th-9th July, please see the criteria below:
Members must hold full membership to the Writing Chapter or Directing Chapter of IFTA
Submit the below items to membership@ifta.ie by Friday 17th June at 5pm.
a) Log line and short synopsis of a feature film/television drama
b) Treatment up to 20 pages long
c) A script in development is preferential.
Those Members selected for these one to one sessions with Gill Dennis can also participate in the Screenwriters Masterclass on Wednesday 6th July free of charge. IFTA will notify the selected Members by Wednesday 22nd June.

Writers must be available to travel for the meeting at their own cost. Members who apply but are not allocated a meeting can still attend the Screenwriters Masterclass at the Academy concession rate - please see details below.
SCREENWRITER'S MASTERCLASS
Open to IFTA Members the Gill Dennis Screenwriters Masterclass, in association with the Irish Film & Television Academy, will be facilitated by Martin Daniel take place at 2pm on Wednesday the 6th of July in the Radisson Hotel.
Members can avail of the Academy rate of €40 (normal price €50) to participate.

For further information or to apply for a place, contact Brónagh Keys at 091-562200 or email: masterclasses@galwayfilmfleadh.com and state that you are an IFTA Member to avail of this offer.

Please note places are limited. Deadline for reservations is Friday the 24th of June