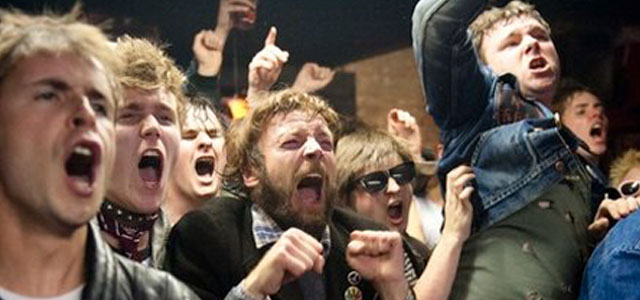 GOOD VIBRATIONS
IFTA and eclipse pictures present: Good Vibrations in the lighthouse cinema

EVENT DETAILS

Good Vibrations

When:
4th December 2012
6.30 pm

Where:
Lighthouse Cinema, Dublin 7

Contact info:
+ 353 1 6624120

membership@ifta.ie

As part of the IFTA Viewing Season The Irish Film & Television Academy, in association with Eclipse Pictures will host an evening Screening of Good Vibrations in the Lighthouse Cinema, Smithfield, Dublin 7.
Terri Hooley is a radical, rebel and music-lover in 1970s Belfast, when the bloody conflict known as the Troubles shuts down his city. As all his friends take sides and take up arms, Terri opens a record shop on the most bombed half-mile in Europe and calls it Good Vibrations. Through it he discovers a compelling voice of resistance in the city's nascent underground punk scene. Galvanising the young musicians into action, he becomes the unlikely leader of a motley band of kids and punks who join him in his mission to create a new community, an Alternative Ulster, to bring his city back to life.

This Screening is part of a number of the Academy's Irish Screenings held during November and December.
IFTA MEMBERSHIP


This event is free and exclusive to Members of the Irish Film & Television Academy.
click here for information about Membership eligibility.
Twitter: @ifta
Facebook: www.facebook.com/iftaonline
Signup for IFTA E-news: ezine@ifta.ie