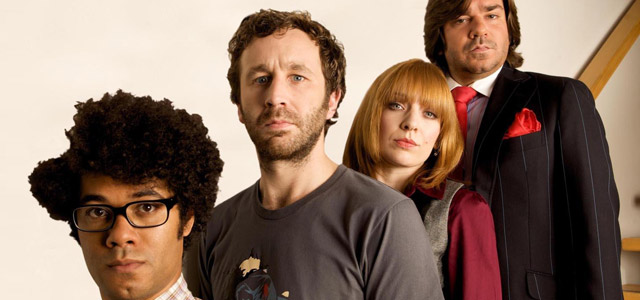 in conversation with... graham linehan
with summer Buffet & Drinks Reception
event DETAILS
When:
26 August 2010

Where:
The Conrad Hotel, Dublin 2

All seating is unreserved

Contact info:
+ 353 1 6624120
membership@ifta.ie
Supported by BAI


View images and video from this event in the IFTA gallery

IFTA is delighted to invite Irish Film & Television Academy Members to an In Conversation With ... Graham Linehan on Thursday 26th August 2010 and join the Academy for a summer Buffet & Drinks Reception.

It is an honour for the Academy to welcome Graham home to Ireland, offering Academy members a rare opportunity to discuss his work with him.

An Irishman, born in Dublin and based in London for many years, Graham is acknowledged as one of the UK's leading television comedy writers, creating some of modern TV's most popular classics whilst consistently delivering award-winning television including The IT Crowd, Black Books, Father Ted and classic sketches and characters for The Fast Show, Alas Smith & Jones, Harry Enfield & Chums, Brass Eye, Little Britain and more.

More than any other recent Irish writing talent, Graham has achieved international recognition for his brilliant characters and the predicaments they find themselves in. Most recently, Linehan has won an International Emmy for Best Comedy, a BAFTA for Best Situation Comedy and an IFTA for Best Writing for Television for The IT Crowd.

IFTA Academy Members will have the opportunity to listen to and engage in a discussion with Graham about his approach to Writing for Television; an insight into his unique approach to writing Comedy; the process of creating believable and loveable characters; what inspires him; and about how he works as part of a writing and production team, and on his own.

Graham is best known for his work on Father Ted, Black Books and The IT Crowd, and in his early years he worked in collaboration with Arthur Matthews on a number of high profile sketch shows including Alas Smith and Jones, Harry Enfield and Chums, The All New Alexei Sayle Show and the Ted and Ralph characters in The Fast Show.

Graham's collaboration with Arthur Matthews led to the creation of the hugely popular Channel Four comedy Father Ted which ran for three series and won numerous awards including the Writers' Guild of Great Britain TV Award for Situation Comedy and two BAFTA TV Awards for Best Comedy Programme or Series.

Linehan has also written for other shows, including Brass Eye and Jam and has collaborated with Matt Lucas and David Walliams on Little Britain. With Dylan Moran, he co-wrote the first series of Black Books, a series to which Matthews also contributed. In 2001, Black Books won the BAFTA TV Award Situation Comedy Award.