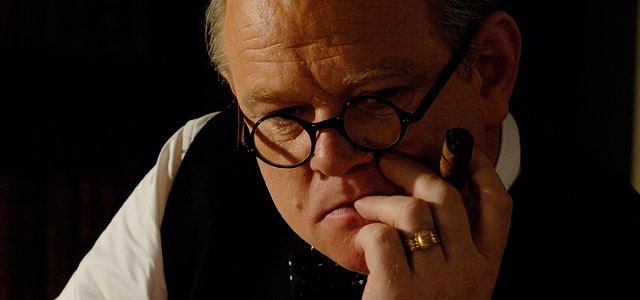 into the storm
exclusive preview screening plus q&a with director thaddeus o'sullivan
event DETAILS
When:
29 October 2009, 6.15pm

Where:
Light House Cinema, Smithfield, Dublin

All seating is unreserved

Contact info:
+ 353 1 6624120
membership@ifta.ie
With thanks to Rainmark Films & BBC Films



IFTA is delighted to invite Irish Film & Television Academy Members to an exclusive preview screening of the Emmy winning film Into the Storm
Into the Storm's Irish director, Thaddeus O'Sullivan, will be a special guest at this IFTA screening and will participate in a Q&A with IFTA Members after the film.

This finely crafted TV movie features an Emmy winning performance from acclaimed Irish actor Brendan Gleeson. IFTA winning Irish costume designer Consolata Boyle (The Queen) also lends her talents to the project.

About the Film

For five years, Winston Churchill played perhaps the single most important role in thwarting the Nazis during WWII, his intrepid leadership and rhetoric inspiring millions of Britons and other members of the free world to fight Hitler's Germany to the bitter end.

Following the Allies' success, Britain went to the polls in 1945 to decide their post-war prime minister and ruling party, taking nearly a month to tally all the votes. Incumbent Prime Minister Churchill went on holiday to France with his wife and daughter in anticipation of the election results. The HBO Film's drama INTO THE STORM uses that time as a framework for the story, beginning as Churchill awaits his fate, and looks back at the war years as he heroically guided his beleaguered nation through this difficult and challenging period.

Starring Brendan Gleeson (In Bruges) and Janet McTeer (As You Like It, Tumbleweeds), Into the Storm was directed by Thaddeus O'Sullivan (Proof 2, December Bride) and written by Hugh Whitemore (My House in Umbria). The film also stars Len Cariou (Flags of Our Fathers) as FDR, James D'Arcy (Master and Commander: The Far Side of the World), Iain Glen (Kingdom of Heaven) and Patrick Malahide (Elizabeth).

One of the most charismatic wartime leaders in history, Churchill was widely considered a visionary. Often controversial, frequently antagonistic and notably eloquent, he enjoyed a remarkably long career spanning more than 50 years. He became British Prime Minister at the onset of World War II and is regarded as one of the most successful and brilliant PMs Britain has ever had. Into the Storm is the story of how his premiership surprisingly came to an end.