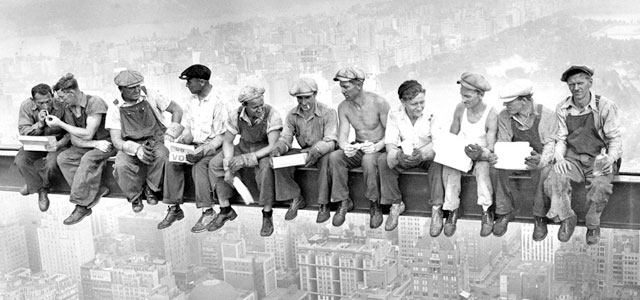 IRISH LANGUAGE: INTERNATIONAL AUDIENCE
IFTA in association with Broadcasting Authority of Ireland

EVENT DETAILS

Irish Language: International Audience

When:
29th November 2012
6.30 pm

Where:
Savoy Cinema, Dublin 2

Contact info:
+ 353 1 6624120

membership@ifta.ie

The Irish Film & Television Academy, in association with Broadcasting Authority of Ireland will host an evening Screening of Lón sa Spéir (Men at Lunch) followed by a panel and audience discussion exploring Irish language production and distribution for the international Audience.
Lón sa Spéir (Men at Lunch) - Originally commissioned by TG4 for Irish Television broadcast, this feature documentary has also reached out to a wider international theatrical audience in Toronto and New York and is exploring the multi layered opportunities for Irish language production and distribution.

Lón sa Spéir is the remarkable story of one of the most iconic images of the 20th century - Lunch atop a Skyscraper - taken on the 69th floor of the Rockefeller Building. The untold story behind that iconic image that has captivated generations of people throughout the world since the 'moment in time' was captured on celluloid back in the autumn of 1932. But just who were these immigrant workers who built New York? For 80 years, the identity of the 11 men remained a mystery: Their stories, lost in time, subsumed by the fame of the image itself. That was until a chance discovery in a Galway pub.

This Screening is the first of a number of the Academy's Irish Screenings which opens up discussion and exploration for the potential international journey for Irish language production. The Screening will be followed by a lively panel discussion with guests including Éamonn and Seán Ó Cualáin (Producer and Director Lón sa Spéir) who will be joined by Derry O'Brien (Network Ireland Television), Stephen Rooke (Tile Films), Barrie Dowdall (Telwell Films) among others.


With very special thanks to the Broadcasting Authority of Ireland and Sontá.
IFTA MEMBERSHIP


This event is free and exclusive to Members of the Irish Film & Television Academy.
click here for information about Membership eligibility.
Twitter: @ifta
Facebook: www.facebook.com/iftaonline
Signup for IFTA E-news: ezine@ifta.ie