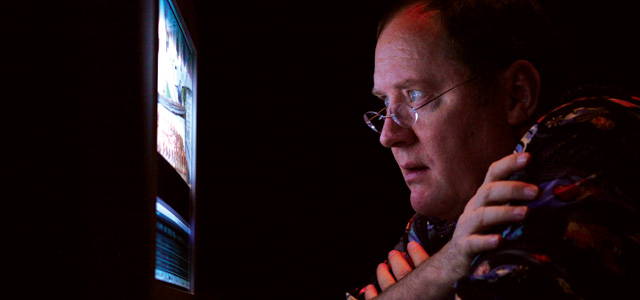 in conversation with... john lasseter
plus a screening of john lasseter's latest feature animation cars 2
event DETAILS
When:
25 July 2011, 6pm

Where:
Cineworld Cinemas, Parnell Street, Dublin 2

All seating is unreserved

Contact info:
+ 353 1 6624120
membership@ifta.ie

With thanks to Walt Disney Studios Motion Picture, Ireland and John Lasseter

© Disney

The Irish Film & Television Academy (IFTA), with thanks to Walt Disney Studios Motion Pictures, Ireland, is delighted to announce details of our latest event - In Conversation With... John Lasseter.

The two-time Academy Award®-winning writer/director/producer John Lasseter (Toy Story, A Bugs Life, Cars) will be the subject of IFTA's next In Conversation With… event on Monday 25th of July 2011.

Also featured at this Animation in Focus will be a special screening of John Lasseter's latest animated film Cars 2, which he directed and wrote - a follow up to his 2006 Golden Globe winning feature Cars.
Denise Ream, producer of Cars 2 and associate producer of Disney/Pixar's Oscar winning feature animation Up, will also take part in the Q&A.
It is with great pleasure that we welcome John Lasseter to Ireland for this exclusive evening with IFTA Members. John is one of the world's leading talents in animated storytelling and, since his debut feature film Toy Story in 1995, John's influence and inspiration on the world of animation has been immeasurable.

IFTA Academy Members will share a rare opportunity to listen to and engage in a discussion with John about his incredible career experiences working in animation.

The IFTA In Conversation With...John Lasseter will be chaired by film critic and journalist Paul Byrne.

Check out the full video interview from this event below and view images in the IFTA gallery



ABOUT JOHN LASSETER

John Lasseter is a two-time Academy Award®-winning director and creatively oversees all films and associated projects from Walt Disney and Pixar Animation Studios. Lasseter made his feature directorial debut in 1995 with Toy Story, the first-ever feature-length computer-animated film and, since then, has gone on to direct A Bug's Life, Toy Story 2 and Cars.

His executive-producing credits include Monsters, Inc., Finding Nemo, The Incredibles, Ratatouille, WALL•E, Bolt and last year's critically acclaimed Up, the first animated film ever to open the Cannes Film Festival and the recipient of two Academy Awards® for Best Animated Feature and Best Original Score. Disney's Oscar®-nominated films The Princess and the Frog and Tangled as well as Pixar's most recent Academy Award winner for Best Animated Feature and Best Original Song, Toy Story 3, which is based on a story written by Lasseter, Andrew Stanton and Lee Unkrich.

Lasseter wrote, directed and animated Pixar's first short films, including Luxo Jr., Red's Dream, Tin Toy and Knick Knack. Luxo Jr. was the first three-dimensional computer-animated film ever to be nominated for an Academy Award® when it was nominated for Best Animated Short Film in 1986; Tin Toy was the first three-dimensional computer-animated film ever to win an Academy Award® when it was named Best Animated Short Film in 1988. Lasseter has executive-produced all of the studio's subsequent shorts, including Boundin', One Man Band, Lifted, Presto, Partly Cloudy, Day & Night and the Academy Award®-winning Geri's Game (1997) and For the Birds (2000).

Under Lasseter's supervision, Pixar's animated feature and short films have earned a multitude of critical accolades and film-industry honors. Lasseter himself received a Special Achievement Oscar® in 1995 for his inspired leadership of the Toy Story team. He and the rest of the screenwriting team of Toy Story also earned an Academy Award® nomination for Best Original Screenplay, the first time an animated feature had ever been recognized in that category.

In 2009, Lasseter was honored at the 66th Venice International Film Festival with the Golden Lion for Lifetime Achievement. The following year, he became the first producer of animated films to receive the Producers Guild of America's David O. Selznick Achievement Award in Motion Pictures. Lasseter's other recognitions include the 2004 Outstanding Contribution to Cinematic Imagery award from the Art Directors Guild, an honorary degree from the American Film Institute, and the 2008 Winsor McCay Award from ASIFA-Hollywood for career achievement and contribution to the art of animation.

Prior to the formation of Pixar in 1986, Lasseter was a member of the Computer Division of Lucasfilm Ltd., where he designed and animated The Adventures of Andre and Wally B, the first-ever piece of character-based three-dimensional computer animation, and the computer-generated Stained Glass Knight character in the 1985 Steven Spielberg-produced film Young Sherlock Holmes. Lasseter was part of the inaugural class of the Character Animation program at California Institute of the Arts and received his B.F.A. in film in 1979. Lasseter is the only two-time winner of the Student Academy Award for Animation, for his CalArts student films Lady and the Lamp (1979) and Nitemare (1980). His very first award came at the age of 5, when he won 15 dollars from the Model Grocery Market in Whittier, Calif., for a crayon drawing of the Headless Horseman.


This event is free and exclusive to IFTA Members - click here to find out more about joining IFTA
The public can enter our competition to win tickets to IFTA In Conversation With... John Lasseter here